May 11, 2010
Posted: 03:46 PM ET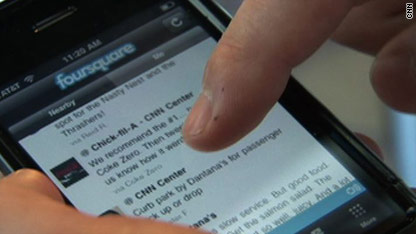 For anyone who's ever tried to check in somewhere on Foursquare, only to mutter, "No! That is NOT where I am," help is on the way.
The makers of the burgeoning mobile game/social-networking tool said Tuesday that they've tweaked the way venues appear on their "Places" page.
When a Foursquare user wants to check in at a location, they pull up the "Places" page and scroll down until they find the right spot. But sometimes the phone's GPS coordinates don't quite match reality, requiring the user to type in the name of their location to find it.
"The problem with smartphones is that they're good - but not great - at knowing exactly where you are," the folks at Team Foursquare wrote on their blog. " Also, there might be a lot of venues nearby that you are very unlikely to check into (like someone else's apartment — which is great for them but not so much for you) that clutter up the list a little, and sometimes push the venue you want off the list altogether."
The newly rejiggered algorithim now takes into account things like the popularity of a venue and work harder to pinpoint the ones closest to the user.
A pretty cool tweak now considers what time of day the check-in is occurring. So, as the Foursquare folks write, at 8 a.m., a coffee shop would get priority on the list while, at 8 p.m., a restaurant or bar might move to the top.
Foursquare promises more changes to come, making it quicker to check in then ... you know ... do whatever it was you went to that spot to do in the first place.
Posted by: Doug Gross -- CNN.com producer
Filed under: Foursquare • Games • mobile phones
March 17, 2010
Posted: 10:15 AM ET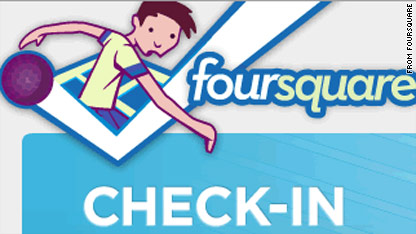 Many of you are active users on Foursquare. More of you have at least heard of Foursquare. And the rest of you are probably just annoyed by your friends posting updates from Foursquare.
Foursquare is a very rapidly growing social network allowing users to "check-in" and share their location with their friends. There is also a gameplay component, drawing a page from the original four square game's book; users collect badges and become "mayors" at spots they frequent. Its been lauded as this year's Twitter by Mashable's Pete Cashmore, and was certainly the talk of the town at SXSWi this year, a tech conference in Austin, Texas.
There are several ways you can be cool and more importantly not uncool on Foursquare. Here are a few tips and guidelines for being cool. (Full disclosure, I am an avid badge hound, and am moderately guilty of one or two of these myself.)
1. It's all about Serendipity, baby
To me, Foursquare is all about serendipity. It's all about discovering that my friends are at the same place as me … or that I just missed them. Or discovering how much you can learn about a friend by the types of places they frequent (and sometimes wanting to join them). It's about battling out a friend or a foursquare nemesis for a mayorship of your local bar.
2. Don't check in if you're not there
As previously mentioned, Foursquare is about the serendipitous moment of discovering you're at the same place as your friend. If you check in somewhere you're not - either to catch up on a place you were earlier in the day or (more nefariously) to try to win a mayorship - that's just not cool. Just let it happen naturally. You'll become a mayor soon enough. If it's a place you hit often, you'll check in there again.
3. Don't do drive-bys
Don't check in when you're dropping off the dry cleaning or picking up some cash from the ATM. Where's the fun in that? And who really wants to be mayor of the gas station anyway? Check in at places where you really are and your friends have chances of finding you (see point #1). And while I'm at it, check in when you arrive somewhere, not when you're leaving so you can increase those chances of serendipity.
4. Don't check in at work or home
It's just not cool. Of course you're the mayor of your house. If you're not, then you've got a real problem. And for work: You're supposed to be at your job every day; I don't need Foursquare to tell me you're there. Reserve Foursquare for the places you can bump into people by happenstance. Its much more fun that way (plus, your boss can't track how late you are to work).
5. Don't ignore real people who you're with
This could have been rule number one. If you're too busy fiddling with your iPhone when you meet up with your friends for drinks after work, you might have to really start using Foursquare to find new friends. Don't ignore the people in front of you for the avatars in your pocket. As I've discovered, becoming a "mayor" usually does not impress them.
6. Friend your friends
With Foursquare, if you're doing it right, you're telling people exactly where you are. I generally like to reserve that for people I actually know. I'm not saying I'm important or interesting enough to have a stalker, but I still don't really want people I don't know to know my precise location.
The exception, however, is for the Foursquare users whose paths you keep crossing. You might discover someone new you've got something in common with who could be a new (real) friend. But still, at least buy me a drink first.
7. Think twice about broadcasting an activity
Speaking of your friends, before you start tweeting or broadcasting your Foursquare activity to Facebook, think about all your friends who really don't care you just became the mayor of your grocery store. While you're earning your overshare badge, you might be losing some followers on Twitter.
8. Add a tip or a to-do
Add a tip for the places you frequent and know a lot about. That could really help the people who might not know your area as well. Plus, it helps built Foursquare street cred and gets you to superstar status faster.
So there you have it: Eight simple tips from some random, opinionated Foursquare user. I might have just set a record for use of the word serendipity. But if everyone followed these rules, the world would be a better place … or at least I would get to enjoy Foursquare a little bit more.
But of course, some of the same rules can also apply across some of the other location-based social networks like Gowalla or Yelp (and maybe even Facebook soon). What do you think? What are your rules for Foursquare?
Posted by: Dermot Waters -- head of product development at CNN.com
Filed under: Foursquare • SXSWi
March 16, 2010
Posted: 08:07 PM ET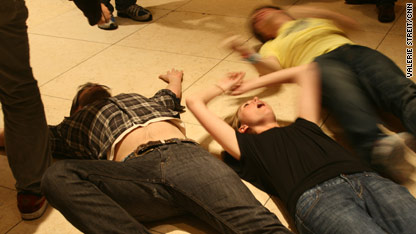 You see plenty of tech company founders and CEOs at South by Southwest Interactive in Austin, Texas – many of them building empires at the age of 20.
But you don't see very many "suits."
In fact, the prototypical SXSW executive probably looks more like a hipster than a businessman – sporting jeans, some trendy t-shirt and striped sneakers.
And, to make things all the more bizarre, you might even stumble upon one of them writhing around the floor of the Hilton lobby, as I did this year at the annual tech convention.
(This video will make it all make sense).
The executive, who was fully embracing the non-square nature of SXSW, was Foursquare co-founder Dennis Crowley. I spotted him in a spontaneous backstroke competition across the hotel lobby floor at 2:30 in the morning.  And, no, there wasn't a swimming pool involved.
Danny Newman of id345, an idea consulting firm, defeated Crowley in the match.  He told me I had witnessed an annual tradition, already in its fifth year.  Newman excitedly said that he remains undefeated in the contest.
He also said the backstroke-swimming execs have been kicked out of the lobby in previous years.
Not this year, though.  Perhaps Crowley and his buddies have earned enough street cred in Austin to 'check in' to any hotel here and do whatever they want.  Isn't that how rock stars act?
Posted by: Valerie Streit -- CNN.com Producer
Filed under: Foursquare • location • SXSW • SXSW Interactive • SXSWi
March 14, 2010
Posted: 02:15 PM ET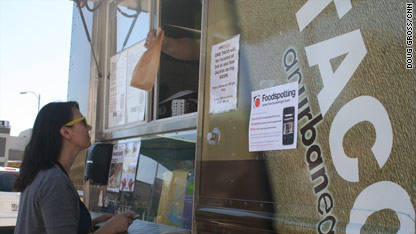 Location is obviously a big theme at South by Southwest Interactive this year - that emerging-technology conference that's going on this weekend in Austin, Texas. Whether you've elected to use Austin-based Gowalla or New York-based Foursquare, checking in and sharing useful tips with friends are the major tenets of these location-based applications.
But what if you took that concept one step further and consider a specific community?
I spoke with the co-founder of San Francisco-based Foodspotting.com about her Web site and mobile app that binds worldwide foodies together in a Foursquare-ish sort of way.
"The time was really right for something like this," said Alexa Andrzejewski, a user-experience designer from Adaptive Path.
Andrzejewski traveled to Japan and Korea, where she discovered and developed an appetite for street food.  She wanted to inspire Americans to learn about and appreciate other foods from Asia, "aside from sushi," she said. Plus, she wanted to help people to easily locate those dishes.
While in Asia, Andrzejewski noticed a phenomenon: passionate foodies were taking pictures of their fabulous dishes at restaurants and posting them to their social networks.  So she decided to create a location-smart food guide, à la Flickr, that would allow people to find, photograph and share specific dishes they crave.
Foodspotting launched in January, and it has since grown to 7,000 members.  The site features more than 20,000 kinds of foods worldwide.  As you would expect, the top cities are foodie havens - San Francisco, New York, and Honolulu.
"We're kind of like the Foursquare of food," says Andrzejewski, who launched the Foodspotting mobile app a week before SXSW.
Food spotters build their reputation whenever someone is enticed by the dishes you spot.  For example, you can earn ten points if someone 'wants' that pecorino crème brulee you managed to capture in some dessert habitat.  You'll get 25 points if someone nominates or 'noms' your dish.
Your guilty pleasures can even pay off in the form of badges - bronze, silver, gold, platinum - earned for spotting the same dishes and food types.  Addicted to tiramisu?  Spot it 50 times and you'll earn the platinum expert badge.
Andrzejewski says she plans to add more game-like features in the coming months.
Foodspotting also offers scavenger hunts for food enthusiasts.  I decided to attempt Foodspotting's 'SXSW Street Food Scavenger Hunt' in Austin with iReport Senior Producer Lila King.
Our first taste was a heavenly pancake taco at the One Taco truck.  I've never been a fan of breakfast burritos or even breakfast for that matter.  But let's just say if a pancake taco truck roamed the streets of Atlanta, I'd earn that platinum badge in no time at all.
Posted by: Valerie Streit -- CNN.com Producer
Filed under: Foursquare • location • social-networking sites • SXSW Interactive
March 12, 2010
Posted: 03:04 PM ET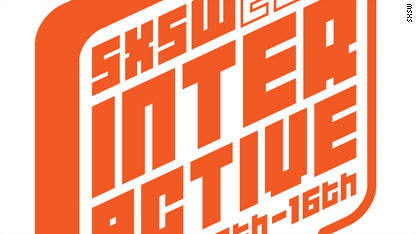 Location, location, location! They say it's the three most important factors to consider when buying a home. Now perhaps it's also the case when it comes to taking your social-networking prowess to the next level.
Chances are you're already seeing some of your social media pals fill up your streams with "check-ins" from Austin-Bergstrom Airport in Austin, Texas. Some 45,000 people are expected to visit Austin this weekend for the annual South by Southwest (SXSW) festival, which includes a five-day tech conference.
@Beckland: Landed in Austin with a plane full of tech geeks (@ Austin-Bergstrom International Airport (AUS) w/ 79 others)
The massive pilgrimage to the Mecca of big ideas and innovations (Twitter in 2007, Foursquare in 2009) has already begun. Make way for the invasion of the laptop-toting, smartphone-packing, wireless network-armed hordes!
One of the pervasive themes for this year's festival is location-based social networks (or 'LBS' for those in the know). "Checking in" hasn't been this cool since… since… well it's never really been cool to check in (especially when you were a teen driver and your Mother made you check in at every destination).
Services such as Foursquare, Gowalla and BrightKite allow users to "check in" at local establishments so that network friends know their whereabouts. You can use services on your mobile device to find places that have been recommended by your friends, or by strangers.
Take it from me, a self-admitted LBS-addict, it may sound creepy at first, but there are interesting benefits to these services:
I've used geolocation social networks to connect with friends in nearby locales. Recently a friend was eating in the same restaurant and came by to my table to say hello upon my "check in". (Of course this could work against you if you don't wish to be found)
Variety is the spice of life! I look to user tips and recommendations to help guide me to new menu items and restaurants all the time.
We're still in a recession. More and more businesses are using customer-loyalty programs to offer discounts or freebies to LBS-savvy patrons.
Mayorships, badges, leaderboards and bragging rights are just plain fun.
Location-based networks like Foursquare and Gowalla are red-hot. BrightKite has been around even longer than those rising stars. Google Buzz allows for location-sharing. Twitter is currently unleashing its geolocating tools. Facebook is reportedly planning to roll out location features next month.
As the "geolocation wars" heat up and the mobile Web grows, the need to reveal to others our current whereabouts at all times seems to reverberate deeper across the social Internet with each GPS-enabled check-in.
The SXSW "land grab" is set. The battle for "Mayorships" of hundreds of Austin venues will be up for grabs this weekend – wish me luck with one or two!
Posted by: Victor Hernandez for CNN.com
Filed under: Foursquare • SXSW Interactive