April 28, 2010
Posted: 12:48 PM ET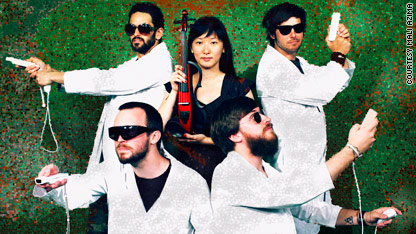 Karyn and the Wiitles
Editor's note: Geek Out! posts feature the latest and most interesting in nerd-culture news. From scifi and fantasy to gadgets and science, if you can geek out over it you can find it on Geek Out! Look for Geek Out! posts on CNN's SciTech blog.
Remember the moment Arnold Poindexter made jaws drop in the 1984 hit "Revenge of the Nerds," when he picked up his electric violin and brought the rock at the Lambda Lambda Lambda/Omega Mu talent show? It was an impressive transformation from "zero" to "hero." Was it possible geeks could be rock stars too?
The answer is yes (of course!), and this Thursday through Saturday, there will be plenty of geeking out over music and technology. Some of the best electronic musicians from all over the country will be converging in Atlanta, Georgia for the Third Annual City Skies Electronic Music Festival, where musical styles will range from "ambient to downtempo chillout to Berlin school to IDM to space music to experimental." (Full disclosure: I'm one of those musicians getting ready to rock out.)
I'm a classically trained violin player, and I'll be collaborating on a performance at the festival with The Wiitles, "the world's first and only Wii remote rock band." It's going to be symphonic, discordant, alternately familiar yet alien, and yes, uber geeky. In fact, every time I plug in my (yep, electric) violin and my collaborators pick up their Wii remotes, I feel like we're kind of creating a new language.
As a string player, some of my heroes include artists like Andrew Bird, Owen Pallett and Zoe Keating, who hook their instruments up to an array of electronics like loop pedals in order to create layer upon layer of rich, complex patterns in real time. Check out this great Radiolab podcast where Keating describes how she marries cello + laptop + electronics. On the more experimental/performance art side, Laurie Anderson famously invented, in the late 70s, a tape-bow violin using recorded magnetic tape on the bow and a magnetic tape head in the bridge.
The Wiitles sort of take all this to another level by turning Wii remotes into instruments and programming the buttons to trigger samples, loops, scenes and effects in a live setting (check out this animated video intro). They capitalize on the accelerometer and Bluetooth technology that come with every Wii remote, which allow the device to sense acceleration along three axes to detect pitch and roll.
The data obtained from the accelerometers and the different buttons are transmitted via Bluetooth and picked up by a Macbook Pro, where the data is converted for use by software that manipulates audio. Like Pallett and Keating, the Wiitles use Max/MSP (which can convert incoming data to MIDI), and also Osculator to make MIDI conversions and use that data to manipulate Ableton Live, a music sequencing program. Using Ableton Live, the potential for audio manipulation is limitless.
What this means for me is that I can take the familiar sound of my violin to some really strange, ethereal and warped places. For example, knocking against the side of the instrument near the pickup creates a hollow percussive sound. Running my fingers repeatedly over the strings sounds hauntingly like someone sighing. Playing fiddlesticks (adopted from a Cajun fiddle tradition where another band member strikes the strings on the upper fingerboard with thin sticks while I play) triggers a sound like marbles scattering across linoleum. All of this can be manipulated and incorporated into the music in real time during the performance.
Innovative technological appropriations have allowed us to marry classical and experimental music in surprising and wonderful ways. What are some of your favorite examples in this realm? Share your feedback in the comment section – we'd love to hear from you.
Posted by: Karyn Lu -- CNN.com Site Development Manager
Filed under: gadgets • Geek Out! • technology • Uncategorized
October 21, 2009
Posted: 11:15 AM ET
Riding the wave of new Apple products announced yesterday is a new gesture-based, multi-touch mouse.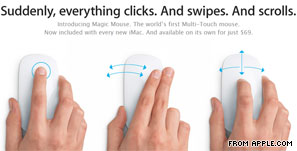 The Magic Mouse continues Apple's war on buttons by removing all those pesky clickers. What's left is an aluminum base topped by a smooth white touch-sensitive polycarbonate panel.
Apple was criticized for the single button hamburger shaped mouse that shipped with the original iMac. Many Mac and PC users favor the greater control that a dual-button mouse with scroll wheel provides. In response, Apple released the Mighty Mouse in 2006 that incorporates four functional buttons and a trackball.
The new button-free Magic Mouse signals a return to minimalism while including all the functionality of multiple buttons. Gizmodo thinks it's a welcome change:
The Magic Mouse is undoubtedly the best mouse Apple's made in years. They've taken their knowledge in trackpad finger gestures and one-piece manufacturing and made this delicate, yet sturdy, bridge-shaped mouse.
The Magic Mouse will be included with new iMacs or can be purchased alone for $69. Currently the Magic Mouse is only compatible with Mac OS X, but broad support, including PCs, is likely to happen soon.
Posted by: Wes Finley-Price -- CNN.com Webmaster
Filed under: Apple • consumer tech • gadgets • technology
July 22, 2009
Posted: 04:49 PM ET
Last week owners of Amazon's Kindle e-book reader felt the painful effects of DRM (Digital Rights Management) when Amazon remotely removed copies of George Orwell's 1984 and Animal Farm from their libraries.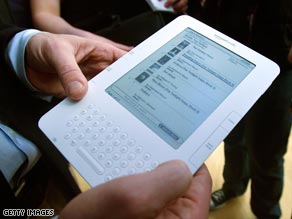 Amazon explained that the books had been mistakenly released and the e-book publisher did not own the rights to sell the either novel. However, the company's explanation and a refund did not appease readers who felt their personal copy of 1984 was remotely destroyed by Big Brother.
The Internet lit up with blogs and forum posts condemning Amazon's actions. InformationWeek claims Amazon can't keep its promises, and Slate likens the deletion to book-banning's digital future:
Amazon deleted books that were already available in print, but in our paperless future—when all books exist as files on servers—courts would have the power to make works vanish completely.

[Harvard law professor Jonathan Zittrain] writes: "Imagine a world in which all copies of once-censored books like Candide, The Call of the Wild, and Ulysses had been permanently destroyed at the time of the censoring and could not be studied or enjoyed after subsequent decision-makers lifted the ban."
Police routinely confiscate stolen property. But copyright infringement, similar to possessing improperly licensed books, was determined by the Supreme Court case of Dowling vs. United States not to constitute theft. Amazon's actions were an effort to please publishers who wanted the book pulled rather than a legal requirement.
Amazon has acknowledged that deleting the books from users' personal devices may have been a mistake. In an e-mail to the New York Times Amazon spokesman Drew Herdener said, "We are changing our systems so that in the future we will not remove books from customers' devices in these circumstances."
Do you think Amazon's decision to remotely delete the books was justified to defend copyright, or should digital content hold the same protections as physical property? Will Amazon's promise to change its policy restore your confidence in the Kindle?
Update [July 24, 2009]
On Thursday, Amazon CEO Jeff Bezos posted this apology on a Kindle community public forum:
This is an apology for the way we previously handled illegally sold copies of 1984 and other novels on Kindle. Our "solution" to the problem was stupid, thoughtless, and painfully out of line with our principles. It is wholly self-inflicted, and we deserve the criticism we've received. We will use the scar tissue from this painful mistake to help make better decisions going forward, ones that match our mission.

With deep apology to our customers,

Jeff Bezos
Founder & CEO
Amazon.com
Posted by: Wes Finley-Price -- CNN.com Webmaster
Filed under: books • consumer tech • DRM • gadgets
July 2, 2009
Posted: 11:08 AM ET
Have you owned every version of the iPhone? Can you rattle off specs for the Palm Pre and the Kindle?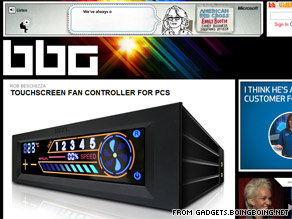 Well, gadgetheads, this post is for you.
A number of new gadget-related Web sites are popping up. Here are some I find interesting. But I'm not the biggest gear junkie, so please let me know what I've missed. I'll check the comments and repost the best of the best.
GDGT: This new site, from the makers of Gizmodo and Engadget, takes a social approach to gadget reporting. It launched Wednesday, according to The New York Times, and lets users create profiles and share their thoughts on new computers, phones, etc. Seems like a good idea to me. The best techies are happy to share their expertise.
Hunch: The decision-making site from a Flickr founder is surprisingly good at helping users choose gadgets that will work for them. Perhaps not as up-to-date as the gadget blogs, but it beats them hands down in its simplicity. Users answer questions and Hunch's computers - and user input - spit out logical answers. Check out the computers/Internet and electronics sections. (Hunch just told me with 80 percent confidence that I need a new iPhone ... we'll see.)
These aren't necessarily new, but here are a few other gadgety sites worth your time:
BoingBoing: A slightly artsy and off-beat take on gadgetry
GeekSugar: Offers a light take on tech news and aims to appeal to women
ArsTechnica: This respected tech blog has a good gadget section that's readable (even if you don't speak PHP) but still techie
CNET's Crave: The trusted geeks of CNET post gadget updates here (full disclosure: CNET is a CNN.com partner site)
Wired's GadgetLab: From phones to bicycles, a fresh look at gadgets with a wide lens (Wired.com also is a CNN.com partner)
GadgetWise: The NYT's answer to Gizmodo and Engadget; good for general audiences
Consumer Reports: The Web's bread and butter for reviews has an electronics section
Posted by: John D. Sutter -- CNN.com writer/producer
Filed under: gadgets