March 20, 2009
Posted: 12:52 PM ET
[cnn-photo-caption image=http://i2.cdn.turner.com/cnn/2009/images/03/20/corn.gi.jpg caption="Some ethanol producers are unhappy with California's proposed low carbon fuel standards."]
California wants to take a big-picture look at decreasing carbon emissions from transportation, and in doing so, it has managed to step on some toes, mainly some ethanol producers. Since California is often a trend-setter on these type of things, this case could be a good example of what the rest of us might see in our own states down the road.
Biofuels play a big role in this, but it's the way they're doing it that has some people riled up. I'm a biofuel fan myself and have two vehicles (both 25-year-old-plus diesels, one of which was featured on CNN.com's American Road Trips special) that I run on biodiesel, so I find this all quite interesting.
California's proposing a "Low Carbon-Fuel Standard" aimed at decreasing carbon, not only from tailpipe emissions but also from the overall production of fuels and their use. As part of this, it has proposed a rule limiting the use of ethanol in the strategy, mainly because it says ethanol from corn (because of its land use and impact on food crops) can have a higher impact than regular gasoline produced in the state (according to the Los Angeles Times).
Supporters of the proposal claim they aren't trying to ban ethanol or anything; in fact, according to the fact sheet I linked to above, they're advocating going from an ethanol blend fuel called E5 (5 percent ethanol, 95 percent gasoline) to E10 (10 percent ethanol, 90 percent gasoline) and E85 (85 percent ethanol) for flex fuel vehicles.
Mainly they're stressing the change from corn-based ethanol to cellulosic-based ethanol (ethanol made from agricultural waste or switchgrass are cited examples), which the sheet says can have four or five times lower greenhouse gas emissions than corn.
The ethanol people don't really like that. Tom Koehler of Pacific Ethanol told the Los Angeles Times that the proposal was a "perversion of science and a prescription for disaster." And Wesley Clark (yes, that Wesley Clark), the co-chairman of ethanol lobbying group Growth Energy, told SFGate that in addition to bad science, it would be "bad policy to adopt a regulation that creates unfair standards" and would continue California's reliance on fossil fuels.
If you live in California, you have until April 23 to comment on the proposal, when the Air Resources Board will vote. And I'm sure the rest of you will have plenty to say on this controversial topic. Fire away in the comments.
Posted by: Cody McCloy
Filed under: Cars • climate change • environment • Ethanol • Fuel • Gas • Gasoline • Road trip
July 15, 2008
Posted: 05:36 PM ET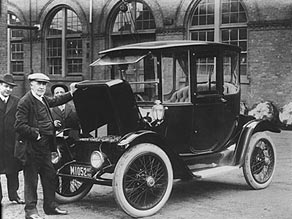 Thomas Edison with his electric car in 1913.
They produce zero emissions.
Electricity is cheaper than gas, and can come from renewable resources such as wind and solar power.
EV engines are far more efficient than internal combustion engines, are more reliable, and require less maintenance.
So what gives? Why don't we buy and drive electric cars?
Program Note: Watch Miles O'Brien's report on EV's on CNN TV, Thursday morning.
Posted by: Alex Walker -- Producer: CNN Sci/Tech
Filed under: economy • environment • Fuel • Gas • Gasoline
July 14, 2008
Posted: 12:18 PM ET
I want to thank everyone for the hundreds of smart comments on T.Boone Pickens and his wind/natural gas energy plan.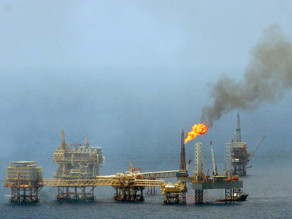 By contrast, the Pickens plan generated precious little feedback from policymakers and others you'd expect would have a direct stake in this. Not a peep from the White House, nor the candidates, nor Congressional leadership. Virtually nothing from the business community, or from environmental groups.
So let's keep our part of the bargain, and continue this great discussion. Today, President Bush is addressing another part of the Energy Hunt, by lifting a partly-symbolic Executive Order banning drilling off most of the U.S. coastline. Whaddya think? Is it long overdue? Or, as Pickens said, is it a problem we can't drill our way out of?
Posted by: Peter Dykstra - Executive Producer: CNN Science, Tech, Weather
Filed under: climate change • economy • environment • Fuel • Gas • Gasoline • Oceans • oil spills
July 10, 2008
Posted: 12:00 PM ET
T. Boone Pickens
, the legendary oilman, tilted at windmills the other day. With an extensive media campaign that looked a lot like he was running for office, he rolled out an ambitious scenario in which U.S. energy policy is turned on its head. His proposal: replace the 20% of our electricity supply that comes from natural gas with wind power - abundant and there for the taking from the Canadian border to the Mexican border through the middle of the country. The natural gas that's freed up would then replace oil as a major source to power our transportation fleet, according to the Pickens plan.
Pickens has an astounding track record at anticipating U.S. energy demand - including a prescient warning a few years back that oil was going to be mighty costly about now. Like the old E.F. Hutton ads, when he talks, investors listen. And if he says wind is in, investors will line up.
I'd love to hear your thoughts on his plan.
To start off, here's my own two cents (bear in mind that I could be out buying one-third of an ounce of gasoline with those two cents):
1. Pickens is neither an altruist nor a treehugger trapped in the body of an oilman. He sees money in this, and has been perfectly transparent about that.
2. It's a plan - at least a partial one - which is pretty much more than we've got now.
3. It may be a plan from a shrewd, battle-tested business tycoon, but it's probably not as easy as it seems. Wind energy gives out when the wind stops blowing, and there's no existing technology to store it in large quantity. Wind-dependent power plants would need a robust backup system. We'd also need a much better electric transmission infrastructure than we have right now, in order to move the wind power from the Great Plains, where it's available, to the population centers, where it's needed.
4. Wind as a main power source would have an uneven impact in replacing natural gas. About half of California's electricity comes from natural gas. In Ohio, it's about 2%.
Your turn - blog away: Is T. Boone Pickens a genius, or is he just spittin' in the wind?
Peter Dykstra Executive Producer CNN Science, Tech & Weather
Filed under: Cars • climate change • economy • environment • Fuel • Gas • Gasoline • Politics
July 9, 2008
Posted: 10:45 AM ET
Yeah, another bad headline - doesn't sound possible, you say?  You may be right.  But I just saved $350 outright because gas prices are so high.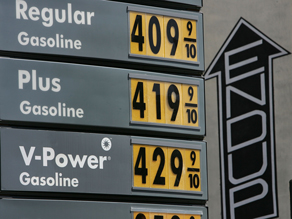 A decade ago, we opted to move pretty far away from the center city:  27 miles from the driveway to CNN Center in Atlanta.  The decision was largely due to the prospects for our three school-age kids:  A shaky, in-town school district versus a well-regarded one farther away.  And since the State of Georgia always finishes in the Top 50 among State Educational Quality, we went for it.
The kids have had a good shake in their schools, so no regrets.  But the costs for Daddy driving to work have included up to two-hour commutes, plus more recently, brutal gasoline costs, even with a 32MPG car.
A few years ago, in a nod more to traffic burdens than to energy or environmental concerns, Georgia rolled out commuter buses to far-flung places like Conyers, GA.  Five per day, from the commuter lot next to the Rockdale County Jail into downtown Atlanta.  So yes, I go to the County Jail at least twice a week.
Being in the 24-hour news business, I feel obligated to give you the Bad News First:  The last bus in is at 8am; the last bus back is at 6:15pm.   This does not always fit the bipolar nature of covering 24-hour news.  Bottom Line:  I can't always rely on the bus - not for late nights, or weekend work.  The Good News?  My employers have had the foresight to let me keep my parking privileges for when I have to drive, plus a part-time pass for the bus.
With minor inconvenience, I can take two bus trips a week to work, with little or no compromise to my workload,  saving 2 gallons of charitable donation to the oil companies per day, plus environmental benefits, per round trip.  But I called my insurer (GEICO), and they also told me that the reduced mileage on my car would save me about $350 a year on insurance costs.   Whoa!! Just think how much extra gasoline I can afford now!!!  I won't have to take the damn bus!!! (Just kidding).
Actually, the bus isn't bad.  It's still only about half full each day, which is amazing to me.  I can listen to my IPod on the way in (it has a lot of songs on it, and you wouldn't like most of them....), and I arrive at work bearing no anger to all the Barbarians and Fools who would tailgate me or cut me off on Interstate 20 on the way in (full disclosure:  It's never my fault as a driver; to quote Dustin Hoffman, I'm an excellent driver.) .  Oh, and on the way in,  I read stuff, too.  One more note:  They're considering Commuter Rail from many towns like Conyers, but 'round here, the feelings still run strongly about General Sherman tearing up the railroad tracks 144 years ago, so it may take a while longer for the State Legislature to warm up to the idea.
So I'd like to thank the Oil Companies, OPEC, the shrinking dollar, the increased international demand, the speculators, the guys who blow up the pipelines in Nigeria every week, and everyone else who's been blamed for high oil prices for making my ride to work more relaxed and a tad cheaper, at least twice a week. 
Peter Dykstra    Executive Producer   CNN Science, Tech & Weather
Filed under: Cars • climate change • environment • Fuel • Gas • Gasoline
June 26, 2008
Posted: 02:40 PM ET
It may sound backwards, but that is how two Duke professors suggest we gauge fuel economy.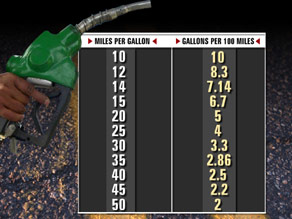 MPG to GPM Conversion Chart
Richard Larrick and Jack Soll of Duke University's Fuqua School of Business say the phrase 'miles per gallon' misleads consumers.
The premise of their study, published recently in the journal Science, is that you save more gas by switching from a 10 to a 15 MPG car than by trading in your 25 MPG ride for, say, a 50 MPG Prius.
If you're scratching your head, consider the following equation:
Driving a 10 MPG SUV for 100 miles requires 10 gallons of gas, while one that gets 15 MPG will burn 6.7 gallons of gas on the same trip. So the jump from 10 to 15 MPG is a savings of 3.3 gallons of gas.
On the other hand, the 25 and 50 MPG cars burn 4 and 2 gallons, respectively, on a 100-mile drive. That is a savings of only 2 gallons compared with the SUV driver's 3.3 gallons. You see?
So when it comes to saving money, Larrick and Soll say it's less about buying the most fuel-efficient car, and more about removing the most inefficient vehicles from the road. They recommend fuel efficiency be displayed as 'gallons per 100 miles' (GPM) instead of the traditional MPG.
That way, instead of aiming for a car with the highest MPG, consumers would be striving for the lowest GPM rating.
The point is to help consumers easily understand the amount of gasoline they will save when they trade in a car.
It's simple math. To calculate gallons per 100 miles, simply divide 100 miles by the vehicle's MPG rating. However, this calculation is not one consumers seem to do when considering a new car.
For example, Larrick and Soll asked participants in their study to decide whether replacing 15 MPG vehicles with 19 MPG ones was better or worse than exchanging 34 MPG vehicles for those with 44 MPG ratings.
Groups given the vehicles fuel efficiencies in MPG chose the wrong answer of 34 to 44 MPG 75% of the time. On the other hand, people given fuel efficiency choices in GPM made the wrong decision only 36% of the time.
So yes, it's still true that driving vehicles with the highest fuel efficiency possible is still best for the environment, but as gas prices rise will consumers be making their trade decisions for Mother Nature or their wallets? If it's the latter, they may need GPM instead of MPG to make the best choice.
Test your MPG understanding at: http://www.fuqua.duke.edu/news/mpg/mpg.html
- Julia Griffin, CNN Science & Technology
Filed under: Cars • economy • environment • Fuel • Gas • Gasoline • Uncategorized