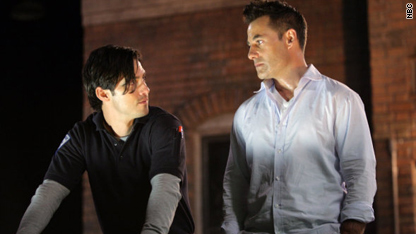 Editor's note: Geek Out! posts feature the latest and most interesting in nerd-culture news. From sci-fi and fantasy to gadgets and science, if you can geek out over it, you can find it on Geek Out! Look for Geek Out! posts on CNN's SciTech blog.
Let's travel back to the year 2007. Back then, Marvel was working on a very risky movie version of "Iron Man" with Robert Downey, Jr., the idea of a musical TV series sounded preposterous, and viewers were excited about the season finale of a show called "Heroes," which had become a phenomenon.
The phrase "Save the cheerleader, save the world" had successfully entered the public lexicon, with no small help from the NBC promotions department, and Masi Oka was a breakout star for his portrayal of the lovable time-stopping, time-traveling Hiro. The next-to-last episode of the season had the villainous Sylar set on attacking New York City, with a bunch of ordinary people with extraordinary abilities preparing to come together to stop him.
Here was an exciting show with a continuing story arc that actually answered questions, unlike the then-floundering "Lost," and fans ate it up. Then a funny thing happened: the season finale was not that great. Nathan flew into outer space with his brother Peter, averting disaster before he exploded like a nuclear bomb. All in all, it was pretty anticlimactic.
Season two spent a lot of time in feudal Japan where Hiro ended up, and we were introduced to a few new characters who were about as interesting as watching paint dry (with the exception of Kristen Bell's electro-charged Elle). The second part of the season was scrapped due to the writers' strike, so the show made an attempt to get back in the good graces of fans by screening the season three premiere at the San Diego Comic-Con.
Season three was just a mess. It seemed as though the writers threw everything they could at the wall to see what stuck. New plot points were introduced and old ones forgotten on a regular basis.
If you want an example of how to handle time travel in an interesting way, check out the fifth season of "Lost." If you want to see an example of how to handle it badly, check out the third season of "Heroes." At one point, all of the characters lost their powers in a solar eclipse, a plotline which ultimately went nowhere. And then there was the time when Hiro literally regressed to being a child. The less said about that, the better.
It also looked like Sylar might redeem himself but that didn't take either. It seemed as though a solution had been found to get rid of Sylar, by making him believe he was Nathan, but eventually that was reversed in the increasingly confusing fourth season.
Sylar was a fascinating character, no doubt, and Zachary Quinto chewed the scenery whenever given a chance. But eventually the show seemed to be all about him, never mind the title.
So, at long last, "Heroes" is over, and that's probably for the best. There were some great moments no doubt (usually when Bryan Fuller was writing), but it was a slow death that was hard to watch.
It's a cautionary tale for other shows which capture the public's imagination early on. There are reports that the show might wrap up as a TV-movie in the coming season. Either way, I look forward to the new show "The Cape," which on the surface bears a lot of similarity to Batman, and hope that it can succeed where "Heroes" failed.
Filed under: Geek Out! • television