April 9, 2010
Posted: 10:51 AM ET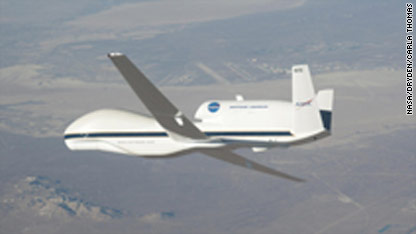 Global Hawk in flight
Flying higher, farther and without a pilot.
NASA's Global Hawk plane can fly to altitudes of 60,000 feet – way above normal flight paths – and as far as nearly half way around the world. It does this completely automatically, without the aid of a pilot or controller.
The plane follows a preprogrammed flight path and can stay aloft for nearly 30 hours while staying in contact with NASA's Dryden Flight Research Center via satellites. The Global Hawk maiden voyage took it over the Pacific and Arctic oceans to study the atmosphere over those bodies of water.
Researchers hope that the plane's range and endurance will make it ideal to sample and measure greenhouse gases, ozone and air quality over a wide area in a short period of time.
"We can go to regions we couldn't reach or go to previously explored regions and study them for extended periods that are impossible with conventional planes," said David Fahey, co-mission scientist and research physicist.
Scientists expect the high altitude flights to let them measure dust, smoke and pollution that cross the Pacific from Asia and Siberia and affect U.S. air quality. The Global Hawk is scheduled to make four more flights this month over the Pacific and Arctic areas.
Global Hawks – obviously not retro-fitted with scientific sensors – are also used by the U.S. Air Force for intelligence, surveillance and reconnaissance. They were recently used after the Haiti earthquakes to provide more than 3,600 images of affected areas to help with disaster relief.
Posted by: Larry Frum for CNN.com
Filed under: Aviation • climate change • environment • greenhouse gas • NASA • Space
April 5, 2010
Posted: 06:00 PM ET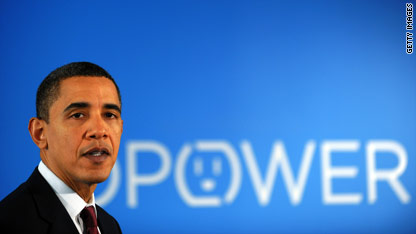 A coalition of tech companies, telecoms and environmental groups on Monday sent a letter to President Obama (PDF) on the subject of home energy efficiency.
The groups, which include Google, AT&T and 45 others, essentially make two points:
In order for people to save energy, they need to know more about how much energy they're currently using.
The U.S. government should, in some way, require that "timely, useful and actionable" data about energy use and pricing be made available to consumers over the Internet or mobile phone.
As for the info consumers should have access to, the groups say that to make smart decisions about how much energy to use and when to use it, people need to know the following:
How much energy their individual appliances use, in near-real-time
How much electricity costs at any given time
How the electricity is being generated (ie, by turning wind turbines or burning coal)
With all of this information, people could save an average of $360 per person per year on energy bills, the group says.
Google and The Climate Group will co-host a talk on this subject on Tuesday at 1 p.m. in Washington. A Google blog post says the White House energy adviser, Carol Browner, will give a keynote address.
For people to be able to get data about how much energy they're using at any given time, what appliances are sucking it in, and how much the electricity costs at the moment, the U.S. will have to deploy a "smart" electricity grid, capable of tracking and transmitting all of this information.
The White House has promised a $4 billion investment in the smart grid, but it has faced delays.
And a number of roadblocks remain.
Some say smart grid technology is too expensive, as the Wall Street Journal reports. The blog earth2tech says some electricity companies may not make energy data available fast enough to really be that useful for consumers.
What do you think? Would knowing more about your electricity consumption - in real-time - help you slash your power bill?
Posted by: John D. Sutter -- CNN.com writer/producer
Filed under: Energy • environment • Google • greenhouse gas
February 20, 2010
Posted: 08:35 PM ET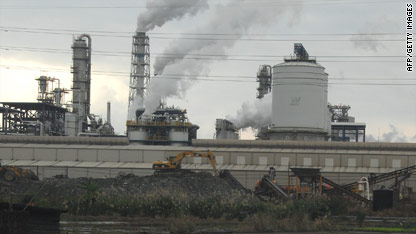 Most scientists agree that global warming is real, but disagreement abounds about what to do about it.
The idea of taking carbon out of the atmosphere and storing it so that it can't warm the planet has been pretty widely discussed. Here are some techniques you might not know about; they involve large-scale geoengineering.
Basically, scientists are trying to figure out how to cool the planet by reflecting some of the sunlight back.
One idea is shooting sulfur particles into the stratosphere, which could decrease the temperature of the planet by about 2 degrees Celsius, said experts today at the American Association of the Advancement of Science meeting. Ken Caldeira of the Carnegie Institution says cooling methods like this are a little like chemotherapy for cancer patients - they solve problems, but have their own side effects.
A critic of this proposal, Martin Bunzl of Rutgers University, cautions that this approach could disrupt the monsoon cycle and potentially lead to famines. The dynamics of this on precipitation are also poorly understood, he said. In other words, it's like a doctor telling a patient "here's something we can try" without knowing how it works.
"There's a substantial risk of ecological effect," he said. "We don't really know how long particles we put into the stratosphere remain in the stratosphere."
Another alternative is lightening clouds with sea salt. Philip Rasch of Pacific Northwest National Laboratory says the trade-off here is that you're getting brightening in local regions, whereas the sulfur method brightens the entire globe a little bit.
Right now a lot of what we know about these methods comes from computer modeling. Will they be feasible for the planet? More is yet to be learned.
Posted by: Elizabeth Landau -- CNN.com Writer/Producer
Filed under: environment • greenhouse gas
October 26, 2009
Posted: 01:03 PM ET
I have a box in my home office that is full of cords and changers - those for phones, laptops, cameras and all kinds of other gadgets.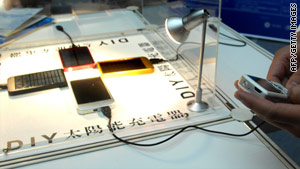 It's a total mess. But some news out of a UN tech group may help me clean up my act.
The International Telecommunication Union, a branch of the United Nations, recently passed a universal standard for cell phone chargers - those cords that connect your phone to an electrical socket. In addition to reducing consumer headaches, the ITU expects the approved connectors - which will be in the micro-USB format - to reduce e-waste and cut greenhouse gas emissions by 13.6 million tons per year, according to an ITU news release.
Here's the statement from Malcolm Johnson, director of the ITU's telecommunication standardization bureau:
This is a significant step in reducing the environmental impact of mobile charging, which also has the benefit of making mobile phone use more straightforward. Universal chargers are a common-sense solution that I look forward to seeing in other areas.
As CNET and the BBC point out, it's unclear how many mobile phone makers will adopt the standards since the recommendations are not mandatory.
And, as a colleague of mine noted, this all may be moot in the not-to-distant future if wireless charging devices become more of a reality. Those lose some efficiency, though, so it will be interesting to see which line of thinking prevails in the charger world: efficiency or convenience.
The ITU says its standards require chargers to be about three times more energy-efficient than unrated chargers.
What do you think? Let us know in the comments below.
Posted by: John D. Sutter -- CNN.com writer/producer
Filed under: cell phones • climate change • greenhouse gas • ITU