April 5, 2010
Posted: 12:04 PM ET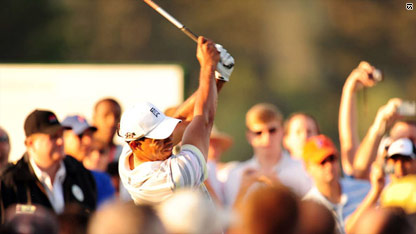 This week's Masters golf tournament will draw lots of casual golf fans because Tiger Woods is returning after months of news about his tawdry off-the-fairway activities.
But there's one more reason they might tune in - the tourney will be offered in 3-D.
Comcast and the Augusta National Golf Club are joining to show the revered tournament in next-generation 3-D - at least for people who have TVs or computers rigged to see it.
The dedicated channel will show about two hours of live programming a day, according to a Comcast blog post.
"Our engineers in Comcast Labs have been testing transmission of footage from Augusta National over the past few weeks and I can tell you that it's nothing short of spectacular," Derek Harrar, a Comcast vice president, said in the post. Sony and IBM will be working with Comcast to make the broadcast possible.
The broadcast is part of a trend of sporting events embracing the growing 3-D boom.
ESPN has announced that they'll broadcast the 2011 BCS National Champship game, World Cup soccer and other events in 3-D. The network's first 3-D sports event will be the World Cup match between Mexico and South Africa on June 11.
Companies like Sony, Samsung and Panasonic have begun producing 3-D television. While the technology is still emerging, the companies are hoping that programming like the Masters will help drive sales of the TVs.
Posted by: Doug Gross -- CNN.com producer
Filed under: HDTV • pop culture • technology
October 23, 2009
Posted: 12:23 PM ET
Popular online video service Hulu will start charging subscription fees sometime next year, says News Corp. Deputy Chairman Chase Carey.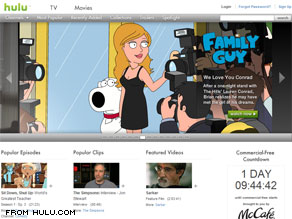 While speaking at a recent Broadcasting & Cable summit Carey announced his plans for Hulu: "I think a free model is a very difficult way to capture the value of our content. I think what we need to do is deliver that content to consumers in a way where they will appreciate the value. Hulu concurs with that, it needs to evolve to have a meaningful subscription model as part of its business."
Hulu.com has attracted a large online audience by offering commercial-supported TV shows and movies from NBC, ABC, Fox, and other networks since 2007. However, the addition of a subscription fee may send most of Hulu's users searching for alternatives.
I use Hulu frequently to watch everything from Comedy Central's "Daily Show" to Fox's "Family Guy." I stomach the commercial interruptions in exchange for the high-quality streaming content, but I certainly won't be pulling out my credit card if the service puts up a subscription pay wall. And I doubt many other customers will be happy to start paying money for a service they previously received for free.
The move to a fee-based business model is a decision that will still have to be approved by the Hulu board, and I hope someone has the sense to blackball this idea. But common sense doesn't always prevail in the entertainment industry -  if it did, we might still have "Arrested Development."
Posted by: Wes Finley-Price -- CNN.com Webmaster
Filed under: HDTV • Hulu • online news • online video
February 4, 2008
Posted: 08:59 AM ET
Would you pay $2 billion just to get a better picture of a football game?
According to the Consumer Electronics Association, that's just what we did this weekend. While the final totals aren't in, it's estimated that high definition TV sales spiked to about 2 million extra units - inspired by the Super Bowl. With HD-capable monitors now averaging about $1,000 each, that 's a two-billion-dollar boost for HD.
We already know that the outcome of the actual game is far less of an event than the commercials. Regardless of the Giants' upset, America's biggest football game soon may actually be the third most important element of Super Sunday. Two million HD sets, sitting atop an economic pyramid that's built on stuff from the electronics store, and the chips aisle of the grocery.
More than a third of US homes are now estimated to have at least one HD screen. And bars and restaurants have already made the plunge: There's a chain sports bar in my neighborhood that boasts over 400 HD screens. (I seriously doubt they've ever been able to boast having 400 customers in the place). After a slow start, HD now appears poised to add itself to the list of Things We Can't Live Without.
But if you rushed out this weekend to hook up a new TV to your satellite service for the Big Game, you may have been disappointed. There are some published reports of a month's wait to install the converter box and new satellite dish. I called my satellite provider, and they confirmed. But I'm not in a rush; I'm not the kind of guy who drops a thousand bucks for a better picture of the football game.
I'll be happy if it's up and running for the Final Four.
Filed under: HDTV