May 18, 2010
Posted: 04:47 PM ET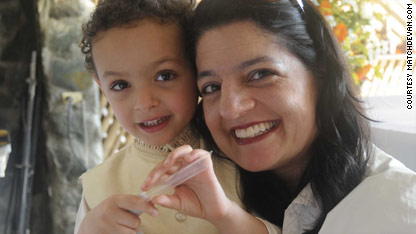 Seeking help for a charity or cause via social networking isn't new.
But a current campaign to save the life of a 4-year-old boy has taken off in a big way, hoping to capitalize on crowdsourcing and social media to help him beat the odds.
And according to a note on the group's website, there's a chance that it's already worked.
Devan Tatlow, whose family lives in Washington, D.C., has a rare form of leukemia and needs a bone marrow transplant. Complicating that is his mixed south Indian-northern European ancestry - which supporters say gives him a 1-in-200,000 chance of finding a match.
Doctors say they have less than 12 weeks.
Instead of trying to beat those odds the normal way, his family and their friends went online and turned their quest viral.
Rob Kenny, Devan's godfather, said hundreds of people have taken active roles drumming up support in what has become a global effort. While Devan lives in Washington, Kenny is in the United Kingdom, the Facebook campaign is being run out of Hong Kong and active recruitment drives are happening in Mexico, Singapore and other places.
Their message has been tweeted by the thousands on Twitter, and probably even more people have mentioned Devan's cause in their Facebook statuses.
Their efforts have been promoted throughout the online community through posts on the Huffington Post, tech blog Gizmodo and other sites.
The group is urging people to register at Be The Match, in hopes they'll be a match for Devan or someone else.
On Tuesday came some good news: there's a chance their efforts have paid off.
A message on the site's homepage said "a potential cord blood match" for Devan has been located. The group is awaiting confirmation that it truly is a match.
Posted by: Doug Gross -- CNN.com producer
Filed under: health • Internet • social-networking sites
May 17, 2010
Posted: 01:03 PM ET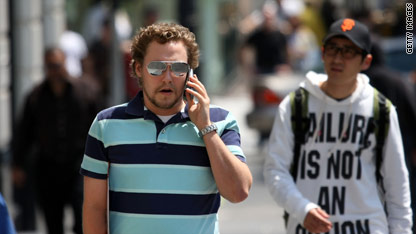 There's lots of news today about a long-awaited study on cell phones and brain tumors.
The study, to be published Tuesday in the International Journal of Epidemiology, turns out to be inconclusive: It found no evidence that making calls with a mobile phone against your ear increases your risk for brain cancer, but it also couldn't prove that no such link exists, according to CNN's report.
"The possible effects of long-term heavy use of mobile phones require further investigation," the study says. Some people, including GQ writer Christopher Ketcham, who recently published an in-depth look at research in this area, are skeptical that such a probe will take place, in part because of the cell phone industry's lobbying influence. Several European countries have issued precautions about mobile phone radiation.
But we'll put the debate aside for now. If you are concerned about mobile phone radiation, here are a few ways to keep these potentially damaging waves away from your brain.
Not all are 100 percent effective, and several carry a significant geek factor. (If a Bluetooth earpiece can make Hollywood hunk Brad Pitt look creepy, what will it do to you?) But who knows. If hipsters latch on, maybe these add-ons will go the way of bike helmets and become socially acceptable.
Let us know what you think of these tips, and please offer up your own in the comments below.
1. Use the speaker phone: This keeps the phone away from your ear and, if your phone has a decent speaker function already, doesn't cost you anything. Downside: Everyone in the office hears your partner yell at you for forgetting to record last night's episode of "Dancing with the Stars."
2. Don't talk. Text: This will win you younger friends and social cachet, as long as your fingers aren't too fat to navigate a QWERTY. If you're new to texting (like omg!), wikiHow has a smart guide to get your started. You probably can't send all of your communiques in 140-character bites, though. Well, unless you're this girl.
3. Buy a lower-radiation phone: CNET and the Environmental Working Group have published guides to radiation by phone model. You can use this information to guide your next cell phone purchase. The downside: This doesn't eliminate exposure. But, as they say, knowledge is power.
4. Use a headset: Some earbuds are wired to the phone; other options, like Bluetooth ear pieces, are wireless. Both put less radiation on the side of your head than a phone, according to EWG. Downside: Since there's no phone in sight, it will look like you're talking to yourself while you're walking down the street. Unexpected bonus: People in music videos do that all the time. And rock stars aren't bothered by onlookers, are they?
5. Talk less: Take this as literally as you will. You could simply limit your phone conversations, choosing to - gasp! - meet up with people in real life instead. Or, according to EWG, simply speaking less during a mobile-phone conversation can reduce your radiation exposure, too. From that group's guide: "Your phone emits radiation when you talk or text, but not when you're receiving messages. Listening more and talking less reduces your exposures." So, moral of story: less Jay, and more Silent Bob.
Posted by: John D. Sutter -- CNN.com writer/producer
Filed under: cell phones • health
April 15, 2010
Posted: 11:12 AM ET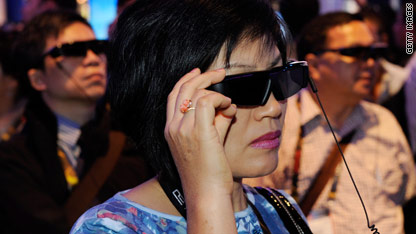 Pregnant women, drunk people and "those who are sleep deprived" should not watch 3-D television because of potential health issues, electronics manufacturer Samsung says on its Web site.
The company also says people at risk for stroke or epileptic seizures should consult a medical professional before watching TV in three dimensions.
Samsung and Panasonic began selling the first 3-D TVs in the U.S. last month.
The warnings come as other TV manufacturers are set to debut 3-D home entertainment systems this year. When watching 3-D TV, users wear special glasses with lenses that open and close rapidly to produce an image that appears to leap off of the screen.
Some of Samsung's warnings apply to everyone:
"Viewing 3D television may also cause motion sickness, perceptual after effects, disorientation, eye strain and decreased postural stability," the Web site message says. "It is recommended that users take frequent breaks to lessen the potential of these effects. If your eyes show signs of fatigue or dryness or if you have any of the above symptoms, immediately discontinue use of this device and do not resume using it for at least thirty minutes after the symptoms have subsided."
The TV maker also says wearing its 3-D glasses in normal situations, when you're not watching 3-D TV, "may be physically harmful to you and may weaken your eyesight."
The warning suggests that some 3-D TV viewers could become so disoriented that they could fall and hurt themselves:
"Viewing in 3-D may cause disorientation for some viewers," the warning says. "Accordingly, DO NOT place your TV television near open stairwells, cables, balconies, or other objects that can be tripped over, run into, knocked down, broken or fallen over."
Posted by: John D. Sutter -- CNN.com writer/producer
Filed under: 3-D TV • health • Samsung
February 10, 2010
Posted: 07:13 PM ET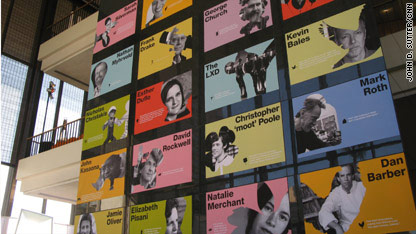 Hi there from the TED Conference in Long Beach, California. This is one of the brainiest and most eclectic gatherings around - a chance for the world's big thinkers to swap ideas about how to make all of our lives better.
The conference format is simple: 30 or so people give presentations, each only 18 minutes long. Then those talks - which are far better than most corporate PowerPoints - are posted online at TED's Web site.
Outside the main stage, about a half-dozen conference sponsors have set up exhibits. I took a quick tour on Wednesday, the first day of the conference. Here's my take on some of the best ideas I heard floating around the halls here:
Data makes you healthy: It's no secret that many of us are collecting unprecedented amounts of digital data about our lives. We post to social networks, track our finances and, increasingly, upload information about where we are and what we're doing.
That data has the power to improve our health, said Paul Tarini, of the Robert Wood Johnson Foundation, a non-profit supporting digital health initiatives.
Tarini said acts as simple as stepping on the scale each morning and recording the results can help people better understand their health and wellbeing. He said such data knowledge is only in the "first generation" for now, but he expects health data collection to become standardized. And we'll likely share all of our vital signs with doctors, so we can spot problems before they start nagging at our health.
Two sites he said are worth checking out: Patients Like Me and dLife. Let me know what you think of those.
Entrepreneurs will rebuild Haiti: Carl Schramm, CEO of the Kauffman Foundation, said the best way for the West to help rebuild Haiti is to encourage Haitian entrepreneurship.
Haitian people need to realize their own potential to start and own businesses, he said, in order to rebound from the earthquake and build a more stable nation.
Business development should be encouraged, and we shouldn't all expect magical results overnight, he said.
"The Ford Motor Company did not drop with 400,000 employees out of space," he said.
Pocket ultrasounds: Medical technology that once filled rooms at hospitals now can fit in a doctor's pocket, said Linda Boff, spokeswoman for GE. Her company is coming out with a smartphone-sized ultrasound device called V-Scan, which will be available within two weeks. She expects that device - and a forthcoming mobile EKG device - to change rural medicine in the U.S. and in developing countries.
She didn't offer details on the price of the V-Scan but said the ability to diagnose and treat illnesses at a remote clinic rather than only in major cities will save money.
$3 coffee: If people were willing to pay $3 for a cup of coffee instead of $2, coffee growers' lives in the developing world would be forever changed, said Doug Zell, CEO of Intelligentsia Coffee.
That may seem self-serving, but Zell said coffee consumers should ask questions about where their brew originates, and how much of their money is actually going back to the developing world.
He believes this kind of consumer consciousness - and our desire to root out coffee stories, from source to store - will help make the world a better place.
"I don't think a lot of people know where coffee comes from," he said.
Posted by: John D. Sutter -- CNN.com writer/producer
Filed under: health • TED2010