April 6, 2010
Posted: 10:04 AM ET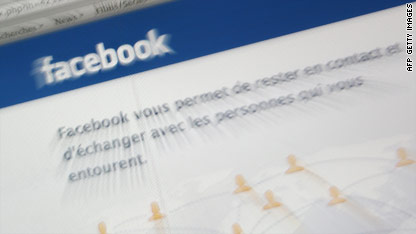 Whole Foods Market and Facebook are warning users that a fan page claiming to offer $500 in free groceries at the health food chain is a scam.
Austin, Texas-based Whole foods said on its official Facebook page that the scam first cropped up on Thursday, and is an effort to steal people's personal data.
The page offers fans a sign-up sheet for the supposed giveaway, which both installs malware on the user's computer and fishes for credit and other financial information.
"Dear Fans, Please be wary of Facebook Pages offering you $500 Whole Foods Gift Cards. We only run giveaways and promotions on this Facebook Page and our stores' Pages," read the post, dated April 2. "We have reported these to Facebook, and you can report these fraudulent Pages by clicking the "Report Page" link on the bottom of the left column on the left column of the Wall view."
A page that was used in the Whole Foods scam appeared to be gone Tuesday morning. A search for "Whole Foods" and "$500" only revealed a small group warning people about the scam.
But Whole Foods said the pages were first noticed on Thursday and that new ones have been popping up as soon as old pages were taken down.
A spokesperson for Facebook said the social-networking site takes such scams seriously.
"Protecting the people who use Facebook from spam and scams is a top priority for us," the spokesperson said Tuesday in a written statement. "Groups and Pages that attempt to trick people into taking a certain action or spamming their friends with invites violate our policies, and we have a large team of professional investigators who quickly remove these when we detect them or they're reported to us by our users.
By becoming a fan of Facebook's security page, which has nearly 1.7 million fans, users can get updates on the threats that inevitably will pop up from time to time on a site with more than 400 million users.
Posted by: Doug Gross -- CNN.com producer
Filed under: Facebook • Hoaxes • Security • virus
August 18, 2008
Posted: 12:16 PM ET
There's been a tremendous response from CNN Readers and Viewers on our reporting on Mr. Bigfoot.  As you may discern from the subtle hints in the title of this blog as well as other reporting on our website and on CNN TV, we're not buying it.  But we are reporting it.  And from the top of the organization to the bottom, we're comfortable with that, because that's what we're supposed to do.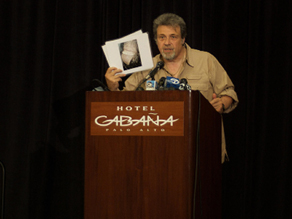 Bigfoot "hunter" Tom Biscardi displays photographic "evidence" of the mythical creature's existence. IAN SHERR/AFP/GETTY IMAGES
There have been many comments on this blog about how CNN should be "ashamed" for acknowledging this story.  There have also been many others critical from the other side.  Some say we should wait till the scientific verdict is in; others have already stamped Bigfoot's passport and declared all of this to be real.  Others have labelled CNN as "lazy" for not going out and finding Bigfoot for ourselves.    A special thanks goes out to the several people who took the time to write and complain that CNN was wasting their time.
I've had a great time reading through the (mostly) very smart comments from all sides on this.  Thanks.  Even to those of you who've declared me an "idiot" for my extreme skepticism about the tribe of Bigfeet that live one menacing Georgia Congressional District away from me, my children, and my pets. Here are a couple of facts about this story that I hope will clarify what CNN's role in this story is:
1) CNN is responsible to make its own decisions on what news is, but we're also beholden to report on what our audience is interested in.   In the six-month life of this blog, Bigfoot has gotten more page-views and comments than all but two of the 250-plus stories we've reported.   It would be irresponsible to impose a blackout on reporting this, given the demonstrably strong interest in the story.  It would be just as irresponsible, given the track record on reports of the finding of previously undiscovered mythic beasts in the wilderness, to report in a way that makes this seem like it's a reality. 
I have no problem sharing with you, on this blog, my personal impressions:  The Bigfoot "discovery" is a crock.  But we have an obligation to report the facts as they come out, for the benefit of a public that clearly cares about this, for whatever reasons. 
2) For those who think we've been a bit tough on the seven-foot-seven, 500-pound fella and his human handlers, it's important to acknowledge that a heavily-publicized announcement just took place with no firm evidence whatsover presented.  The impresario who ran the show has a track record of promoting at least one past proven hoax, and the two discoverers had, to put it very charitably, a very tough time accounting for themselves.  All this on top of a century-long history of phony-but-lucrative sightings of Fierce Creatures.  Many commenters have indignantly reported that Bigfeet have been spotted in nearly every one of the United States.  None have mentioned that anyone, anywhere, has produced a single Bigfoot bone, or shred of flesh.  Elvis sightings have as much forensic evidence.  That's where the evidence starts.  For all practical purposes, including the legacy of proven hoaxes, the evidence, or lack thereof, pretty much doesn't end.
CNN has reported on this story in a way that gives strong weight to the likelihood that Bigfoot is as real as mermaids and leprechauns because that's what the preponderance of evidence says.   Those of you who agree or disagree are welcome to voice your opinions here.  Thanks.
Peter Dykstra  Executive Producer   CNN Science Tech & Weather
Filed under: Animals • Hoaxes • myths
August 15, 2008
Posted: 04:18 PM ET
I just watched the coming-out party for Bigfoot at a news conference in Palo Alto, California. Bigfoot did not attend. The participants included a publicist; veteran Bigfoot hunter Tom Biscardi; and the two alleged discoverers of a Bigfoot carcass in the state of Georgia - prison guard Rick Dyer and police officer Matthew Whitton.
Biscardi showed a photo of the tongue and teeth of Bigfoot (as one blog commenter pointed out, Bigfoot obviously practiced awesome dental hygiene!) and an indiscernible photo of another Bigfoot said to be alive and walking away from the camera. That's it. They released a purported DNA result, although it was uncertain if the DNA info was supposed to be compared to other primates (it certainly couldn't be compared to other Bigfoot - or is it Bigfeet?).
Audio quality for the press conference was poor; there was no explanation of why the announcement would be made thousands of miles away from Bigfoot's location (he's in a freezer, somewhere here in the Atlanta area), but there was an assertion that access to Bigfoot would be very selective.
Biscardi, the professional Bigfoot hunter, did most of the talking. He promised to involve credentialed scientists, and dropped the name of Richard Klein, a Stanford University anthropologist. Dr. Klein was conveniently out of town, even though the press conference was held down the block from Stanford. I've left him a message inquiring if he's really involved with this.
The whole affair had a familiar ring to it:
Nearly six years ago, there was a media frenzy around the reports of the first cloned human. "Eve" was born the day after Christmas, fortuitously appearing during a dependably slow news week. Who unveiled that fantastic development? A cultish group called the Raelians, who believe that space aliens created life on earth, and who said a second cloned baby was on the way. But after a barrage of skeptical questions and a refusal by the Raelians to show us the baby or allow outside inspection (citing respect for privacy - not exactly a logical follow-up step if you've just held multiple press conferences), the Raelians disappeared. So did talk of a second baby, and the first baby hasn't been seen to this day.
The Bigfoot hunters, Biscardi, Dyer, and Whitton, certainly aren't cultists. Whitton and Dyer seemed like nice Georgia boys. But they're following a time-honored tradition of hucksterism, for which there's a voracious public appetite.
Okay, boys. Show us the proof. Let the experts establish the proof, and the stage is yours. Otherwise, put a sock in it, and go hide in the woods. Maybe you'll grow into a legend.
Peter Dykstra Executive Producer CNN Science & Technology
Filed under: Animals • Hoaxes • myths • sarcasm