March 3, 2010
Posted: 04:09 PM ET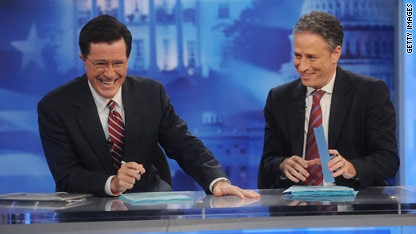 Comedic television hosts continue to be at the center of programming battles. Comedy Central, owned by Viacom, Inc., has decided to pull "The Daily Show with Jon Stewart" and "The Colbert Report" from Hulu.com, according to The Wall Street Journal.
As of March 9, Hulu will lose the rights to the two half-hour shows, but that doesn't mean they're disappearing from the Internet entirely. Full episodes will still be streamed on TheDailyShow.com and ColbertNation.com.
Andy Forssell, Hulu's Senior Vice President of Content and Distribution, characterized the split in a blog post as a parting of ways that may not be permanent, noting that Comedy Central's content had been incredibly beneficial to the free service.
"In the past 21 months, we've had very strong results for both Hulu and Comedy Central, in terms of the views and revenue we've generated, thanks to a couple of key trends," Forssell wrote. "First, more and more of our viewers have voted with their time by making these shows a regular part of their day. And second, we've driven steadily increasing revenue per view as advertisers voted with their budgets to take advantage of innovative ad formats and very strong advertising effectiveness."
So why the split?
"Maybe Viacom is hoping that viewership on its own air and websites will improve if the shows aren't available elsewhere," wrote Samuel Axon on the social-media news site Mashable. "We're also not sure exactly what caused the arrangement between Viacom and Hulu to end. Hulu simply said it was unable to secure the rights. Viacom might have asked for a financial deal the site was unable to agree to."
The news sparked much grousing online among Hulu users and fans of the shows.
"This sucks. Hulu is the future of TV, and the big execs at the studios know it, and they know it will kill their old revenue streams (subscriptions) so they're trying to kill it before it has a chance to mature," wrote a user named Chris in a post on Hulu's blog.
"Hopefully eventually the studios will see the potential for major revenue streams through sites like Hulu, but it won't happen until TVs come with a Hulu sticker & people can just tune in like another channel. That's the future – it's just a matter of waiting for the studios to realize it," Chris added.
Posted by: Breeanna Hare, CNN.com
Filed under: Hulu • television
October 23, 2009
Posted: 12:23 PM ET
Popular online video service Hulu will start charging subscription fees sometime next year, says News Corp. Deputy Chairman Chase Carey.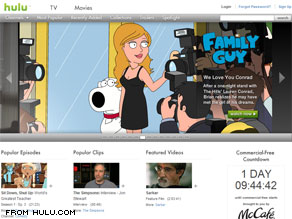 While speaking at a recent Broadcasting & Cable summit Carey announced his plans for Hulu: "I think a free model is a very difficult way to capture the value of our content. I think what we need to do is deliver that content to consumers in a way where they will appreciate the value. Hulu concurs with that, it needs to evolve to have a meaningful subscription model as part of its business."
Hulu.com has attracted a large online audience by offering commercial-supported TV shows and movies from NBC, ABC, Fox, and other networks since 2007. However, the addition of a subscription fee may send most of Hulu's users searching for alternatives.
I use Hulu frequently to watch everything from Comedy Central's "Daily Show" to Fox's "Family Guy." I stomach the commercial interruptions in exchange for the high-quality streaming content, but I certainly won't be pulling out my credit card if the service puts up a subscription pay wall. And I doubt many other customers will be happy to start paying money for a service they previously received for free.
The move to a fee-based business model is a decision that will still have to be approved by the Hulu board, and I hope someone has the sense to blackball this idea. But common sense doesn't always prevail in the entertainment industry -  if it did, we might still have "Arrested Development."
Posted by: Wes Finley-Price -- CNN.com Webmaster
Filed under: HDTV • Hulu • online news • online video
June 9, 2009
Posted: 11:46 AM ET
Movie studios Lionsgate, MGM, and Paramount/Viacom have teamed up provide a new outlet for their films. Joint venture Epix promises popular movies from all three studios before they hit DVD, and the best part is, cable subscribers can watch on TV or on demand from EpixHD.com for free.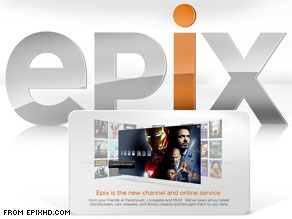 While currently in private beta testing, Epix may soon be in your cable lineup competing with premium channels HBO, Showtime and Cinemax. Epix is working to negotiate deals with cable and satellite providers to offer the channel as part of the standard TV lineup. Ars Technica reports that corresponding online content will then be available to any cable and satellite customer who also subscribes to the same provider's Internet service:
Epixhd.com will only be available to people who subscribe to one provider's TV offering and also subscribe to that same provider's Internet offering. That is, if Comcast were to offer Epix, users would need to pay for both Comcast cable and Comcast Internet in order to access the streaming, on-demand service. That's good for Comcast, and it helps them cover the cost of the service.
It appears that the success of online TV service Hulu and Netflix On Demand may have finally convinced production studios that Internet distribution can be profitable.
An invite-only beta of Epixhd.com began Monday, with a sign-up form for rolling admission over the next few months. With any luck, network negotiations will be successful and we can enjoy films like the new Star Trek on our laptops before they reach DVD... and without having to wait on BitTorrent.
Posted by: Wes Finley-Price -- CNN.com Webmaster
Filed under: file sharing • Hulu • Internet • media players • online video
May 27, 2009
Posted: 11:00 AM ET
Apple appears to be planning a major upgrade to its online capabilities. Reports indicate the company is shopping around for a location to build a $1 billion server farm. This cluster of networked computers would power Apple's future Web operations.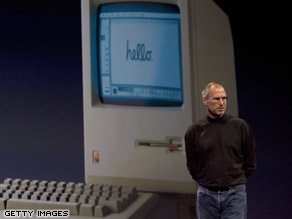 Apple CEO Steve Jobs delivers his keynote speech at Macworld on January 9, 2007 in San Francisco.
The iTunes and the iPhone app store are certainly growing, but this massive project suggests Apple may have something new up its sleeve - or is the $1 billion price tag expected given the Apple gear that will likely be used?
Data Center Knowledge writes:
The size of the project raises interesting questions about Apple's ambitions for its online operations. The $1 billion price tag is nearly twice the $500 to $600 million that Microsoft and Google typically invest in the enormous data centers that power their cloud computing platforms.
While the location of the data center is not yet decided, the Associated Press reports North Carolina lawmakers are salivating at the prospect of of bringing a billion dollars to their state. Legislators have proposed tax breaks for Apple that could amount to $46 million in the next decade, assuming the company reaches its $1 billion investment target within nine years:
Though the Apple site is initially expected to employ fewer than 100 full-time workers, legislators said the potential prize was so juicy it justified changing the state's corporate tax formula to benefit a single company.
Is Apple hoping to compete with Google's online cloud-computing capabilities or is a new video service like Hulu in the works? How do you think Apple will use its new online muscle?
Posted by: Wes Finley-Price -- CNN.com Webmaster
Filed under: Apple • computers • Google • Hulu • Internet
May 7, 2009
Posted: 10:43 AM ET
Online video is growing faster than a Chia Pet.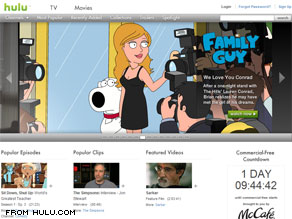 According to a recent Nielsen report, the number of American users frequenting online video destinations has climbed 339 percent since 2003, and time spent on video sites has shot up almost 2,000 percent over the same period.
Increased bandwidth, social networks, and sites such as Hulu and CNN.com Live that provide high quality web programming have all contributed to video's explosion onto the Internet. However, before you can say ch-ch-ch-Chia, some Internet Services Providers (ISPs) are threatening to spoil the party.
Time Warner Cable, Charter and Comcast have each tested data caps (or download limits) in certain markets. Fortunately, the caps, which have been called price-gouging by Ars Technica, met with resounding disapproval from consumers. Let's keep it that way.
Unlimited bandwidth is the driving force behind the internet's growth and development. If users begin to closely monitor their downloads to avoid data caps and overages, innovative sites that employ rich media and streaming video will be the first to suffer.
I don't get nostalgic when I recall the days of scrutinizing my AOL time limits, and I'm not looking forward to doing the same with my downloading.
Does your ISP limit your bandwidth? Do you believe the caps are necessary to maintain fairness by limiting excessive downloaders or are they strictly revenue generators for ISPs?
Posted by: Wes Finley-Price -- CNN.com Webmaster
Filed under: computers • file sharing • Hulu • Internet • online video • social-networking sites
May 1, 2009
Posted: 09:38 AM ET
You've probably read by now that Disney on Thursday struck a deal with Hulu, the online video site. That means you can watch a bunch of ABC shows - everything from "Lost" to "Desperate Housewives" - for free at Hulu.com.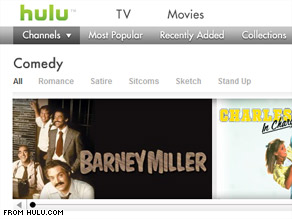 NBC and Fox already put content on Hulu.
Here's some background about what this means for online video sites, and for the future of TV. Let me know what you think of the deal in the comments. Do you use Hulu?
CNET says the deal is bad news for Google-owned YouTube (read more about YouTube's partnerships here):
What this all means is there just aren't that many other places for YouTube to acquire high-end content.

"(The Disney-Hulu deal) is not good news for YouTube," said James McQuivey, an analyst at Forrester Research. "Any hope of creating a professional-content business has probably disappeared."

A YouTube spokesman issued this positive-spin statement: "More content coming online in more places is a win for consumers and provides further validation of the growth of the online video market."
The LA Times says what's in the deal for Disney:
Disney views the move as a way to reach a new audience that isn't coming to the network's own website. Although the ABC.com website has attracted regular viewers of its shows, Hulu offers the opportunity to tap into a new group of viewers.
The paper has more on competition in the broadcast world for online viewers:
The new setup also brings the owners of three of the four major broadcast networks - ABC, NBC and Fox - into a fight for online eyeballs against the video streaming site TV.com, which CBS Corp. acquired last year when it bought CNET Networks Inc. for $1.8 billion. In February, Hulu pulled all its content from TV.com.
Wired writes that the deal is pretty sweet for Disney:
The move, though not unexpected, marks a victory for Disney and its ABC television programming: Not only does the deal erase NBC's and Fox's early-mover advantage over ABC, but Disney's Hulu deal appears a bit sweeter than those of the other networks because it requires them to make only certain episodes from a series available on Hulu at any given time. The first taste may be at Hulu, but the full meal will still be on Disney-controlled real estate.
And the New York Times gives some context to Hulu's growth against other online video sites:
Hulu, which in the last 18 months has become the third most popular video site on the Web, behind YouTube and Fox Interactive Media, displays free, high-quality versions of television shows and movies, supported by advertising.
For more on Hulu, see the site's "about" page.
Posted by: John D. Sutter -- CNN.com writer/producer
Filed under: Disney • Hulu • online video