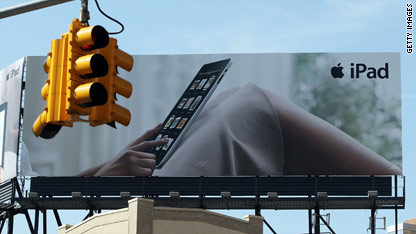 Will the iPad be bigger than the iPhone?
That's true in a physical sense, obviously. Apple's iPhone fits in your pocket. Its iPad - which is a touch-screen computer without a keyboard - would look ridiculous if you put it up to your ear.
But the iPad, it turns out, is also bigger in terms of initial sales.
Apple on Monday announced it has sold 1 million iPad computers in the 28 days the device has been available. The iPhone, which debuted in 2007, didn't hit the million mark until 74 days after it went on sale.
"Demand continues to exceed supply and we're working hard to get this magical product into the hands of even more customers," Apple CEO Steve Jobs says in a press release.
That begs the question: Will the iPad end up being a bigger hit than the iPhone, which has revolutionized the smartphone industry?
It's very early, and the iPad still has a long way to go. While 1 million iPads have been sold this year, the analyst firm Piper Jaffray says 36 millions iPhones will be sold this year worldwide, according to the blog AppleInsider.
It's also important to note that the iPhone cost $499 and $599 when it first hit the market. Sales didn't really take off until 2008, when Apple slashed the entry-level price of the device to $200, putting it within reach of more consumers.
Let us know what you think in the comments. What, if anything, do these sales figures mean? Is the iPad on track to change popular computing the way the iPhone changed what a mobile phone could be?
Posted by: John D. Sutter -- CNN.com writer/producer
Filed under: Apple • iPad • iPhone