May 10, 2010
Posted: 10:24 AM ET
He's the tech president - the one who totes around a BlackBerry, and who gave the Queen of England an iPod as a gift.
But in a commencement address at Hampton University in Virginia on Sunday, U.S. President Barack Obama said there's a darker side to the technologies that have helped build his image as a hip and digitally enabled public servant.
"With iPods and iPads; and Xboxes and PlayStations - none of which I know how to work - information becomes a distraction, a diversion, a form of entertainment, rather than a tool of empowerment, rather than the means of emancipation," he said in the address, according to a transcript posted by KTKR. "So all of this is not only putting pressure on you; it's putting new pressure on our country and on our democracy."
Education is the key to keeping these digital distractions in check, Obama said.
"Class of 2010, this is a period of breathtaking change, like few others in our history," he said. "We can't stop these changes, but we can channel them, we can shape them, we can adapt to them. And education is what can allow us to do so. It can fortify you, as it did earlier generations, to meet the tests of your own time."
Some tech bloggers sympathized with the concerns.
"I worry that some of these students will have been tweeting his words from their cell phones as he spoke them," writes Chris Matyszczyk at CNET.
Others find the comments curious, given Obama's history of promoting digital information.
"Since Obama coordinated his entire campaign on his Blackberry (sic), his comments here border on hypocrisy," writes a commenter called "Camp David" on an AppleInsider forum.
In a 2009 interview with CNBC, Obama sounds rather attached to that BlackBerry:
"I'm still clinging to my BlackBerry," he said, according to an online transcript. "They're going to pry it out of my hands."
Given his apparent tech literacy, I wonder if Obama was kidding about not knowing how to work an iPod, iPad, Xbox or PlayStation. During the 2008 presidential campaign he told Rolling Stone his iPod contained songs by Bob Dylan, Jay-Z and cellist Yo-Yo Ma, among others. Presumably, his staffers didn't turn it on and work it for him.
I watched a YouTube clip of the speech to get more context. Check it out for yourself (the tech comments start at 7:50 on the timeline) and let us know what you think. People did laugh at the remark. (Here's a similar cut on CNN)
Does Obama have a point? He seems to be focused more on criticizing the speed and potential inaccuracy of digital information than these gadgets, in particular. (From the speech: "You're coming of age in a 24/7 media environment that bombards us with all kinds of content and exposes us to all kinds of arguments, some of which don't always rank that high on the truth meter.")
Or do these comments seem disingenuous? Can the president who gave the Queen an iPod really not know how to use one himself? Let us know in the comments (and try not to ruin democracy while you're at it).
Posted by: John D. Sutter -- CNN.com writer/producer
Filed under: Barack Obama • BlackBerry • iPad • iPod
April 29, 2010
Posted: 11:50 AM ET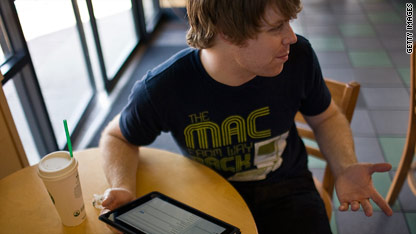 Apple CEO Steve Jobs on Thursday said 200,000 applications are available in his company's mobile app store - and they all benefit because they're not built in Flash.
In a post on Apple's website, Jobs listed reasons none of those apps support Flash, a format that supports video, animation, games and other content and is made by tech competitor Adobe.
Some tech bloggers have criticized Apple for not supporting Flash on its mobile devices, including the iPad, iPhone and iPod. But Jobs said Adobe Flash is a format for the past.
Performance, not business strategy, guides Apple's decision not to use the format, he said.
"Flash was created during the PC era – for PCs and mice," he wrote in the post. "Flash is a successful business for Adobe, and we can understand why they want to push it beyond PCs. But the mobile era is about low power devices, touch interfaces and open web standards – all areas where Flash falls short."
Adobe has complained its business "could be harmed" by Apple's decision not to use the format.
Jobs listed several specific reasons Apple doesn't use Flash. Some of the more interesting ones:
_ "iPhone, iPod and iPad users aren't missing much video," he wrote.
_Apple products run more reliably without Flash: "Flash is the number one reason Macs crash."
_Flash isn't made for touch-screen devices: "... Many Flash websites rely on 'rollovers,' which pop up menus or other elements when the mouse arrow hovers over a specific spot." Apple's touch screens don't use rollovers.
_And, most important, Jobs said, is that Flash slows down app development: " We cannot be at the mercy of a third party deciding if and when they will make our enhancements available to our developers."
What do you think? Is Jobs right, or should Apple support Flash on its devices?
Posted by: John D. Sutter -- CNN.com writer/producer
Filed under: Apple • iPad • iPhone • iPod
February 23, 2010
Posted: 11:58 AM ET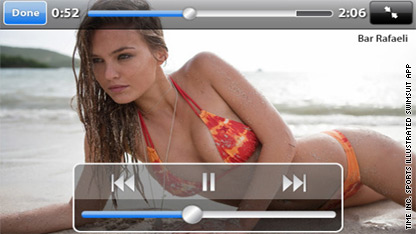 The Sports Illustrated Swimsuit app is still available in the app store.
Apple has tightened its restrictions on sexy or suggestive apps for the iPhone and iPod Touch, and many of the most popular programs in the iTunes app store have been removed.
While speaking to the New York Times, Apple executive Phil Schiller explained, "It came to the point where we were getting customer complaints from women who found the content getting too degrading and objectionable, as well as parents who were upset with what their kids were able to see."
Several days ago the developer of the Wobble app posted the results of his discussion with Apple on his blog. The Wobble app, which adds a jelly-like wobble motion to any user supplied photo, was recently removed because advertisements suggested it could be used on photos of breasts.
I have spoken with Apple, and the following are the new rules:

1. No images of women in bikinis (Ice skating tights are not OK either)

2. No images of men in bikinis! (I didn't ask about Ice Skating tights for men)

3. No skin (he seriously said this) (I asked if a Burqa was OK, and the Apple guy got angry)

4. No silhouettes that indicate that Wobble can be used for wobbling boobs (yes – I am serious, we have to remove the silhouette in this pic)

5. No sexual connotations or innuendo: boobs, babes, booty, sex – all banned

6. Nothing that can be sexually arousing!! (I doubt many people could get aroused with the pic above but those puritanical guys at Apple must get off on pretty mundane things to find Wobble "overtly sexual!")

7. No apps will be approved that in any way imply sexual content (not sure how Playboy is still in the store, but …)
While most apps containing bikini-clad women are threatened, Phil Schiller defended the Sports Illustrated app to the Times. "The difference is this is a well-known company with previously published material available broadly in a well-accepted format," he said.
As of this morning, a Playboy app was also still available, suggesting Apple may accept sexual content if the developer is associated with a strong brand.
Apple has struggled to keep the app store clean, but these new policies remove many of the store's most popular programs. Parents can enable the app store's parental controls and adults can simply choose not to download content they do not approve of.
In a blog post today, Fortune.com columnist Philip Elmer DeWitt linked the purge to next month's release of the iPad tablet computer, which will run iTunes apps and which Apple plans to market for home and school use.
How do you feel about Apple's decision? Should material that is so widely accepted be banned because it is objectionable to a relative few?
Posted by: Wes Finley-Price -- CNN.com Webmaster
Filed under: iPad • iPhone • iPod • mobile phones • smartphones
November 3, 2009
Posted: 05:00 PM ET
Adobe is not happy about the iPhone's lack of Flash support and the company is accusing Apple of unfairly restricting the technology.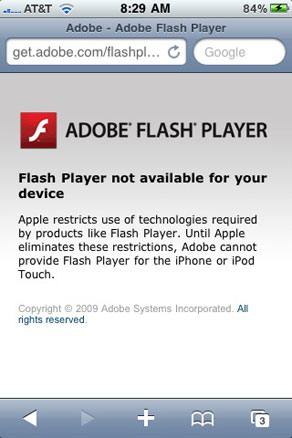 iPhone users who visit the Flash installation site are greeted with a not-so-subtle message claiming:
Flash Player not available for your device.

Apple restricts use of technologies required by products like Flash Player. Until Apple eliminates these restrictions, Adobe cannot provide Flash Player for the iPhone or iPod Touch.
Adobe Flash is a multimedia platform commonly used to add interactivity to Web sites. While it has been criticized for being resource intensive, Flash is still the most popular approach to to integrate animations and video into Web pages.
Since the iPhone's debut, the device's Safari browser has been unable to play Flash, and users routinely lament the loss of nearly all online video content.
Apple declined to comment, but some iPhone developers speculate Apple opted against a full Flash experience because of technical problems it could raise on the handset, such as battery drainage or sluggish web browsing.
Last summer's release of the speedier iPhone 3GS did not ease Flash restrictions. Apple may have chosen to block Flash not for performance reasons, but because interactive Flash applications and games could compete with the iTunes App store.
Do you agree with Adobe that Apple is unfairly restricting technology by limiting Flash on the iPhone? Or is the message on Adobe's Web site simply propaganda aimed to shift the blame from Flash's performance to Apple's anticompetitive nature?
Posted by: Wes Finley-Price -- CNN.com Webmaster
Filed under: Apple • cell phones • consumer tech • Gaming • iPhone • iPod • mobile phones
July 22, 2009
Posted: 09:31 AM ET
Apple reported record earnings on Tuesday. But what does that mean?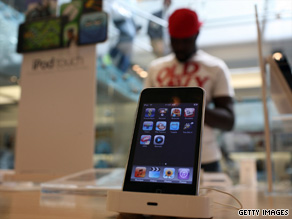 The BBC says the software company has a good problem: It can't make new iPhones fast enough.
"We are currently unable to make enough iPhone 3GSs to meet robust demand, and we're working to address this," said Apple's chief financial officer Peter Oppenheimer in a conference call about quarterly earnings, the news site says.
What's more, Apple plans to release the popular new iPhone - which has a video camera and is touted as faster than its two predecessors - in 20 new countries in August. The phone is expected to be sold in a total of 70 countries by the end of the year.
TechCrunch has a different take. The blog says the report is an indicator that the basic iPod - once Apple's flagship mobile device - is effectively dead.
It's been replaced with the iPod Touch, which looks more like the red-hot iPhone and accesses the Internet with Wi-Fi, which old-school iPods don't. The blog does some math to determine that old iPods are sinking otherwise stellar numbers for Apple's mobile devices, or "pocket products":
Of the three pocket products, two saw huge year-over-year growth this quarter, one did not. While iPhone sales grew a massive 626% year-over-year, iPod touch sales actually grew just about 130% too. And while Apple may consider the iPod touch outside of the iPod line, for financial purposes, it's still counted with them. So when you hear that overall the iPod family saw a 7% decline year over year, you know that the actual iPod numbers minus the iPod touch, must not be very good at all.

And while Apple wouldn't specifically give those numbers, Oppenheimer did note that the iPhone and iPod Touch are very much "cannibalizing" the stand-alone MP3 iPod market.
Here are some highlights from the report, compiled by Fortune, a CNN.com content partner:
Mac sales: 2.6 million units, up 4% year over year
iPhone sales: 5.24 million units, up 626%
iPod sales: 10.2 million units, down 7%
Gross margin: 36.3%, up from 34.8% last year
Cash holdings: $31.1 billion, up $2.2 billion for the quarter.
Guidance for the September quarter: revenue between $8.7 and $8.9 billion, EPS between $1.18 and $1.23, and gross margins of 34% — considerably higher than expected.
What do you make of the numbers? Are you among the iPhone converts? Feel free to chime in with comments.
Posted by: John D. Sutter -- CNN.com writer/producer
Filed under: Apple • iPhone • iPod
May 27, 2009
Posted: 09:39 AM ET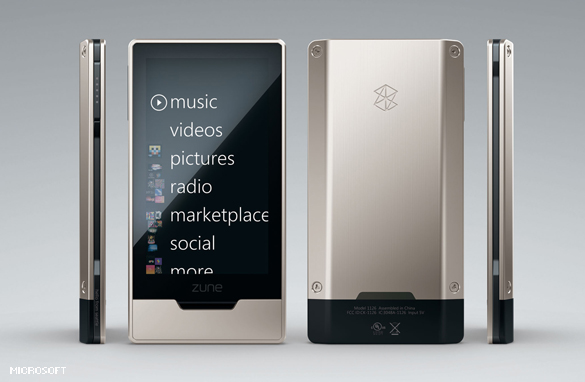 Microsoft Corp. on Tuesday announced it will release a new portable media player this fall. The Zune HD, with its rectangular design and touch-screen navigation, looks as if it is designed to compete with Apple's high-end iPod Touch, which is pretty much like an iPhone without the phone.
Among the Zune's new features is the fact that it can play HD radio over a Wi-Fi Internet connection. That sets it apart from some other media players, but, as San Francisco Chronicle blogger Ryan Kim writes, new features alone won't help any of Apple's competitors to take down the iPod Touch. The real power of the Zune HD may be in its ability to link up with Microsoft's gaming service, Xbox Live.
As we know, a list of features alone can't unseat Apple. Ask SanDisk and others. But if Microsoft can really integrate the Zune HD with Xbox Live and extend its media offerings across a number of devices, it'll have a compelling story for people who may be interested in having a cross-platform approach for entertainment. Tune in next week for more info.
CNET says Microsoft may have more details about how Zune HD will work with Xbox next week at E3, a major gaming and entertainment conference in California:
The software maker also said that at next week's E3 trade show in Los Angeles it will announce details on a new Zune-branded video service for the Xbox that will replace the current Xbox Live marketplace for TV and movies. The company didn't announce details or specifically say that content will be playable on both Zunes and the Xbox.
As a newbie to the gadget world, here's my question: Why not link up the Zune HD with a phone? Or, put in Apple terms, why would you buy an iPod Touch when you can get the essentially the same device, with a phone, in the iPhone?
It seems that more gadgets are breeding and folding into each other. Video games are moving onto phones, as Wired reports. Phones are being used in South Korea to let people access public transit, check into their school classrooms and pay bills, accoridng to the New York Times. What's the advantage of having a separate media player?
That's meant to be a genuine question, not a snarky remark. I'd like to hear what you all think in the comments. Are you excited about the Zune HD? What do you think will come of Microsoft's announcements next week?
Posted by: John D. Sutter -- CNN.com writer/producer
Filed under: Apple • iPod • media players • Microsoft Corp.