Famous for its reddish color, Mars has long fascinated astronomers, ordinary sky gazers and science-fiction writers.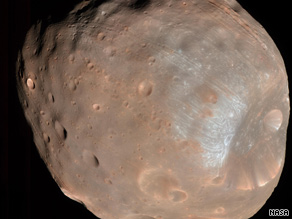 But its strange, tiny moons also deserve plenty of attention, especially since one of them has been suggested as a way for humans to get to the planet itself.
"To reach Mars, we should use comets, asteroids and Mars's moon Phobos as intermediate destinations. No giant leaps this time. More like a hop, skip and a jump," Buzz Aldrin, the second man on the moon, wrote recently in an article in Popular Mechanics. Read more about the moon vs. Mars debate
Phobos is one of two Martian moons, with Deimos keeping it company in space.
Just 13 miles across, Phobos orbits so close to Mars that it may be shattered by the Red Planet's gravitational tidal forces in about 100 million years, according to NASA.
You can see its battered, pockmarked surface in the photo above, taken by the Mars Reconnaissance Orbiter last year. The Stickney Crater, which takes up almost half its diameter, is on the lower right.
Some astronomy Web sites call Phobos potato-shaped and that's a good way to describe it!
Think Phobos is small? Deimos is even tinier, at about 7.5 miles in diameter. If you were to stand on the surface of Mars, it would look light a bright star, NASA says.
And here's a bit of mythology to add to your astronomy knowledge. You may know that Mars was named after the Roman god of war. So in keeping with the tone, Phobos ("Fear") and Deimos ("Terror") were named after the horses that pulled the chariot of Ares, the Greek god of war and the counterpart to Mars.
Posted by: A. Pawlowski, CNN.com
Filed under: Astronomy • Mars • NASA • Space