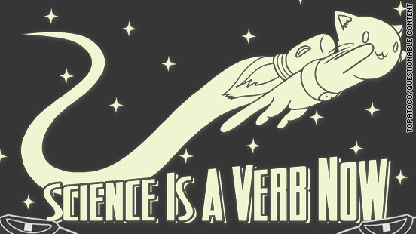 Science Is A Verb Now
Editor's note: Geek Out! posts feature the latest and most interesting in nerd-culture news. From scifi and fantasy to gadgets and science, if you can geek out over it you can find it on Geek Out! Look for Geek Out! posts on CNN's SciTech blog.
As the old saying goes, "clothing makes the man." In the geek culture, what is said on the clothing is more important than the clothing itself.
Geeks, gamers and nerds have been showing their cred by the logos, designs and saying on their T-shirts. It is considered a badge of honor and a way to connect with others of like minds.
Shirt designers say people use T-shirts as a quick visual way to tell the world something about themselves. While the core audience for these shirts used to be hardcore geeks, some companies say the appeal has broadened in recent years.
Shane Peterman from Think Geek said buyers of their products include gamers, college students, scientists and NASA employees. "It is more of an open secret now," he said. "Your shirt helps you identify who is 'in the know'."
Brian Sunter, merchandise manager of Penny Arcade, agrees. "Geeks–and gamers especially–relate to that stuff as well, I think, because gaming has a huge pool of shared experiences," Sunter said. "Maybe it is a little awkward, but we've kind of all rescued the same princesses and saved the same worlds."
Chris Hastings, creator of "The Adventures of Dr. McNinja", takes a different view. He thinks T-shirts can connect people who wouldn't normally say a word to each other.
"If one is wearing a T-shirt that says 'Ninjas Can't Catch You If You're On Fire", the other sees it, immediately gets the joke and thinks "Wow! This person has the same weird sense of humor that I do," Hastings said.
Designers say that a good shirt goes a little further than just a logo and one level deeper to make that connection. But it all starts with a creative look on the t-shirt that sometimes has different meanings for different people.
TopatoCo has been working as an online store for many web comics artists for about 8 years. Supreme Commander of Promotions David Malki! said the best shirts get an idea out that is reflective of the comic's tone. He also thinks a good shirt speaks on behalf of the wearer.
"The shirt shows the exclusivity and uniqueness of the wearer," Malki! said. "It makes them seem super cool."
Ryan North, creator of "Dinosaur Comics", aims for shirts that target people who are familiar with his comic, but also works well with someone who has never heard of it.
"That way, the person buying it knows it's rad, and knows that people who see it will think it's rad too," North explained.
Sean Gailey, the Creative Overlord at Jinx, takes another route to designing their geek T-shirts. Gailey said they keep a close eye on trends and user comments.
"Our customer core is shameless and passionate about their interests," Gailey said. "The design message has to mean something and you're in on it."
Peterman also says the popularization of geek culture on television shows and movies influences who buys geek T-shirts.
"'The Big Bang Theory' is a big part of it," he said. "Older geeks are tapping back into the culture and they are the ones who can make buying decisions."
These companies are trying to harness that older audience by offering a wider selection beyond just T-shirts. Polo shirts, button down shirts, jackets, and even baby items are getting the geek treatment in an effort to spread the geek chic.
"It is more subtle," Gailey explained. "It is another option to still maintain and express your geek cred."
"I think what is next for geek chic is apparel that acknowledges the identity of modern geeks as responsible adults who grew up as gamers," Sunter said about their new First Party line of clothes. "There is a place, now, for classy clothing that gamers can identify with."
Malki! said TopatoCo is expanding their selections with more colors and organically produced shirts in response to customer requests. Peterman said Think Geek is offering interactive shirts, like a shirt recently seen on "The Big Bang Theory" that plays music when you press buttons on the shirt.
Perhaps the geek cred can be summed up in the mantra at Jinx – "Get into it."
"Whatever you like, get into it," Gailey said. "Don't take a casual interest."
Never let it be said that geeks aren't into what ever "it" is. And as this geek will tell you, wearing your heart on your sleeve – or emblazoned across your chest – is a matter of pride.
Posted by: Larry Frum for CNN.com
Filed under: Gaming • Geek Out! • Mathematics • NASA • pop culture • science • web comics