August 11, 2009
Posted: 10:09 AM ET
Microsoft released a mandatory update for the Xbox Live Dashboard this morning. Along with user interface enhancements, the update provides a variety of functional updates to the game console's online capabilities.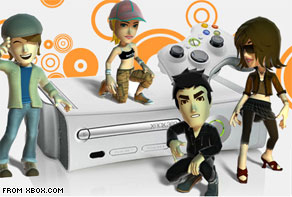 Games on demand
Xbox 360 users with a fast Internet connection and hard drive space to spare can now download complete titles from the new games marketplace. The marketplace only includes about 20 games at the moment, but Microsoft says new titles will be added every Tuesday.
I am a little disappointed by the pricing in the games marketplace. The online games seem to cost slightly more than purchasing a physical copy at your local Best Buy. Plenty of people will likely pay a few extra dollars for the convenience and instant gratification of games on demand. I just can't help but feel the lack of physical packaging and a direct-to-Microsoft payment plan should result in drastically lower prices.
Avatar marketplace
For those of you in love with the customizable cartoonish avatars that represent each person in the Xbox Live universe, the update includes a new avatar marketplace.
According to Xbox.com users can "Download and purchase premium items, including branded apparel from your favorite fashion labels and Xbox 360 games."
I don't think my avatar is getting a flashy new wardrobe if it requires me to open my wallet, but I have no doubt some gamers are excited to distinguish their virtual selves with unique outfits and props.
Netflix
Netflix has been available on Xbox Live for some time, but with the new update you no longer need a computer to add titles to your instant viewing queue.
Xbox boasts that Netflix subscribers can now "browse through new releases and other genre lists based on the types of shows you've previously watched, all from the comfort of your couch."
Coming soon
Unfortunately, anticipated features such as Facebook and Twitter integration are not yet available, but Xbox promises social networking and Zune video will be added this Fall.
After toying with the new dashboard for a day, I was impressed by the Netflix updates, additional console settings, and enhanced video controls, but nothing struck me as a radical development.
Are you pleased with the new features included in this dashboard update? Or does your Xbox Live experience seem largely unchanged?
A full list of features included with the new update can be found on Xbox.com.
Posted by: Wes Finley-Price -- CNN.com Webmaster
Filed under: Games • Gaming • media players • online video • video games
June 9, 2009
Posted: 11:46 AM ET
Movie studios Lionsgate, MGM, and Paramount/Viacom have teamed up provide a new outlet for their films. Joint venture Epix promises popular movies from all three studios before they hit DVD, and the best part is, cable subscribers can watch on TV or on demand from EpixHD.com for free.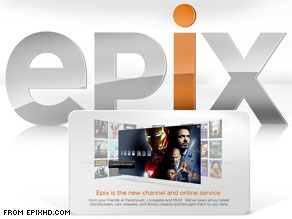 While currently in private beta testing, Epix may soon be in your cable lineup competing with premium channels HBO, Showtime and Cinemax. Epix is working to negotiate deals with cable and satellite providers to offer the channel as part of the standard TV lineup. Ars Technica reports that corresponding online content will then be available to any cable and satellite customer who also subscribes to the same provider's Internet service:
Epixhd.com will only be available to people who subscribe to one provider's TV offering and also subscribe to that same provider's Internet offering. That is, if Comcast were to offer Epix, users would need to pay for both Comcast cable and Comcast Internet in order to access the streaming, on-demand service. That's good for Comcast, and it helps them cover the cost of the service.
It appears that the success of online TV service Hulu and Netflix On Demand may have finally convinced production studios that Internet distribution can be profitable.
An invite-only beta of Epixhd.com began Monday, with a sign-up form for rolling admission over the next few months. With any luck, network negotiations will be successful and we can enjoy films like the new Star Trek on our laptops before they reach DVD... and without having to wait on BitTorrent.
Posted by: Wes Finley-Price -- CNN.com Webmaster
Filed under: file sharing • Hulu • Internet • media players • online video
May 27, 2009
Posted: 09:39 AM ET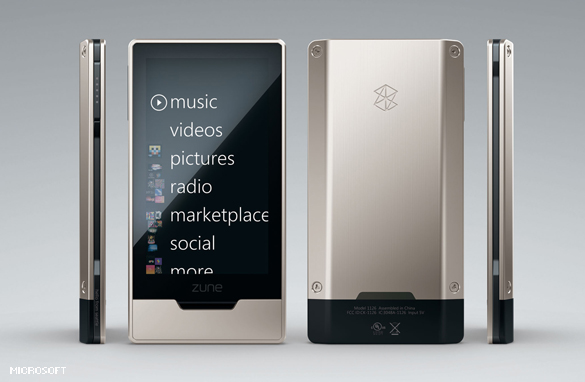 Microsoft Corp. on Tuesday announced it will release a new portable media player this fall. The Zune HD, with its rectangular design and touch-screen navigation, looks as if it is designed to compete with Apple's high-end iPod Touch, which is pretty much like an iPhone without the phone.
Among the Zune's new features is the fact that it can play HD radio over a Wi-Fi Internet connection. That sets it apart from some other media players, but, as San Francisco Chronicle blogger Ryan Kim writes, new features alone won't help any of Apple's competitors to take down the iPod Touch. The real power of the Zune HD may be in its ability to link up with Microsoft's gaming service, Xbox Live.
As we know, a list of features alone can't unseat Apple. Ask SanDisk and others. But if Microsoft can really integrate the Zune HD with Xbox Live and extend its media offerings across a number of devices, it'll have a compelling story for people who may be interested in having a cross-platform approach for entertainment. Tune in next week for more info.
CNET says Microsoft may have more details about how Zune HD will work with Xbox next week at E3, a major gaming and entertainment conference in California:
The software maker also said that at next week's E3 trade show in Los Angeles it will announce details on a new Zune-branded video service for the Xbox that will replace the current Xbox Live marketplace for TV and movies. The company didn't announce details or specifically say that content will be playable on both Zunes and the Xbox.
As a newbie to the gadget world, here's my question: Why not link up the Zune HD with a phone? Or, put in Apple terms, why would you buy an iPod Touch when you can get the essentially the same device, with a phone, in the iPhone?
It seems that more gadgets are breeding and folding into each other. Video games are moving onto phones, as Wired reports. Phones are being used in South Korea to let people access public transit, check into their school classrooms and pay bills, accoridng to the New York Times. What's the advantage of having a separate media player?
That's meant to be a genuine question, not a snarky remark. I'd like to hear what you all think in the comments. Are you excited about the Zune HD? What do you think will come of Microsoft's announcements next week?
Posted by: John D. Sutter -- CNN.com writer/producer
Filed under: Apple • iPod • media players • Microsoft Corp.