A federal appeals court has ordered Microsoft to strip custom XML support from Word 2007 by January 11, effectively banning the sale of Microsoft Word and Office (which includes the Word software) in their current form.
[cnn-photo-caption image=http://i2.cdn.turner.com/cnn/2009/images/12/23/ms.office.lawsuit.jpg caption="Microsoft may be forced to stop selling Word 2007." height="164"] The injunction stems from a patent infringement lawsuit filed by the small Canadian firm i4i in 2007. The suit claims i4i owns the custom XML editing technology that is included in Microsoft Word.
The U.S. District Court for the Eastern District of Texas agreed, slapping Microsoft with a $290 million fine and ordering it to remove custom XML capabilities or stop selling the infringing software.
Microsoft appealed, but the lower court's ruling was upheld by the U.S. Court of Appeals. And now the software giant has precious little time to re-release Word and Office 2007 before being barred from selling the profitable office software.
In a statement issued yesterday, Microsoft's Director of Public Affairs Kevin Kutz expressed confidence in the company's ability to meet the injunction date.
With respect to Microsoft Word 2007 and Microsoft Office 2007, we have been preparing for this possibility since the District Court issued its injunction in August 2009 and have put the wheels in motion to remove this little-used feature from these products. Therefore, we expect to have copies of Microsoft Word 2007 and Office 2007, with this feature removed, available for U.S. sale and distribution by the injunction date. In addition, the beta versions of Microsoft Word 2010 and Microsoft Office 2010, which are available now for downloading, do not contain the technology covered by the injunction.
While speaking with Stuart J. Johnston at Datamation Microsoft analyst Rob Enderle admits the ruling "shows the increasing hostility of this market," before adding, "For Microsoft, I think it's going to be an increasingly expensive way to do business, with a lot more patent vetting."
Regardless of whether new versions of Office 2007 will appear in time to meet demand, this significant legal decision will only further the cutthroat approach technology companies apply to protect their patents.
Posted by: Wes Finley-Price -- CNN.com Webmaster
Filed under: Microsoft Corp. • Microsoft Office • online news
Sometimes you come back from the weekend already feeling behind. Here are a few of the latest tech stories to help you get back up to speed: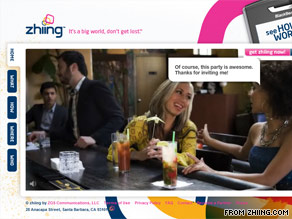 Microsoft Office 2010 gets the buzz award of the day. The new version of the mammoth computer applicaiton suite, which will be released to a select group today,  is expected to challenge Web-based applications, like Google Docs, which have been gaining popularity. From TechCrunch:
As a direct challenge to Google Apps, Microsoft is rolling out lightweight, FREE, Web-browser versions of Word, PowerPoint, Excel and OneNote. All based in the cloud, the web-based versions of these products have less features than their desktop cousins but still give users basic tools to edit and change documents.
More on what Office 2010 means in the big scheme of things from CNET:
According to Microsoft, the focus of this update was on three things: to make work flows more efficient; to effectively use Web applications to make your work available anywhere; and to make collaboration with others much easier.
Mashable has a good post on location-based phone services. A new survey says the number of people using location-based services will double to 5.7 million this year. The rise in GPS-enabled smartphones - those that know where you are and act like mini-computers - accounts for much of the increase.
Some cool ways to use these services, from the blog:
Apps are responding in kind. Zhiing is a new mobile app for sending friends your location as quickly as possible, Yowza sends you coupons based on what stores are nearby, and Google Latitude helps map out where you and all of your friends are. This type of information helps get the most relevant information to you as quickly as possible. Weather forecasts, nearby friends, and local train schedules are automatic.
For the parents among us, BusinessWeek has an interesting story on the federal government's slashing of a program to put more technology in schools. Check out the story for the details of the impact, but the core of the story is in this factoid:
The Obama Administration in May proposed slashing funding for Enhancing Education Through Technology (EETT), one of the main government sources of technology for public schools, to $100 million in 2010, a 63% decline from this year's $269 million.
Finally, for those looking to purchase some of the many new gadgets out there - especially the iPhone 3G S - take note of this Ars Technica post, which says bricks instead of phones are turning up in some retail boxes. But don't blame the Apple store, the site says:
The general consensus, however, is that customers themselves are responsible for the large majority of these cases. People purchase an expensive item, take it home, replace it with bricks, and sometimes even shrinkwrap the box for a return. Many retail stores won't check a box that looks like it was never opened in the first place, making this an easy switch to pull.
Posted by: John D. Sutter -- CNN.com writer/producer
Filed under: gps • iPhone • Microsoft Corp. • Microsoft Office • schools • technology