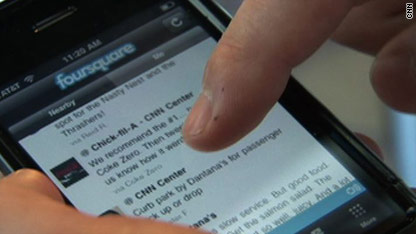 For anyone who's ever tried to check in somewhere on Foursquare, only to mutter, "No! That is NOT where I am," help is on the way.
The makers of the burgeoning mobile game/social-networking tool said Tuesday that they've tweaked the way venues appear on their "Places" page.
When a Foursquare user wants to check in at a location, they pull up the "Places" page and scroll down until they find the right spot. But sometimes the phone's GPS coordinates don't quite match reality, requiring the user to type in the name of their location to find it.
"The problem with smartphones is that they're good - but not great - at knowing exactly where you are," the folks at Team Foursquare wrote on their blog. " Also, there might be a lot of venues nearby that you are very unlikely to check into (like someone else's apartment — which is great for them but not so much for you) that clutter up the list a little, and sometimes push the venue you want off the list altogether."
The newly rejiggered algorithim now takes into account things like the popularity of a venue and work harder to pinpoint the ones closest to the user.
A pretty cool tweak now considers what time of day the check-in is occurring. So, as the Foursquare folks write, at 8 a.m., a coffee shop would get priority on the list while, at 8 p.m., a restaurant or bar might move to the top.
Foursquare promises more changes to come, making it quicker to check in then ... you know ... do whatever it was you went to that spot to do in the first place.
Posted by: Doug Gross -- CNN.com producer
Filed under: Foursquare • Games • mobile phones