May 18, 2010
Posted: 10:13 AM ET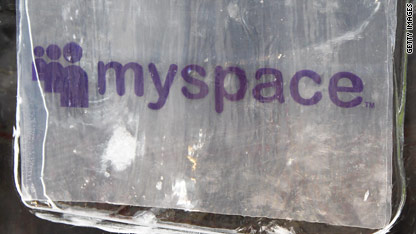 MySpace is not aging well.
The site was the world's largest online social network until 2009, when Facebook whizzed by. Now, MySpace says it has 113 million users to Facebook's 400 million.
But maybe there's a comeback for MySpace yet. This week, as Facebook continues to weather bad press about its non-private privacy settings, MySpace announced its comeback plan: Privacy settings that make sense.
"We respect our users' desires to balance sharing and privacy, and never push our users to an uncomfortable privacy position," company co-president Mike Jones said in a blog post on Monday.
In coming weeks, MySpace users will be able to choose from three settings that regulate the privacy of their profiles. They are:
"Friends only," meaning only people who you've agreed to be friends with can see your profile.
"Public," meaning anyone can search Google and find everything about you.
"Public to anyone 18 or older," which is pretty self-explanatory.
The default on MySpace will be "friends only." That sets it in stark contrast with Facebook, which describes its default privacy settings this way, in its 5,825-word privacy policy:  "The default privacy setting for certain types of information you post on Facebook is set to 'everyone.' You can review and change the default settings in your privacy settings. If you delete 'everyone' content that you posted on Facebook, we will remove it from your Facebook profile, but have no control over its use outside of Facebook."
Even before MySpace's announcement this week, some tech pundits were calling for Facebook to adopt simplified privacy settings. Farhad Manjoo, Slate's technology columnist, suggested 5-level privacy settings:
"You should be able to go to your privacy settings and see one big dial that lets you choose one of five levels between 'private' and 'public.' This setting would govern your entire profile; the more public you set the dial, the more you'll share with more people," he wrote on May 13. "By default, the dial would be somewhere in the middle, but you'd be able to shift it up or down at any time. You'd still be able to adjust more specific controls—you could set your profile to 'public' but allow only close friends to see pictures of your kid—but few of us would ever need to."
Facebook responded to some of these concerns in an e-mail to CNN.
It seems like three things could come of MySpace's new privacy controls. Facebook's faithful might give the site a second try. MySpace's privacy rethink could become contagious with other sites.
Or, maybe no one will notice.
Cast your vote for the most likely scenario in the comments. Also, does this make MySpace a more enticing social network?
Posted by: John D. Sutter -- CNN.com writer/producer
Filed under: Facebook • MySpace
April 15, 2010
Posted: 02:31 PM ET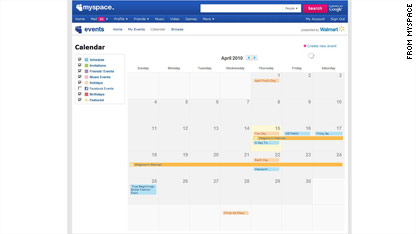 MySpace, which has long been an online hangout for musicians and music fans, is now making it easier for users to keep up with musical happenings.
The social-networking site unveiled its new global events calendar Thursday. Called MySpace Events, the feature is a "global platform that supplies artists and users with tools to create, discover and share events including an easy-to-use calendar," said Marcus Womack, director of events and ticketing, in a MySpace blog post.
Users also will have the opportunity to sync their MySpace Events with Facebook and Twitter, making it easier for people to manage their "entire social calendar and share events across the Web," Womack said.
MySpace will add different types of events - sports, nightlife and arts happenings - in addition to the "concerts and pop culture events" already featured on the site, Womack said.
The site also will allow users to receive alerts about future shows of their choice and purchase tickets through MySpace, a service made possible by the site's partnership with Ticketmaster and Live Nation.
Posted by: Special to CNN, Stephanie Goldberg
Filed under: MySpace
January 21, 2010
Posted: 04:58 PM ET
If you think online dating profiles with self-shot camera-phone pictures that scream "Check out my MySpace!" look ridiculous, well, you are probably right, but, according to a statistical study by the dating site OKCupid, these comical self-portraits work.
[cnn-photo-caption image=http://i2.cdn.turner.com/cnn/2010/images/01/21/temp.wes.image.jpg caption="My impromptu attempt at a 'MySpace pic.' Note: Works better with women." width=292 height=282]OKCupid analyzed over 7,000 profiles of "average-looking people" to determine which pictures most successfully attracted other users.
In looking closely at the astonishingly wide variety of ways our users have chosen to represent themselves, we discovered much of the collective wisdom about profile pictures was wrong.
According to OKCupid, the statistical data reveals four myths about successful profile pictures. Perhaps most surprising of these myths is the discovery that "the universally maligned 'MySpace Shot,' taken by holding your camera above your head and being just so darn coy" actually works.
Christian of OKCupid writes:
We were sure that everyone thought these pictures were kinda lame. In fact, the prospect of producing hard data on just how lame got us all excited. But we were so wrong.

In terms of getting new messages, the MySpace Shot is the single most effective photo type for women.
Before you break out the camera phone for your personal glamor shoot, recognize that OKCupid did not rate the type of attention these images received, only the frequency of communication between users.
For a full description of the data analysis and the four myths check out The 4 Big Myths of Profile Pictures.
Posted by: Wes Finley-Price -- CNN.com Webmaster
Filed under: computers • Facebook • Internet • mobile phones • MySpace • online dating
June 11, 2009
Posted: 09:33 AM ET
I love this map of social media around the world, posted at ReadWriteWeb this week.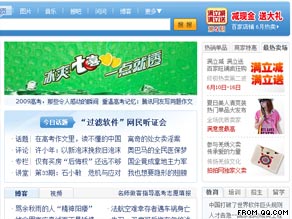 The most interesting tidbit is the fact that QQ - not Facebook or MySpace or Twitter - is the largest online social network in the world. The site has 300 million users and is the biggest network in China.
Also of note: the site says Facebook officially has "colonized Europe," and MySpace has "lost its leadership everywhere (except Guam)." You can find some more background on MySpace's slip from the top of the social-media world with this CNN.com story.
The BBC has some good info on China's requirement that all computers have a screening software. I wonder what impact this will have on online discourse.
Check out some of the sites from around the world and let me know what you think. Any interesting ideas we should adopt in the U.S.?
Posted by: John D. Sutter -- CNN.com writer/producer
Filed under: Facebook • MySpace • social-networking sites
June 9, 2009
Posted: 09:42 AM ET
Hey, blog readers. Check out today's CNN.com story on MySpace, in which a bunch of tech writers say it's unlikely the big social network will be able to make a comeback. Its popularity has flatlined, and, if you think about it, Web sites almost never make a comeback once their coolness starts to wane.
But what do you think? Is this it for MySpace? What do you like and dislike about the site?
There's always a chance MySpace could prove its skeptics wrong. Or it could bounce back as something a bit different. Take Friendster for example. The early online social network was hugely popular in the U.S. and then seemed to disappear. Now it's one of the hottest Web sites in Southeast Asia, with its execs working from Australia, not San Francisco.
And one last bit of fuel for the conversation: Check out what seems to be the MySpace page of the site's new chief executive, Owen Van Natta. What do you think?
For even more background, see Van Natta at a recent Wall Street Journal tech conference here. Or, chat about MySpace at CNN's iReport.com.
Posted by: John D. Sutter -- CNN.com writer/producer
Filed under: MySpace • social-networking sites