May 27, 2010
Posted: 10:14 AM ET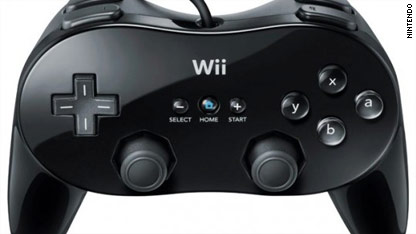 Classic Controller Pro looks vaguely familiar
At a time when other gaming-console manufacturers are ready to unveil their motion-sensitive controllers, Nintendo has released a new device that feels more old-school.
The new Classic Controller Pro looks and feels like a traditional game controller, with two joysticks, X-Y-A-B buttons, a directional pad and bumper buttons on the front. It was released in a package deal with the new "Monster Hunter Tri" game for the Wii.
Officials from Nintendo and Capcom said the bundle was done to appeal to the widest audience possible by giving them a controller that was designed for the game.
"Fans of the ["Monster Hunter"] series are used to this type of controller," said Eric Monacelli, product marketing manager for Capcom. "This is old-school. It will appeal to the hard-core player."
"It goes very well with 'Monster Hunter Tri'," added Nintendo representative Kumiko Hidaka. "Never has an accessory been so specifically designed for a game."
"Monster Hunter Tri" lets gamers become a prehistoric hunter who tries to defend his village from rampaging monsters while collecting supplies to help him with his quest. Oh, and there are constant earthquakes that need to be dealt with as well.
Creatures of all sizes live in the surrounding countryside, and the hunter's job is to clear them out, get better weapons and take on even larger monsters. The new controller allows the player to accomplish the major fighting action while offering ways to complete minor tasks (like cooking food to eat).
"Players will love this controller," Monacelli said. "It feels good for the game without taking away from any gameplay."
"Monster Hunter Tri" also allows for multiple players to band together online take down a really big monster. The game lets players use Wii Speak to communicate with each other and plan strategy, which gives the game a party feel. According to game director Kaname Fujioka, this is a big change.
"Everyone goes online and enters the same world, but not everyone has to do the same thing," Fujioka said in an "Ask Iwata" interview. "Each person can do his or her own thing, but when the group achieves the goal, everyone benefits."
The Classic Controller Pro will be compatible with nearly 400 Wii titles, Hikada said.
Posted by: Larry Frum for CNN.com
Filed under: Games • Gaming • Nintendo • video games
May 11, 2010
Posted: 12:53 PM ET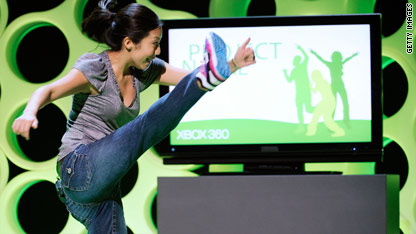 Microsoft's Project Natal - a video game system that reads body movement and doesn't require remote controls - will go on sale in October, according to a video interview posted on the website Gametag Radio.
In the short clip, a Microsoft marketing manager named Syed Bilal Tariq appears to tell the site that the body-sensing video game system will go on sale worldwide in October. CNN was not immediately able to confirm the report.
At the E3 gaming conference last year, Microsoft showed off the Natal technology for the first time. The company later confirmed the system would go on sale by the holiday shopping season this year.
Natal is an add-on for the Xbox 360 console. A camera reads players' body movements and then transfers them into the characters in a game. So you might play soccer, for example, by kicking your leg rather than clicking a button on a remote or swinging a controller, as is the case with the Nintendo Wii.
Natal is part of a new wave of "gesture-based" technologies that are coming to market. The underlying idea is that people should be able to use natural body movements and hand gestures to control consumer electronics, rather than clicking buttons or dragging mouse pointers across screens.
Nintendo popularized this idea with the Wii, the casual gaming system where people swing remote controls and balance on boards to control their digital avatars. Sony has another competitor called the PlayStation Move, which is expected out this year, too.
Look for updates on many of these products at the E3 Expo, coming June 15 to 17.
Posted by: John D. Sutter -- CNN.com writer/producer
Filed under: Microsoft Corp. • Nintendo • Project Natal
April 7, 2010
Posted: 11:24 AM ET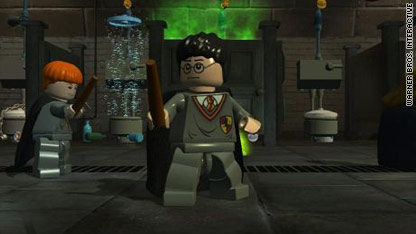 Harry in the showers
The next three months of game releases are going to be light compared to the first three months of this year. Expect a lot of downloadable content to come out for previous released games, but not as many blockbusters.
There are some big names coming out this spring, though. Mario makes a return as well as Harry Potter, Tiger Woods and Metroid. And there are hints about something that has been nearly 12 years in the making.
April kicks off with "Splinter Cell Conviction" (Ubisoft), as hero Sam Fisher gets some new moves and tricks to make him even sneakier than before.
A new "Mark and Execute" command lets Fisher take down opponents faster, but stealth is still required to make your escape.
"Splinter Cell Conviction" is rated M (blood, drug reference, intense violence, sexual themes, strong language) and available for the PC, iPhone and Xbox 360 on April 13.
"Monster Hunter Tri" (Capcom) is a RPG game for the Wii in which you battle monsters with huge, oversized weapons, collect loot and then do it again. The Wii controllers make it more than just a button-mashing game and the early release in Japan is doing very well.
"Monster Hunter Tri" is rated T (blood, use of alcohol, violence) and available only on the Wii on April 20.
The 2010 FIFA World Cup in South Africa kicks off in June, but why wait to see who will hoist the gold trophy. "2010 FIFA World Cup South Africa" (Electronic Arts) will let you carry your favorite team to glory and includes all 10 stadiums that will be used in South Africa as well as regional stadiums.
The game is not rated yet, but will be available on the PS3, Xbox 360, PSP and Wii on April 27.
May marks the return of the Prince as "Prince of Persia: The Forgotten Sands" (Ubisoft) takes us back to the deserts. Our hero is forced to do whatever is necessary to save the kingdom. The Prince gets a partner in this chapter of the saga, but wait until you see at what cost.
"The Forgotten Sands" has a tentative rating of T+, but that rating is not final. The game will be out for the PS3, PSP, Xbox 360, Wii and DS on May 18.
"Modnation Racers" (Sony) has been called a cross between "Mario Kart" and "Little Big Planet." Players can customize their vehicles, the drivers and just about everything else.
If you aren't feeling creative, there are many pre-made elements to let you dive right into the racing portion. "Modnation Racers" is rated E for everyone and will be out on May 25 for the PS3 and PSP.
June begins with the next installment in the now-classic series in golf games, "Tiger Woods PGA Tour 11" (Electronic Arts). This version integrates the Ryder Cup into the mix as well as online team play.
Tiger is also sharing his cover art this year with Irish golfer Rory McIlroy to give it more of an international flavor. "Tiger Woods PGA Tour 11" is rated E and will be out on June 8 for the Xbox 360, PS3 and PSP.
Snake is back and ready to kick tail. "Metal Gear Solid: Peace Walker" (Konami) takes us back to the 1970s where the "Soldiers Without Border" group gets its start with Snake in the lead.
Gaming Web sites are already touting this as the PSP Game of the Year, but hold those expectations in check until the final version comes out on June 8.
It is a PSP-exclusive and has a tentative rating of M. There are also reports that Snake may be appearing in other games, so keep your eyes open.
"Metroid: Other M" (Nintendo) lets players switch from 2-D side-scroller to 3-D action-adventure as Samus' past is explored. It is going to be a Wii-exclusive title so expect some unique gameplay using the Wii controllers. "Metroid: Other M" is expected out on June 27 with a T rating.
June will also be the premier of Harry Potter – in Lego form. "LEGO Harry Potter: Years 1-4" (Warner Bros. Interactive) chronicle the boy wizard's adventures in "Sorcerer's Stone", "Chamber of Secrets", "Prisoner of Azkaban", and "Goblet of Fire" in blocky, Lego fun.
"LEGO Harry Potter" will be available for the Xbox 360, Nintendo DS, Wii, PC, PS3 and PSP in June (no specific date yet).
Plenty of other games will be filling in the gaps including some movie tie-ins ("Iron Man 2", "Clash of the Titans") and a new Mario game ("Super Mario Galaxy 2") that offers up some new powers for the famous plumber and his faithful dino, Yoshi.
Casting a long shadow this summer is the expected release of "StarCraft II" (Blizzard). They've been working on this title for years and released a closed beta to select gamers for testing. A spokesman for Blizzard said they are on track for a mid-2010 release, so don't be surprised if Terrans, Zerg and Protoss descend on your PC this spring.
What are you looking forward to in the next three months? New titles or DLC for ones you already own? Let us know!
Posted by: Larry Frum for CNN.com
Filed under: Games • Gaming • Nintendo • Sony • Tiger Woods • video games
March 26, 2010
Posted: 10:02 AM ET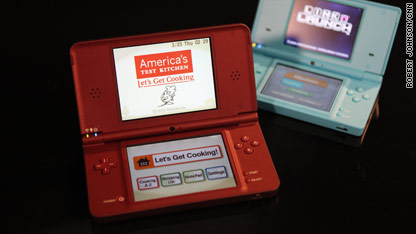 Editor's note: Geek Out! posts feature the latest and most interesting in nerd-culture news. From scifi and fantasy to gadgets and science, if you can geek out over it you can find it on Geek Out! Look for Geek Out! posts on CNN's Marquee and SciTech blogs
Is bigger better?  Or is it just bigger?  Nintendo is banking that their latest handheld console – the DSi XL – will be both.
The Nintendo DSi XL is similar in many ways to its little brother, the DSi.  The configuration of the buttons and screens are the same as are the camera tools, Internet connections and available software.
 What sets the two apart is the size.  The XL version is 93 percent larger than the regular handhelds.  The new screens measure 4.2 inches diagonally and the closed unit grew to 6.3 inches wide by 3.6 inches tall.
 Nintendo is counting on the increased size to promote family fun.  With the smaller DSi, gamers hunched over their consoles to focus in on the action on little screens. 
With larger screens and an improved wider viewing angle, Nintendo hopes to make it easier for friends and family to watch and join in on the game.
 "For some people, good things come in big packages," Nintendo executive vice president Cammie Dunaway said. "This new portable system really lets players enjoy the fun together."
 The XL comes pre-loaded with three titles: "Brain Age Express: Math," "Brain Age Express: Arts & Letters," and "Photo Clock."  Nintendo is also releasing 2 new titles at the same time, "America's Test Kitchen: Let's Get Cooking" and "WarioWare: D.I.Y.," which it hopes will highlight the advantages of the larger screen.
 I got my hands on the new XL and it definitely felt better than the smaller version.  It felt solid and didn't feel like it was going to snap apart in my hands [not that I'm a strong guy, but I am destructive].
 There are no new features other than size.  But the size difference makes itself felt when you power up the device and load some software. 
 The new screens made it easier on the eyes to enjoy my games.  "Flipnote Studio," a program that allows you to draw and animate, became easier to work on finer details in my art.  Gameplay jumps out of the screen and finesse seems more manageable.
 Nintendo said the DS handheld (Lite and DSi combined) sold 11.2 million systems in 2009 in the U.S. alone.  It said they sold 30 million DS units in Japan during their last fiscal year, so they have a large market to entice with their latest device.
 However, Nintendo just announced that they would be launching a 3-D version of their DS handheld sometime before April 2011.  Will gamers go big or go 3-D? 
 The Nintendo DSi XL will be available on March 28.
UPDATE (Tuesday): Nintendo announced that games on older handheld consoles cannot transfer over to the new DSi XL. The company said DSiWare games and points would have to be repurchased on the new XL console.
Nintendo of America released this statement: "The games and applications are specific to each system, not each user. We're looking into that specific topic, but we don't have anything to announce at this time."
Posted by: Larry Frum for CNN.com
Filed under: Geek Out! • Nintendo • video games
February 22, 2010
Posted: 02:32 PM ET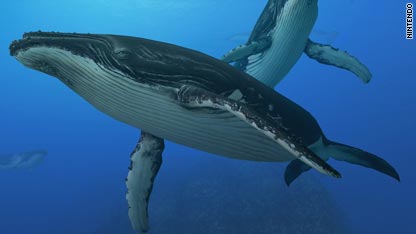 The deep, blue sea
After many hours of killing mutated humans ("BioShock 2"), redeeming souls in Hell ("Dante's Inferno"), or breaking out my military skills ("Battlefield: Bad Company 2" demo), it is nice to just unwind with a new game that can substitute for a tropical vacation.
"Endless Ocean: Blue World" (Nintendo, ARIKA) is the sequel to a 2007 game that emphasized relaxation and calm. The new version on the Wii, which hits stores today, has its calming moments as well - but there's an added element of adventure to it.
Players can dive into oceans around the world and find all kinds of varied marine wildlife and fauna. The visuals are great and the animals, from the tiny seaweed seahorses to the massive humpback whales, are quite lifelike. And there are opportunities to learn about the animals' habits and behaviors when you discover new species.
It would be very easy to just sit back and watch the fish go by, as in the first version of "Endless Ocean." But there is a storyline to be followed.
The action involves finding out about the "Song of Dragons," a mystery that takes players around the globe in search of clues and treasure. You can also heal or calm sick or agitated fish with a device called a Pulsar.
The game is not hardcore by any stretch of the imagination. But it is a nice change of pace or even an educational game for youngsters who want to learn more about marine life. Players can even dive with their friends by using Nintendo's Wi-Fi connection.
Speaking for myself, I'd rather relax with a tropical drink in hand and watch the fish go by than try to follow the game's adventure storyline. I like a little more adrenaline in my gameplay. In other words, those mutated humans aren't going to kill themselves.
Other games coming out this week: "Heavy Rain" (2/22 for PS3), "Sonic & Sega All-Stars Racing" (2/23 for PS3, X360, DS, WII), "Napoleon: Total War" (2/23 for PC) and "Metal Slug XX" (2/23 for PSP).
Posted by: Larry Frum for CNN.com
Filed under: Games • Gaming • Nintendo • video games
January 13, 2010
Posted: 06:50 PM ET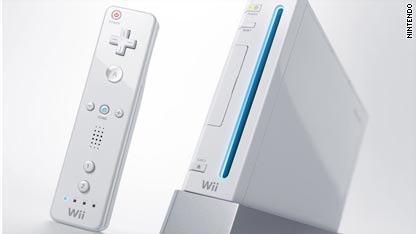 Nintendo Wii
The Nintendo Wii becomes the latest gaming console to begin streaming films from Netflix.
Nintendo announced Wednesday that starting this spring, users will be able to stream movies from Netflix and watch them on their Wii. To start, Wii owners will need an instant-streaming disc for their console, which can be reserved now at www.netflix.com/wii. The disc and the service are offered at no additional cost to Netflix subscribers.
Nintendo joins Sony and Microsoft in offering the service for their gaming consoles. Netflix said it has 11.1 million U.S. subscribers and is looking for more ways to let its customers watch movies and TV shows.
Cammie Dunaway, Executive Vice President of Sales & Marketing at Nintendo, said the partnership is a natural because of how Wii owners use their consoles.
"Eighty-six percent of the Wiis are in the living room," Dunaway said. "The Wii is the only console where friends and family gather to play games and have fun."
Dunaway said Nintendo sold more than 3 million Wiis in December and have over 26 million registered users. She said a significant number of Wii users were also Netflix subscribers, but didn't want to say specifically how many.
Posted by: Larry Frum for CNN.com
Filed under: Movies • Nintendo
December 4, 2009
Posted: 09:28 AM ET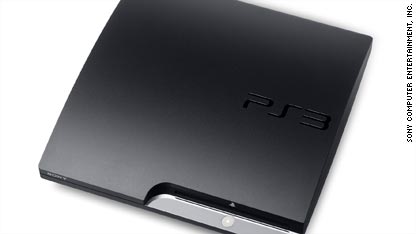 As the holiday shopping season ramps up, video game console makers are keeping a wary eye on early sales.
Sony, maker of the PlayStation 3, claims it got off to a rousing start during the Black Friday week ending on November 29.  Patrick Seybold, Sr. Director of Corporate Communications, said the company sold more than 440,000 consoles, which was an "all-time high."
Those sales numbers are up from October (320,600 units sold) and Seybold believes Sony's software will help sell its hardware.  "We have no doubt the momentum and demand will continue," he said.
By contrast, Nintendo said it sold 550,000 consoles during the same Black Friday week.  It also announced its DS Lite and DSi portable gaming devices combined to sell more than 1 million units during the week.
In September Nintendo cut the price of the Wii for the first time, by $50 to $199.99.  Last year, the company shipped 800,000 Wiis to the U.S. for Black Friday week.
Microsoft has not made any announcements about sales of the Xbox 360 during the intense shopping week.  Aaron Greenberg, Director of Product Management, posted on his Twitter account that the Xbox 360 had its biggest sales week of the year.
When asked about hard numbers, Greenberg tweeted that Microsoft was waiting for the official industry numbers before commenting.  The game review site, Gamespot, extrapolated previously reported numbers from October to come up with approximately 124,850 consoles sold during this past Black Friday week.
Posted by: Larry Frum for CNN.com
Filed under: Games • Gaming • Microsoft Corp. • Nintendo • Sony • video games