July 25, 2008
Posted: 11:14 AM ET
On Wednesday, a 600-foot tanker and a river barge collided on a spot of the Mississippi River that I, as a Louisiana native and frequent New Orleans visitor, know well.
Tugboats hold up parts of a barge that collided with a tanker. The collision spilled 419,000 gallons of oil.
After splitting in half, the barge proceeded to spill an estimated 419,000 gallons or 9,980 barrels of oil into the mighty Mississippi. According to the Coast Guard, the pilot of the tugboat pushing the barge was not properly licensed. Crews are working to contain and clean up the spill, but the environmental damages of the accident are still unknown.
Concern is growing over the quality and supply of drinking water in parishes downstream from the accident. Many of these areas normally pump from the Mississippi River for their drinking water supply but are now trucking in bottle water to help ease concerns of shortages.
(Ironically, one of these parishes, St. Bernard Parish, was not only one of the areas ravaged the worst by Hurricane Katrina, but also the same parish soaked in more than 1 million gallons of oil after the storm's winds dislodged an above ground storage tank at a nearby oil refinery.)
Oil spills from transportation vessels are nothing new. Most of us remember the Exxon Valdez accident off the coast of Alaska in 1989 which spilled 10.8 million gallons of crude oil into Prince William Sound. Fortunately, legislation like the 1990 Oil Pollution Act has contributed to a substantial drop in both spill incidents and volumes, but vessel spills still happen frequently. According a 2007 American Petroleum Institute study, 174 vessel spills occurred in 2005.
With river shipping halted, and drinking water and the environment threatened, many Louisianans are upset that accidents like this one still occur. But events like Wednesday's spill are extremely rare relative to the amount of oil refined and transported in our state and nation everyday. If anything, it's in the Louisiana oil industry's interest to keep spills at a minimum. No one wants to see our $65 billion-a-year industry be saddled with any more bad press or regulations.
So here's the crux of the situation. Its no secret that, while rare, pipellines can break, tanks can be blown over, and ships can collide. Is there truly anyway we can eliminate these risks or are they simply the cost of doing business?
Julia Griffin, CNN Science & Technology
Filed under: environment • Gasoline • oil spills • science
July 14, 2008
Posted: 12:18 PM ET
I want to thank everyone for the hundreds of smart comments on T.Boone Pickens and his wind/natural gas energy plan.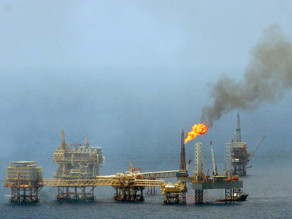 By contrast, the Pickens plan generated precious little feedback from policymakers and others you'd expect would have a direct stake in this. Not a peep from the White House, nor the candidates, nor Congressional leadership. Virtually nothing from the business community, or from environmental groups.
So let's keep our part of the bargain, and continue this great discussion. Today, President Bush is addressing another part of the Energy Hunt, by lifting a partly-symbolic Executive Order banning drilling off most of the U.S. coastline. Whaddya think? Is it long overdue? Or, as Pickens said, is it a problem we can't drill our way out of?
Posted by: Peter Dykstra - Executive Producer: CNN Science, Tech, Weather
Filed under: climate change • economy • environment • Fuel • Gas • Gasoline • Oceans • oil spills
February 26, 2008
Posted: 01:31 PM ET
Two very different environmental stories are out there today: A fatal shark attack off the Bahamas, and the U.S. Supreme Court's hearing of arguments in the Exxon Valdez lawsuit.
A few weeks ago, I blogged about the release of the 2007 worldwide death toll for shark attacks on humans: One person died in a shark attack last year, a vacationing French diver in the South Pacific. We discussed the media's fascination with sharks, despite the rare rate of fatalities. More people are killed each year by snakes, deer collisions, or falling vending machines than by sharks. There were some great reader responses, too - although a few folks took a political turn, questioning my use of the title "Swift-Boating the Sharks."
On Monday, an Austrian attorney and dive enthusiast was fatally injured as he participated in a "swim with the sharks" expedition. The Florida-based excursion boat had traveled to Bahamian waters, where the crew allegedly chummed the water to attract sharks. Such activities are illegal in Florida waters. This tragedy is sure to raise more debate about such expeditions, and about our relationship to these fascinating, potentially dangerous creatures.
Meanwhile, the U.S. Supreme Court is ready to hear arguments Wednesday on a $2.5 billion punitive judgment against Exxon for the 1989 Exxon Valdez oil spill. In 1994, a jury found Exxon and Joseph Hazelwood, the ship's Captain, guilty of recklessness, awarding $287 million in actual damages and $5 billion in punitive damages. While an appeals court later cut the punitive damages in half, it remains as one of the biggest such judgments ever. Exxon is asking the high court to wipe out the rest of the punitive judgment - saying Exxon's already spent over $3 billion in fines and cleanup costs related to the spill. But the plaintiffs - 33,000 fishermen, business and land owners, Native Alaskans, and communities – – hope to see the verdict upheld.
Quite a few things have changed in the nineteen years since the spill: Exxon is now Exxon/Mobil; nearly 20% of the original 33,000 plaintiffs have died without seeing a final decision in the case. For his part, Captain Hazelwood has kept a low profile. During the 1990's he worked for a time as a paralegal in the law office that handled his case. He also worked at the SUNY Maritime College on his native Long Island - as a safety instructor aboard the college's training ship.
– Peter Dykstra Executive Producer CNN Science and Technology
Filed under: Animal attacks • environment • oil spills • Sharks