May 18, 2010
Posted: 11:27 AM ET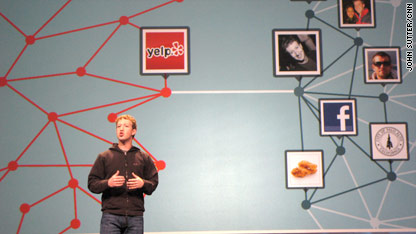 In an e-mail to CNN.com, Facebook spokesman Andrew Noyes responded to the growing rancor over the site's privacy settings and policies, which underwent some changes in April.
"With more and more people sharing content online, it's important that Facebook and other sites provide them with clear control over what information they want to share, when they want to share it and with whom," he wrote in the e-mail. "We're listening to feedback and evaluating the best way to respond to concerns. We understand that maintaining people's privacy is of paramount importance, not just to them but to the eco-system of the Internet as a whole and we welcome innovative ideas in this space."
Noyes made the comment in reference to rival MySpace's decision this week to make its site more private.
Some people have deleted their Facebook accounts because of concerns over their online privacy. The online social network, which has 400 million members, allows fine-grained controls over privacy settings, but some people complain that the settings are too numerous and complicated to be useful.
And a project called Diaspora has been getting press as the privacy-minded "anti-Facebook." The project, started by four NYU students, so far has raised $180,000 through the crowd-funding site Kickstarter.
Posted by: John D. Sutter -- CNN.com writer/producer
Filed under: Facebook • privacy
May 17, 2010
Posted: 11:27 AM ET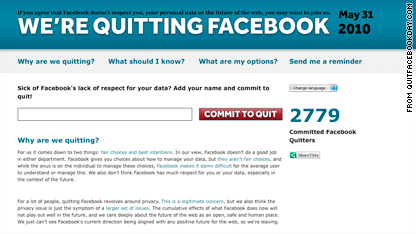 Frustrated by Facebook's recent privacy changes, a group is urging users to delete their Facebook accounts en masse on May 31.
The campaign comes amid complaints that the social-networking juggernaut is diminishing users' privacy with its "open graph" model that adds Facebook connections on other sites across the internet. A handful of glitches during the rollout of the changes have, in fact, put some personal info at risk, if only briefly.
It's clear that some folks are leaving the popular site.
But the organized effort to get people to abandon their Facebook accounts doesn't appear to have gained much traction so far among the site's 400 million-plus users.
More than 2,700 people had pledged to quit Facebook on the group's website Monday morning. The Quit Facebook Day site asks, "Sick of Facebook's lack of respect for your data?" and calls on users to quit the site all at once on May 31.
And about 1,090 people had "liked" the site's Quit Facebook Day page - which, ironically, is on Facebook - as of Monday morning.
By contrast, more than seven times that many people are fans of former "Top Chef" contestant Kevin Gillespie's beard. A fairly random user-created page called "I Love Facebook" had roughly the same number of members as the "Quit Facebook" page.
On Friday, the San Francisco Chronicle's Business Insider blog poked fun at the effort, albeit when the fledgling site had only a couple hundred people signed up. The post's title? "Uh-Oh, 0.00000068% Of Facebook Users Promise To Quit On May 31."
Facebook doesn't provide the number of people who delete their accounts. But the overall numbers are clearly going the other way. A spokeswoman told CNN.com last week that Facebook had added 10 million active users since late April.
Posted by: Doug Gross -- CNN.com producer
Filed under: Facebook • privacy • social-networking sites
May 5, 2010
Posted: 12:13 PM ET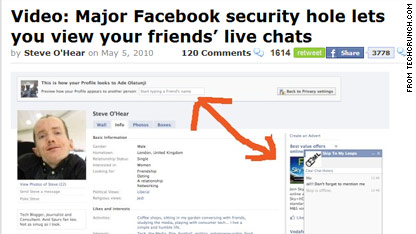 UPDATE 2:06 p.m. ET: A Facebook spokesperson says the security bug has been fixed; chat will be up shortly.
The blog TechCrunch posted a scary video today.
Writer Steve O'Hear shows that it's possible to eavesdrop on the private live chats of your Facebook friends by previewing your profile through the site's privacy settings.
Facebook shut down its chat function on Wednesday in response the security bug, a Facebook spokeswoman said in an e-mail to CNN.
"When we received reports of the problem, our engineers promptly diagnosed it and temporarily disabled the chat function," the e-mailed statement from Facebook says.
"We also pushed out a fix to take care of the visible friend requests which is now complete. Chat will be turned back on across the site shortly. We worked quickly to resolve this matter, ensuring that once the bug was reported to us, a solution was quickly found and implemented."
The social network's chat feature - which lets people have live conversations through instant text messages - appeared to be "down for maintenance" as of noon ET, when CNN tried to replicated the hack.
Watch the full video to understand how the flaw works.
"I know Facebook wants us to share more information and open up, but I'm not sure that this is quite what they had in mind," O'Hear writes on the blog.
He accesses a friend's supposedly private chat conversation by using a feature that lets people preview their profile through the eyes of their friends. This feature is intended to let people see if they've managed their privacy settings correctly. A person, for instance, might make some Facebook information viewable to everyone, while keeping co-workers or professional contacts in the dark about new photos or status updates.
When O'Hear previews his profile through the eyes of a friend, he pulls up that friend's private chat.
We'll keep an eye on this and let you know if we hear back from Facebook.
Posted by: John D. Sutter -- CNN.com writer/producer
Filed under: Facebook • privacy