Any baseball fan is familiar with MLB's frequent reminders not to rebroadcast a game without "the express written consent of Major League Baseball." But did you ever consider that your Facebook, Twitter or blog posts could be targeted by overzealous media regulations?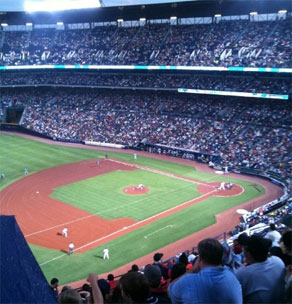 Can the SEC prohibit fans from sharing pictures similar to this iPhone shot of a Braves game I
posted to my Facebook profile?
Should they even bother trying?
According to current policy, Southeastern Conference (SEC) fans cannot "produce or disseminate (or aid in producing or disseminating) any material or information about the event, including, but not limited to, any account, description, picture, video, audio, reproduction or other information."
Adam Ostrow, of Mashable.com, translates that to mean "no Twitter, Facebook, YouTube, TwitPic, or any other service that could in any way compete with authorized media coverage of the event."
The SEC media-credential policy also states that violations may result in "ejection from the Event and prosecution for criminal trespass."
Conference spokesman Charles Bloom told the Charlotte Observer there are plans to loosen the restrictions, but the current policy forbids tweeting from the stands.
While speaking with CNN, Attorney Evan Brown questioned the legality of the SEC policy. Brown equates a ban on social media in state-sponsored schools to a violation of the First Amendment and a form of prior restraint.
Media-coverage rights to sporting events have always been expensive and, consequently, heavily policed (this year the U.S. Open banned all cameras and phones) but can social media possibly be restrained?
Could social media ever compete with authorized media coverage in a way that would threaten profits and rationalize SEC's media policy?
Bloggers Adam Ostrow, Evan Brown and Steve Raquel discussed the SEC policy today on CNN.com Live (Watch Video).

Update:
This afternoon the SEC released a revised version of its media policy (pdf). The revision provides exemptions for noncommercial updates and personal messages.
The new policy reads:
No Bearer may produce or disseminate in any form a "real-time" description or transmission of the Event (i) for commercial or business use, or (ii) in any manner that constitutes, or is intended to provide or is promoted or marketed as, a substitute for radio, television or video coverage of such Event. Personal messages and updates of scores or other brief descriptions of the competition throughout the Event are acceptable.
Posted by: Wes Finley-Price -- CNN.com Webmaster
Filed under: Facebook • Flickr • Internet • iPhone • online news • schools • Twitter
Sometimes you come back from the weekend already feeling behind. Here are a few of the latest tech stories to help you get back up to speed: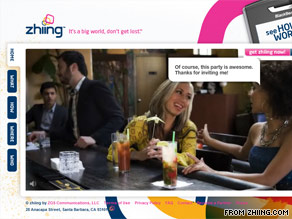 Microsoft Office 2010 gets the buzz award of the day. The new version of the mammoth computer applicaiton suite, which will be released to a select group today,  is expected to challenge Web-based applications, like Google Docs, which have been gaining popularity. From TechCrunch:
As a direct challenge to Google Apps, Microsoft is rolling out lightweight, FREE, Web-browser versions of Word, PowerPoint, Excel and OneNote. All based in the cloud, the web-based versions of these products have less features than their desktop cousins but still give users basic tools to edit and change documents.
More on what Office 2010 means in the big scheme of things from CNET:
According to Microsoft, the focus of this update was on three things: to make work flows more efficient; to effectively use Web applications to make your work available anywhere; and to make collaboration with others much easier.
Mashable has a good post on location-based phone services. A new survey says the number of people using location-based services will double to 5.7 million this year. The rise in GPS-enabled smartphones - those that know where you are and act like mini-computers - accounts for much of the increase.
Some cool ways to use these services, from the blog:
Apps are responding in kind. Zhiing is a new mobile app for sending friends your location as quickly as possible, Yowza sends you coupons based on what stores are nearby, and Google Latitude helps map out where you and all of your friends are. This type of information helps get the most relevant information to you as quickly as possible. Weather forecasts, nearby friends, and local train schedules are automatic.
For the parents among us, BusinessWeek has an interesting story on the federal government's slashing of a program to put more technology in schools. Check out the story for the details of the impact, but the core of the story is in this factoid:
The Obama Administration in May proposed slashing funding for Enhancing Education Through Technology (EETT), one of the main government sources of technology for public schools, to $100 million in 2010, a 63% decline from this year's $269 million.
Finally, for those looking to purchase some of the many new gadgets out there - especially the iPhone 3G S - take note of this Ars Technica post, which says bricks instead of phones are turning up in some retail boxes. But don't blame the Apple store, the site says:
The general consensus, however, is that customers themselves are responsible for the large majority of these cases. People purchase an expensive item, take it home, replace it with bricks, and sometimes even shrinkwrap the box for a return. Many retail stores won't check a box that looks like it was never opened in the first place, making this an easy switch to pull.
Posted by: John D. Sutter -- CNN.com writer/producer
Filed under: gps • iPhone • Microsoft Corp. • Microsoft Office • schools • technology