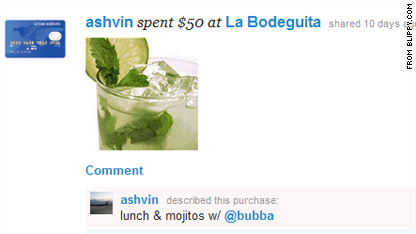 Maybe all press is good press?
When reports surfaced that the young website Blippy had accidentally leaked the credit card numbers of five of its users online, some tech writers speculated that the startup would not be able to bounce back from the bad PR.
But the website's numbers tell a different story, according to the company's CEO, Ashvin Kumar.
Blippy - a Twitter-style website where people share details about their credit card purchases - had more users on Monday than it did on Friday morning before news of the security mishap hit, Blippy CEO Ashvin Kumar said in a phone interview on Monday.
Kumar declined to cite specific figures, but said some people have left the site because of its security issues; meanwhile, others have joined, ostensibly because of press surrounding the incident, or because of a front page story in the New York Times on Friday morning, which was published before the security troubles came to light, he said.
"We're certainly net positive, meaning the number of users that signed up was greater than the number who deleted their accounts," he said by phone.
Kumar said Blippy is taking the security breach seriously.
"This is like the worst thing that could happen to us," he said. "This is very bad for us."
He added: "The safety and the security of our users is our number one priority every day. Every day we come to work just obsessing over how to build a better experience for our users, and the security of our users is the most important part of that."
Blippy has been in contact with eight people who may have had sensitive financial information posted in Google search results though Blippy, Kumar said. As of 7 p.m. ET on Monday, Kumar said he was not aware of any affected users who had experienced theft because of the postings.
He also said Blippy's funding was not affected by the security incident. On Friday, the New York Times reported the company recently received an $11 million investment.
Check out this previous blog post for details on new security measures Blippy is implementing.
Filed under: Blippy • Security