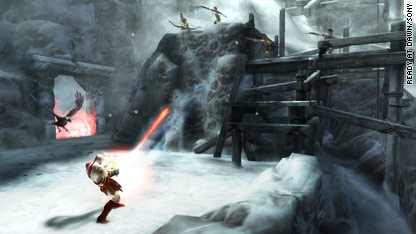 God of War: Ghost of Sparta
Editor's note: Geek Out! posts feature the latest and most interesting in nerd-culture news. From sci-fi and fantasy to gadgets and science, if you can geek out over it, you can find it on Geek Out! Look for Geek Out! posts on CNN's SciTech blog.
When "God of War III" came out two months ago, it was touted as the end of the series for Kratos, the former Spartan warrior who sought revenge against the Greek gods who wronged him. But without giving away spoilers, the game left as many questions unanswered as it did conclusions to story lines.
"God of War: Ghost of Sparta" (Ready At Dawn, Sony) will be stepping back into Kratos' timeline to offer a glimpse into the mythology of his character. We talked exclusively with Dana Jan, Ready At Dawn Studios Game Director, about what would be new to the series and why they were ready to tell this story.
Why did you choose this particular time in the "God of War" timeline to tell this story?
When we started working on this project, we had a particular interest in exploring some of the unanswered questions of Kratos' story, especially the areas that have defined his character as well as the franchise itself. "God of War III" was on its way to complete the overarching story of the destruction of Olympus, therefore we had the freedom to pick where to place our game and found a perfect fit in the time between "God of War" and "God of War II".
This allowed us to expand upon events of both games as well as lead into the story of "God of War III", and reveal a lot behind Kratos' character and motivation. We've always tried to tell a more personal story in our games, and in this one, we took the opportunity to recount moments that have a huge impact on the entire franchise.
Was there anything learned from the Santa Monica studios production of "God of War III" that you were able to take advantage of in "God of War: Ghost of Sparta"?
We learned many lessons from the team in Santa Monica. One of the most important was that while making another "God of War" game, you had to come up with new and interesting gameplay moments that do not always revolve around the standard staples of the franchise. Of course, all the basics should be present — combat, puzzles, story, cool navigation moments – but there should be other aspects that someone who has played the previous games would not expect. These moments keep the game fresh and enhance the overall experience.
For example, we drew inspiration from some of the immersive moments that Sony Santa Monica created in "God of War III" where you have a chance to play Kratos in a different way and used that approach to not only build similar moments in our game but also to take them to the next level.
Another really good example is the cinematic cameras Sony Santa Monica used. There are a lot of moments in previous "God of War" games where the player would have a bigger god's eye view of the landscape. We certainly have those moments as they are crucial in telling the story and in showing off the grandeur of the world. This time around they inspired us to create some really novel moments where the camera pulls in close to Kratos to show off his character, which in turn puts the player in Kratos' mindset.
Talk about the "never-before-seen depth of scale". What does it mean to the gamer?
Scale is something that we knew we had to push in this game. In "God of War: Chains of Olympus", our thought had been to place Kratos in the biggest and grandest situations we could possibly realize on the PSP. We thought at the time that we had pushed the limits of the hardware. What we set out to do in this game is trump ourselves and push the sense of scale even further.
This was a two-pronged approach. First, we knew we had to create bigger and more bad-ass enemies. A good example is the first boss in "Ghost of Sparta." It's a gigantic creature that, in scale, could actually swallow the biggest boss from "Chains of Olympus." When you see this creature emerge to face-off against Kratos, you can see that it dwarfs Kratos but he can still interact with the creature by climbing all over it. This sense of scale is something we would not have dreamed of doing in "Chains of Olympus."
Another way that we've expanded the scale of the game is by showing the player the true repercussions of Kratos' actions in the world. We wanted to show that Kratos was a destructive force of nature and that his actions had a certain domino effect that played out over the course of the entire game, from the start all the way through to the end. Through brute force he destroys the world to get what he wants.
Is it going to be tough coming out in the same year at the "God of War" finale? Will gamers still have an appetite even though Kratos is apparently done?
With "God of War III" being such a big success both critically and commercially, it shows that the franchise still has a lot to offer and that this universe is something that resonates with people. For PS3 and PSP owners alike, "Ghost of Sparta" will further expand the world of "God of War" and complete a huge part of the "God of War" saga. We have created a story and a game experience that is whole and will provide both fans and newcomers to the franchise a great source of entertainment.
And just for fun, we asked him this:
In your opinion, what is the difference (if any) between a geek, a gamer and a nerd?
Personally I fit into all three categories. If you ask me about tech, I sound like a nerd. Ask me about Star Wars and I sound like a geek. Ask me about God of War and I sound like a gamer. As a game director I tap into my inner geek, nerd and gamer to make the best game possible.
"God of War: Ghost of Sparta" will be released exclusively on the PSP later in 2010.
Posted by: Larry Frum for CNN.com
Filed under: Games • Gaming • Geek Out! • Sony • video games