Galapagos tortoises and finches may be the first creatures that come to mind when we think of evolution. But as intriguing as Charles Darwin's discoveries were, he didn't write the only book on evolution. In fact, a lot of books on the subject haven't even been written yet.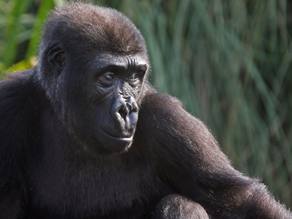 New understanding of evolutionary concepts could help humans understand contemporary problems, from renewable energy to health care. (Photo by Matt Cardy/Getty Images)
Scientists have only discovered and named about ten percent of the plant and animal species on earth.
"There's a huge amount to learn, we have not scratched the surface," said Professor David Lynn, chair of the chemistry department at Emory University.
Lynn was among organizers of an Emory workshop, "Evolution Revolution: Science Changing Life." It was aimed at high school teachers trying to rev up their students' interest in how evolution is changing our world now.
The gathering is getting a head start on celebrating Darwin's 200th birthday next year. It's also the 150th anniversary of "On the Origin of the Species," Darwin's pioneering research on one of the most important concepts in science.
Darwin described natural selection, the concept that individuals who are better adapted to their current environment have an advantage over those not so well adapted. "Survival of the fittest" is sometimes used to describe natural selection. But it's not always the biggest and toughest who win in the long run. Evolutionary fitness sometimes involves cooperation with other organisms and the ability to reproduce and pass those genes on. Researchers in scores of different fields are constantly updating this elegant idea.
"Technology moves very quickly, and even scientists have a hard time keeping up," said Lynn, professor of biomolecular chemistry. That's why the evolution workshop reached out to the community, and to people in the arts as well as science.
Understanding evolution today could help with contemporary challenges, from harnessing new biofuels to understanding communicable diseases to developing new strategies for health care.
(And before you ask, yes, the Emory scientists did discuss with teachers how to answer questions about creationism and "intelligent design." But no, that wasn't the focus of their meetings. )
Mostly, said Lynn, "Teachers were interested in the best way to teach this marvelous discovery, with questions like, 'How do I explain this concept to my tenth graders in a digestible, artistic way?'"
Hundreds of people, from students to tweedy professors to plenty of locals packed Emory's Glenn Memorial Auditorium to hear Harvard biologist E. O. Wilson's address on "Darwin and the Future of Biology."
Wilson is known as the "father of biodiversity" (as well as the guy who is so passionate about ants he wrote a 700+ page book about their behavior that earned him the Pulitzer prize for literature).
Wilson provided a glimpse into Darwin's life, including his five- year journey on H.M.S. Beagle, from 1831-1836.
"He was a 21 year old, newly escaped from Cambridge University, on a five year journey with no TV, no radio, no newspapers," said Wilson.
The world, Wilson said, was Charles Darwin's to possess. And perhaps, during his six weeks in the Galapagos Islands, came his "aha" moment. The captain pointed out that the turtles, and the finches, were different from island to island. Which got Darwin thinking, "Maybe they're changing?"
By 1838 Darwin had conceived of evolution by natural selection. In 1871 he published "The Descent of Man," applying the theory directly to human beings. But members of Victorian society were limited in their embrace of scientific theory. Most folks were okay with plants and other animals evolving. But, said Wilson, "They were scandalized by apes as OUR ancestors."
But the reason Darwin's work holds up today, said Wilson, was because he was the epitome of a disciplined scientist.
"This man was irritatingly accurate. He was very careful."

By Marsha Walton, CNN Science and Technology Producer
Filed under: Animals • Birds • Politics • Religion • Scientists • teachers
I'd seen the news stories of past zero-gravity flights. I'd watched the instructional video. I'd received personal coaching. I knew exactly what was going to happen when the plane hit that first parabola and made earth gravity go away. Still, my brain was telling me, "This can't really be happening!" when my body floated off the floor of the 727 for the first time.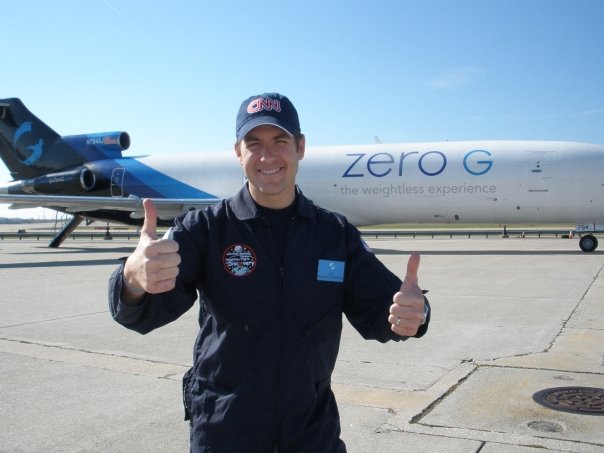 Reporter Reynolds Wolf and G-Force One
I was producing a story on how Northrop Grumman is chartering a specially-modified jet to take teachers on zero-gravity plane rides. The idea is to have math and science middle-school teachers conduct experiments during a once-in-a-lifetime weightless flight, and have them take that thrilling experience back to their students, inspiring and motivating a new crop of scientists, astronauts, and engineers.
We'll bring you that story in the near future. But while I'm still in the grip of my zero-G hangover, I thought I'd share my personal encounter with weightlessness.
The day started before dawn at a hotel just outside the Atlanta airport. Reporter Reynolds Wolf, cameraman Jonathan Schaer and I met up with 30 teachers and the "floatmasters" (my term, not theirs) who would guide us during the flight. We were provided a breakfast of pastries and fruit. The floatmasters recommended avoiding dairy, protein, and excessive caffeine. They had also recommended not drinking alcohol the night before. (Not a problem for me, but I could see how a more nervous person might want a shot.) All of this, of course, was to avoid turning the flight into a "vomit comet" - the nickname of the parabolic flight jet used for training astronauts.
We were all issued navy blue jump suits with "G-Force One" patches. We watched a training video that repeatedly drilled into us: Don't Jump, Don't Kick, Don't Swim. During weightlessness, jumping will send you into a neck-crunching collision with the plane's padded ceiling. Kicking is likely to connect painfully with a nearby zeronaut, as we were called. And swimming just doesn't move you anywhere in zero G - it just makes you look silly.
We took shuttles to the small private terminal serving the flight and passed through TSA security just like ordinary, gravity-tethered travelers. Then, like the pioneering spacemen of "The Right Stuff," we strode to our craft - a modified 727 dubbed "G-Force One." We entered via what in a conventional plane would be the rear emergency door. The jet had seven rows of seats in the back. The front 2/3 of the plane was an open area, with thickly-padded walls, floor, and ceiling. No windows, except in the emergency exits.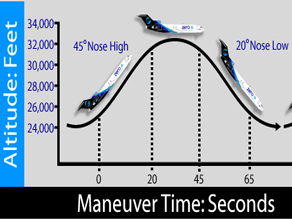 Illustration: Zero Gravity Corporation
Soon, we were off for a half-hour or so ride to airspace over the Atlantic. A 100-mile-long, 10-mile-wide area, 24,000-32,000 feet in altitude, is dedicated to these parabolic flights. Parabolas are essentially arcs. As the plane flies up the arc at a 45-degree angle, passengers feel increased gravity, about 1.8 times that on earth. But when the plane crests and starts down the arc you get reduced, or zero, gravity for about 30 seconds. To acclimate the passengers on our flight to zero G, the first parabola created the 1/3 Earth gravity environment of Mars. The second and third parabolas created the 1/6 gravity of the moon, and the last 12 were the real deal - weightlessness.
The teachers chatted and laughed excitedly on the flight out, even cheering "Wooo!" and "Yeah!" when the plane dipped unexpectedly. Turbulence on a normal flight might make you nervous. But on this day, it seemed to be just a foretaste of the great adventure to come.
As the time for the first parabola neared, we were told to lie down on the floor and stare at a point on the ceiling to avoid disorientation. The increased gravity wasn't as bad as I thought it would be - it was like a heavy weight pressing on my head and chest. Then a floatmaster cried out "Martian One!" to warn us that the first Mars-gravity episode was approaching, and my body started feeling really light. (On Mars, a 150-pound person would weigh only 50 pounds.) Laughter and shouts of amazement filled the plane. People stood up - some bounding up, despite our "Don't Jump" orders. Thank goodness for the padding. Teachers were dancing like out-of-control marionettes. (Journalists, too.) Some folks did one-handed push-ups – easily! Then, all too quickly, the order "Feet down!" rang out and we had to lie flat again.
The next two parabolas, "Lunar One" and "Lunar Two," made us feel 1/6th lighter than on Earth. You could pick your feet up off the floor and float gently down (unless your out-of-control neighbors were falling or flailing into you.) I, of course, was one of those out-of-control neighbors.
Then, weightlessness. The Zero Gravity Corporation brochures liken the experience to a zen-like, exalted state of bliss. But for the teachers (and journalists) on our flight, I think there was too much fun going on for anyone to experience zen. You had absolutely no control. If you got yourself moving in one direction, you couldn't stop until you hit something. Bodies were bouncing off the walls, floor, ceiling, each other. The first few zero-G parabolas were absolutely hilarious - chaotic, but hilarious. Every face had a broad, silly, marveling grin.
Well, nearly every face. By the end of the flight, a few teachers - I counted eight out of the thirty - had returned to their seats, fighting the effects of motion sickness. I didn't see any evidence that the flight had actually become a "vomit comet," but these folks definitely were not feeling well.
Not a lot of science got done in those first few parabolas. Folks (including Reynolds, our correspondent) flew through the air like Superman. Teachers played catch - using each other as the ball. We tried to eat flying M&M's and drink floating globs of water. But during the last several parabolas the educators did complete at least some of their experiments, which tested Newton's Laws of Motion.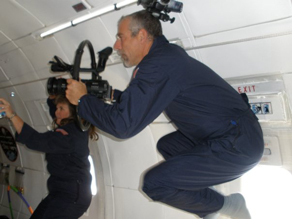 Floating photojournalist Jonathan Schaer
Throughout all of this, my photographer, Jonathan, wrestled with his camera, which was mounted inside a steering wheel-like device to help him maintain its stability. Even when we were supposed to be lying prone, Jonathan remained sitting, and sometimes standing, so he could get the best video he could. And he didn't get sick. Neither did my correspondent, Reynolds, who even photographed his unused airsick bag as proof.
When the floatmasters yelled "Feet down!" during the last parabola, I wanted more. But as we were flying back to Earth, I started feeling a bit of malaise. I then figured that maybe the floatmasters knew what they were doing, stopping at 15 parabolas. (NASA's "Vomit Comet" flies 40 or more per flight.) Others may have felt the same way; the teachers were much quieter on the way back, perhaps reflecting on their Superman leaps and successful experiments - or perhaps just waiting for heads to stop spinning and stomachs to settle.
Even today, the day after, I still feel sort of dragged out and a bit fuzzy-brained. But I would do it all again in a heartbeat. You could do it, too - for a price. The Zero Gravity Corporation makes regular flights out of Kennedy Space Center, Florida, and Las Vegas, Nevada. They cost five thousand dollars a seat.
So, assuming you have a spare $5,000. . .would you have The Right Stuff to do zero G?
Diane Hawkins-Cox, senior producer, CNN Sci-Tech Unit
Filed under: Aviation • NASA • Space • Space Tourism • teachers • zero gravity