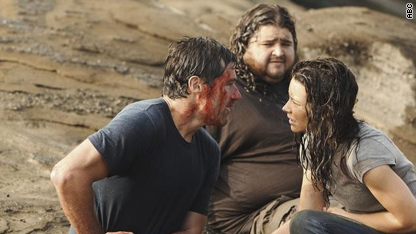 Editor's note: Geek Out! posts feature the latest and most interesting in nerd-culture news. From sci-fi and fantasy to gadgets and science, if you can geek out over it, you can find it on Geek Out! Look for Geek Out! posts on CNN's SciTech blog.
There are many, many questions still out there about "Lost," some which were answered vaguely, many that are "up for interpretation," shall we say... and the series finale itself raised some questions as well.
Here are just five of the frequently asked questions about the way the show ended, and my best educated guesses on the answers:
Q: Did all the characters die in the original plane crash?
A: No. Going by what Christian Shepard told Jack (and the fact that the final scene showed Jack's death), everyone died at different times, some on the island, others many years later. In the case of Hurley and Ben, it would appear that they died after perhaps thousands of years protecting the island, like Jacob, based on their exchange about being a great number one and number two.
Q: Why didn't Ben go into the church? Why was Penny there? Where were Michael and Walt?
A: It would seem that Ben, despite knowing the truth about purgatory (that's what we'll call it here, anyway), chose to stay there a little longer as a father figure to Alex. Desmond and Penny weren't on the plane, but Desmond brought all these people together, and Penny was the reason he "let go" and had a connection to everyone else there.
Michael's ghost is presumably still on the island, whispering. Walt either wasn't ready to "let go," or already has, which brings us to the next question...
Q: Why were people the age/state they were in purgatory? Why did Aaron have to be born again, for example?
A: One presumes that Aaron lived a long full life, but he had to be born in purgatory for Claire to "let go." Everything that people needed to "let go" was there for them if they were willing to accept what had happened to them.
The sixth season premiere actually implied that Rose might have been trying to help Jack "let go" while on the plane, and she said those words to him herself (this scene was replayed on the "Jimmy Kimmel Live" special after the finale). This might also partially explain why Walt wasn't in the finale, as most people in purgatory would remember him as a kid, not the teenager that the actor (and character, when Locke last saw him) is today.
Q: What was that light/"source" on the island after all? How did that cork get there? What were those skeletons below the waterfall?
A: For those looking for concrete answers, this could be the most frustrating question of all. Last year, executive producer Damon Lindelof told E! Online, "I feel like you have to be very careful about entering into Midi-Chlorian territory (referring to the oft-maligned Star Wars Episode I)... But 'What is the Island?' That starts to get into 'What is the Force?' It is a place. I can't explain to you why it moves through space-time—it just does. You have to accept the fact that it does."
The "source" is whatever you interpret it to be. In "Across the Sea," it was implied that Jacob and the Man in Black's Mother was not the first protector of the island, and that many people have been there and have dealt with the light or "source" while they were there. The Dharma Initiative is just one example of that.
The skeletons and the cork are likely representations of people who were there before the Mother even got there.
Q: Did Ajira Flight 316 return to the mainland safely? We saw the wreckage of a plane during the end credits.
That was the wreckage of Oceanic 815, which I would interpret as further confirmation of Jack saying, "There are no shortcuts, no do-overs – what happened, happened. All of this matters."
The plane did crash, they did land on that island, and the "flash-sideways" was only a "do-over" in the heads of the crash survivors and others. One can assume that Kate, Sawyer, Claire, Richard, Miles and Lapidus all landed safely and went on with their lives.
And speaking of moving on with our lives, here was Lindelof's final "Lost"-related tweet before going to an "undisclosed location:" "Remember. Let go. Move on. I will miss it more than I can ever say."
There is no doubt in my mind that this series and this finale will continue to resonate and be debated for years to come. And that's exactly the way the makers of "Lost" wanted it.
Share your final thoughts on "Lost," not to mention my interpretation of the finale's big questions, in the comments below.
Filed under: Geek Out! • television