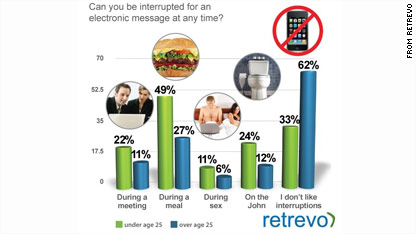 It may sound ridiculous, but a few blogs today are considering this question:
Is it appropriate to send or receive text messages during sex?
The chatter is a spin-off from a 1,000-person survey, published in March, which found about one in 10 people younger than 25 say that they would not mind being "interrupted by an electronic message" during sex.
Among people older than 25, 6 percent said they would be fine with that inconvenience, according to the online survey by Retrevo, a website that reviews consumer electronics.
The survey reports a 4 percent error margin.
About a quarter of people in the under-25 group said they wouldn't mind getting a text message or e-mail while using the restroom (the chart actually says "on the John," but can we all agree to boycott that phrase?). And half of the younger people said they would be OK with a digital intrusion into a meal.
Older people were less fond of this all-the-time messaging. Sixty-two percent of people older than 25 said they don't like being interrupted by digital communications in general.
Maybe there's a serious conversation to be had somewhere in these salacious details.
Do you find electronic messages intruding in on your life?
Would you text during dinner with a friend? Are there any limits?
As food for thought, here's an interesting video debate about some of these issues between NYT blogger Nick Bilton and Diane Sawyer, the ABC anchor.
Posted by: John D. Sutter -- CNN.com writer/producer
Filed under: texting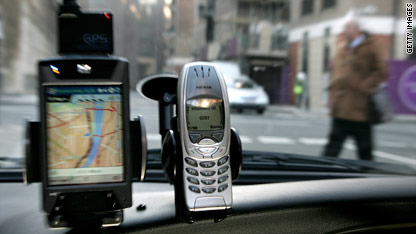 Many studies say people cannot drive as safely while they talk on a mobile phone.
A recent report from the University of Utah doesn't dispute that, but it does suggest that a very small portion of the population - about 2.5 percent of us - fit into a category researchers call "supertaskers."
These outliers are able to do two things at once - talk on the phone and drive, for instance - without their performance declining for either task.
"Our results suggest that there are supertaskers in our midst: rare but intriguing individuals with extraordinary multi-tasking ability," psychologists Jason Watson and David Strayer write in the report, titled "Supertaskers."
"These individual differences are important because they challenge current theory that postulates immutable bottlenecks in dual-task performance."
To get the results, the psychologists put 200 people in a driving simulator and tested their ability to react to traffic and braking cars while solving math problems and word games on a hands-free mobile phone.
Before you begin insisting that you, too, are a "supertasker" who can juggle multiple phone texts while eating, combing your hair and hurtling down the highway at 65 mph, heed this warning from the authors:
"Some readers may also be wondering if they too are supertaskers; however, we suggest that the odds of this are against them," they write.
While many people consider themselves adept multi-taskers, many psychological tests show that people do not function as well when their attention is split. However, in the future, as technology makes "supertasking" a more beneficial trait, people may be able to rewire their brains to be up to the challenge, they write.
The authors also reference several distracted driving reports, including one estimate from the National Safety Council that says 28 percent of all car crashes in the U.S. are caused by people who are using cell phones to talk or text.
[via NYTimes Bits blog]
Posted by: John D. Sutter -- CNN.com writer/producer
Filed under: distracted driving • mobile phones • multi-tasking • texting