March 31, 2010
Posted: 01:04 PM ET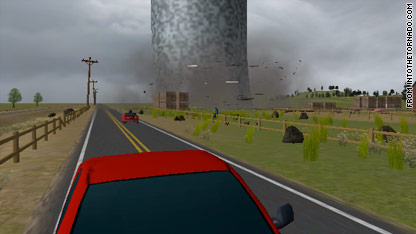 Tornado simulators are a staple of science classes and science museums.
Want to see cyclonic action at work? Fill a two-liter bottle with water, connect it to another at its mouth, give it a swirl and watch the water power into the lower bottle . Science museums often have more elaborate forms of this showcase, creating a "tornado" out of air or water vapor at the push of a button.
Now the Weather Channel is getting into the act – virtually.
On its Into the Tornado page – meant to promote next week's "Tornado Week," naturally – users have the opportunity to watch a tornado do its thing. You can click on a car, a train, a pickup truck or a pig – among several choices – set the power of the tornado and then the point of view.
One thing's for sure: It's bad enough watching what happens to a train or car in an F5 tornado, but you definitely don't want to be a pig. In an example, a porker gets hurled almost 400 feet in the air and ends up 167 feet from its starting point. As the accompanying text warns, "Tornadoes will rip through farms turning our porcine friends into dangerous pink missiles." (Keep your Beavis and Butt-head jokes to yourself.)
There are no cows available, but if you're looking for that, you can always rent "Twister" again.
Posted by: -- Todd Leopold CNN.com Entertainment producer
Filed under: Tornadoes • Weather
July 11, 2008
Posted: 11:59 AM ET
Meteorologists around the world all have the same job…to forecast and explain the weather. But depending where you are, that can mean tracking tropical cyclones, predicting snowfall totals, reporting on the environment. Or if you are a meteorologist on CNN International, it can be all three in one day!
I recently had the wonderful opportunity to attend the 36th Annual American Meteorological Society's Conference on Broadcast Meteorology in Denver, and I am very excited to share with you some of the highlights.
The conference was not only filled with lectures given by meteorologists around the world, but the best part, I thought was the field trips to the National Center for Atmospheric Research and the University Corporation for Atmospheric Research in Boulder, Colorado.
Both of these research centers high on a mountain in Boulder, Colorado are researching weather to study climate, air chemistry, storms, the sun and its effect on Earth and the interactions of humans and the environment.
We had the chance to meet one on one with the top scientists in weather! Since my focus is Asia and Australia, I was very interested in the research being done for forecasting these regions. One of the things I learned is that NCAR works with their counterpart's regularly in Shanghai and in Sydney, for example, to improve techniques in forecasting tropical cyclones and drought. Dr. Gregory Holland took the time to explain to me the topography of his homeland, Australia. The climate there is really fascinating: it's possible to have drought and floods in close proximity. He described the winter in the Southeastern part of the country as wet and cold, similar to Great Britain at times.
At one point on the tour, a bunch of us went to a dark conference room and donned 3rd glasses (I am not kidding). We were literally wowed by 3-d animations of how wildfire grows and spreads. The animation showed the patterns and movement of fires and smoke plumes depending on atmospheric conditions.Wildfires have been in the news lately in California in the U.S. and in Greece.
The next stop on our field trip was literally down the mountain, to the National Oceanic and Atmospheric Administration. Here we were treated to two amazing projects NOAA is conduction from Boulder.
The first is "Science on a Sphere"
Science On a Sphere (SOS) ® is a room sized global display system that uses computers and video projectors to display planetary data onto a six foot diameter sphere, analogous to a giant animated globe. Researchers at NOAA developed Science On a Sphere® as an educational tool to help illustrate Earth System science to people of all ages. Animated images of atmospheric storms, climate change, and ocean temperature can be shown on the sphere which is used to explain what are sometimes complex environmental processes, in a way that is simultaneously intuitive and captivating. (NOAA)
For a meteorologist, its one think to look at a satellite image on a flat computer screen, but to see it all moving along overlaid on a huge globe of the Earth was especially cool!
Our guide was able to tilt the Earth model so we could see the North and South Poles clearly. We are also able to watch how warm water literally moves around the world. I was fascinated as warm water came into the Tropical Atlantic, for example, then "looped" into the Gulf of Mexico. That loop of warm deep water and the eddies that break off from it is one of the reasons we saw hurricanes like Katrina explode into Category Five intensity once they moved over this section of water in the Gulf of Mexico!
For all you space fans, our last stop will probably be your favorite to hear about. At NOAA in Boulder you will find the Space Weather Prediction Center.
Did you know that Polar Flights, international air travel that passes over the North and South Pole is dependent on Space Weather forecasting? I was fascinated by this and you will likely find me talking more about it soon on CNN Today Asia in my weather reports!
Some very cool images Space Weather Forecasters use come from Hawaii! From way a top the Mauna Loa Volcano.
The Mauna Loa Solar Observatory (MLSO) is located on the top of Hawaii's Mauna Loa Volcano.
Later back in Denver, we continued on in the coming days to talk about other topics: including Climate Change, Hurricanes, Tornadoes and communication tools to best display our reports, to you, our viewer.
I can tell you the technology that is coming is truly amazing and in the coming months, keep tuning into CNN International for the most interesting and cutting edge reports on the weather and environment!
It's my pleasure and privilege to bring it to you weekdays CNN Today on CNN International and alongside my colleagues on Weather FX each month!
CNN Meteorologist Bonnie Schneider
Filed under: environment • hurricanes • meteorology • science • Severe weather • Tornadoes • Weather
May 28, 2008
Posted: 12:23 PM ET
(Updated from its original posting on the AC360 Blog)
In all my years as a professional meteorologist and spending my younger years living in tornado alley, I have never witnessed anything near the unpredictable, awesome power of the tornado that crawled across Hennessey, OK on Saturday.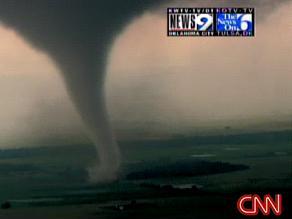 A tornado rips through Hennessey, Oklahoma, on Saturday destroying a hog farm in Kingfisher County.
I was watching north central Oklahoma for the threat of tornadoes and a warning was issued for Kingfisher and Garfield counties.
Next thing I know, my newsroom executive producer is running over telling me to get hooked up, we have live chopper shots of a possible tornado; they want me on the air.
We broke into programming just before 3:30p.m. EDT. Along with our CNN audience, I witnessed a large rotating wall cloud with a slight lowering. It turned into a funnel that gradually lowered to the ground and became a large, violent tornado.
It was a classic looking "stovepipe" tornado, meaning it was very straight, up and down. The clarity of the funnel was amazing. It was in the middle of a field.
Moments later, it leveled a hog farm. The roof was peeled away and debris was flying everywhere. It was an eerie feeling seeing this happen live, not knowing the status of the people that could have been in the building.
A minute later, the tornado lifts. (It turns out, there were 6 employees that were in the barn, who ran into a brick office building and all were uninjured. Most of the pigs and piglets survived, too!)
We rewind the tape, and show the tornado bearing down on the barn. Next thing we know, another tornado has formed and is on the ground. Back to live aerials.
This happened 11 more times, and miraculously the tornadoes never hit any other structures. Due to the slow movement of the parent storm, Lake Carl Blackwell was evacuated, and I-35 was shut down to allow the tornado to pass.
This undoubtedly helped save lives. Most tornadoes move much faster than this, usually somewhere between 30-40mph. They can rip along as fast as 65 mph.
The storm was a persistent supercell that didn't stop rotating until 6 hours after the first touchdown.
The pictures were likely so good and Helicopter Pilot Mason Dunn of KWTV in Oklahoma City was likely able to stay with the storm so long, because it was out there all by itself and was moving so slowly.
There were no other storms to try and avoid or make the air more turbulent. It was an LP storm, or Low Precipitation, so, the tornado wasn't wrapped in rain providing clear shot.
Dunn knew what he was doing. He's a legend in the Oklahoma City area. He was in contact with his meteorologist back at the TV station the entire time.
Dunn says he has been chasing tornadoes for about 20 years, and was in awe of what he saw. I've had a lot of people ask me since Saturday why would he do this, isn't it unsafe?
Won't this draw people to the tornado instead of encouraging them to seek shelter? What Dunn and KWTV did, was a tremendous community service. Because he is trained and knew where to safely shoot the tornado, many people knew exactly where the tornado was and where it was going, giving them the best information possible to keep them safe.
Of course there is always a risk, and Dunn said despite being about 2 miles from the storm, he could feel the pull of the tornado and had to work to stay far enough away from it.
Saturday's tornado was just one of more than 150 twisters that ripped through the nation's midsection over 5 day's time.
It all started on Thursday with the monster in Colorado. Friday, Kansas was hardest hit including an EF4 tornado that flattened 3 houses in Quinter. The winds were nearly 200mph! Saturday…the Hennessey tornado, and then Sunday, 5 miles from the home I grew up in, a tornado struck and caused catastrophic damage in Hugo, MN, a suburb or the Twin Cities.
A two year old was killed, that child's sibling is in critical condition, and their Mom and Dad are in the hospital with injuries. All this, despite ample warning that the tornado was on the way, and the sirens were blaring.
Sometimes it just breaks your heart to know that no matter what you do, no matter what you say, no matter how great the meteorologists in Minnesota are, no matter how much we understand the science of storms, no matter how great Doppler radar is, how great technology is… sometimes, there's just nothing you can do except pray.
150 homes damaged, 50 destroyed.
The Holiday weekend had many Minnesotans at their cabins (that's Lake Home to the rest of you), and authorities say the death toll and number of injuries would have likely been much worse otherwise.
This same evening, a massive tornado struck and demolished about half of the city of Parkersburg, IA. 8 people are dead from that storm. From the video I've seen, it doesn't get much worse than this.
Monday, we were staring down day 5 of tornadoes.  With a bit of a respite Tuesday and Wednesday, we're expecting things to pick up again on Thursday. 
If all 167 tornadoes from the past 4 days verify, we will have seen as many tornadoes in the last 5 months as we would typically see in an entire calendar year. The same is true for the number of tornado related deaths.
Why? We don't know for sure. Part of it is likely due to the jet stream pattern that is being influenced by La Nina (the unusual cooling of the equatorial waters in the Pacific that impacts the large scale circulation).
Another reason for our high numbers is due to all the tornadoes in February on Super Tuesday. It's quite rare to have an outbreak like that in the middle of winter.
- Jacqui Jeras, CNN Meteorologist
Filed under: environment • meteorology • Tornadoes
May 12, 2008
Posted: 09:30 AM ET
On the heels of the disastrous Myanmar cyclone ten days ago, nature has had a busy week - with more human tragedy as a consequence.
We awoke this morning to reports of a massive quake near a Chinese city most Westerners have never heard of.    Sichuan Province may be better known to Americans as the home of the giant pandas, and for the region's spicy cuisine.  But Chengdu, obscure to most of us over here, has a metro area larger than any in the U.S. except for New York and Los Angeles. 
At CNN, our first info on a quake anywhere in the world often comes from an automatic email warning system from the U.S. Geological Survey    The 7.8 quake, post-midnight on the East Coast but mid-afternoon in Sichuan Province, China, has a reported death toll in the thousands.   There have been several aftershocks, the largest in the 5 and 6 range on the intensity scale.  The main quake was felt over thousands of miles.
Numerically tame by comparison but just as tragic to those affected were this weekend's tornadoes.  At least 22 Americans died in the Midwest and Southeast.  A relatively small twister ripped up some homes about ten miles from my own house in Ellenwood, Georgia.  Things were much worse in the midwest, where a storm estimated in the EF3 or EF4 range tore through a wide swath of lead-mining country in northeastern Oklahoma and southwestern Missouri.   The National Weather Service has counted 66 tornadoes over the weekend, and the one that ravaged Picher, Oklahoma stayed on the ground for 63 miles.  2008 is well ahead of pace for both the number of tornadoes (over 500), and the death toll they've produced - now 98 for the year.
Had enough?   Heavy rains combined with high tides to force evacuations along the Delaware coast.   On Sunday high winds and low humidity conspired to spark large, sudden wildfires along Florida's East Coast, temporarily closing Interstate 95.
We cover all of this stuff through CNN's domestic and international weather center.   One of our summer interns is starting her first day.  It will be a learning experience.
Peter Dykstra  Executive Producer   CNN Science, Tech, and Weather
Filed under: earthquakes • Flooding • Severe weather • Tornadoes • Weather
April 9, 2008
Posted: 03:17 PM ET
CNN's Severe Weather Expert Chad Myers weighs in on the forecast for some very bad tornado weather - and then tells us what it all means:
A battle between hot and cold begins tonight in the western high plains and continues well into the Ohio Valley through Friday. Winter is trying to hold on as the heat and humidity of summer are trying to push the cold air back into the Arctic. Obviously, the warm air will eventually win, but tonight and tomorrow a blast winter will push all the way to the Gulf of Mexico. A severe weather outbreak will occur in the path of the clashing air masses.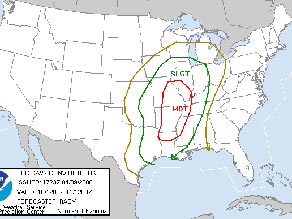 The Storm Prediction Center expects a good chance of tornado activity today and tomorrow. This map shows the greatest risk for Thursday over a large area of the Lower Mississippi River Valley, including Memphis and St. Louis. Source: NOAA
Now there are many more ingredients necessary to make severe weather like tornadoes. You can't make bread from flour and water....but it'll make a good base. Same here....temperature clash will make the base and a jet stream, a vorticity max, a low level jet, and lots of humidity will be the yeast, eggs, salt and oil.
Technically speaking for the weather inclined, here's the forecast from the Severe Storms Forecast Center (NOAA). I'll translate at the end:
"INGREDIENTS ARE QUICKLY COMING INTO PLACE TO SUPPORT A SIGNIFICANT PERIOD OF SEVERE THUNDERSTORMS OVER PORTIONS OF THE SOUTHERN PLAINS. IN RESPONSE TO THE APPROACH OF THE DEEPENING COLD TROUGH OVER THE SWRN U.S...A STRENGTHENING LOW LEVEL JET IS RAPIDLY TRANSPORTING QUALITY GULF MOISTURE INTO TX AND OK.
STALLED FRONTAL ZONE FROM SRN AR TO SWRN TX WILL RETURN NWD THIS AFTERNOON POSSIBLY TO RED RIVER VALLEY BY THIS EVENING. WITH DEWPOINTS RISING THRU THE 60S MLCAPES AOA 2500 J/KG COUPLED WITH STEEP MID LEVEL LAPSE RATES AND STRENGTHENING DEEP LAYER VEERING SHEAR PROFILES WILL BE SUPPORTIVE OF TORNADIC SUPERCELLS.
LARGE SCALE ASCENT IS INCREASING WITH APPROACH OF DIFFLUENT UPPER JET. NEAR SURFACE BASED SEVERE THUNDERSTORMS EXPECTED TO DEVELOP BY MID/LATE AFTERNOON. STORMS THAT DEVELOP VICINITY OF THE WARM FRONT WILL QUICKLY BECOME SUPERCELLS GIVEN THE QUALITY OF THE AIR MASS AND STRONG DEEP VEERING SHEAR PROFILES.
LARGE HAIL...AND TORNADOES ARE EXPECTED WITH STORMS THAT DEVELOP VICINITY WARM FRONT THIS AFTERNOON. THE POTENTIAL OF LONG LIVED SUPERCELLS AND STRONG TORNADOES WILL BE POSSIBLE AS STORMS TRACK ACROSS N TX INTO SRN OK THIS EVENING VICINITY SURFACE FRONTAL ZONE.
SURFACE LOW DEVELOPS SWRN TX THIS AFTERNOON AND THEN DEEPENS NEWD INTO OK TONIGHT AS THE INTENSE TROUGH BECOMES NEGATIVELY TILTED AND MOVES INTO SRN HI PLAINS BY 12Z THU. SEVERE THUNDERSTORMS WILL REDEVELOP BACK IN TX PANHANDLE AND SWRN TX TO E OF DRY LINE/COLD FRONT OVERNIGHT. GIVEN THE STRENGTH OF FORCING...A SEVERE SQUALL LINE WITH ENHANCED WIND DAMAGE THREAT WILL BE MOST LIKELY MODE. HOWEVER EMBEDDED SUPERCELLS AND TORNADOES ARE ALSO LIKELY AS THE SHEAR AND INSTABILITY WILL STILL BE MORE THAN SUFFICIENT...EVEN WITH THE NORMALLY UNFAVORABLE TIME OF DAY.
DURING THE AFTERNOON AND EVENING ADDITIONAL STRONG/SEVERE THUNDERSTORMS WILL DEVELOP VICINITY FRONTAL ZONE FURTHER E ACROSS AR/NRN LA. WHILE SHEAR WILL BE MARGINALLY FAVORABLE FOR ORGANIZED STORMS...MDT INSTABILITY WITH MLCAPES AROUND 2000 J/KG AND STEEP MID LEVEL LAPSE RATES WILL SUPPORT AT LEAST MULTICELLULAR STORMS WITH LARGE HAIL POTENTIAL."
Wow, so what does all that mean? Let's go piece by piece.
First Paragraph: Ingredients are coming together....you can have humidity, cold air, a jet stream, and all of the other parameters of severe weather, but if they are not in the right alignment, you will only get rain. In this case the "cold trough" (a dip in the jet stream) and the "Low Level Jet" (a strong wind from the south at 2000 feet) are working together.
Second Paragraph: A stationary front across central Texas will move north tonight to the Red River. This move will bring humidity to the north...closer to the cold air coming in from the north. The rest of the paragraph refers to the profile of the atmosphere with respect to potential volatility of a developing storm.
Third Paragraph: "Large scale ascent" means the air at the surface is rising to higher levels. Rising air makes clouds ...sinking air makes clear skies. "Diffluent upper jet" means the air at, let's say 30,000 ft., is diverging...moving apart...this movement apart causes lower pressure....lower pressure draws more air up from the surface...(remember rising air causes clouds...and in this case storms). "Storms that develop near the warm front will quickly become supercells" - The air mass by the warm front is warm and humid and the winds aloft change direction with height. This causes rotating thunderstorms that are not in a line with other storms and they are called supercells.
Fourth Paragraph: Self explanatory.
Fifth Paragraph: A Low pressure area (rising motion) develops in southwest Texas and gets stronger as it moves into Oklahoma tonight. The words "negatively tilted" refer to the shape of the jet stream. "Positively tilted" troughs will produce less severe weather. See this link: http://www.theweatherprediction.com/habyhints/127/
A "dry line" is a dry air "front" that blows out of the high plains east of the Rocky Mountains. It pushes air up just like a cold front.
Sixth paragraph: Other storms will develop over the Ark-La-Tex, but will not contain large tornadoes, but will contain hail.
That's just for tonight and tomorrow morning. More tornadoes are likely Thursday and Friday.
Filed under: Tornadoes • Weather