May 24, 2010
Posted: 11:07 AM ET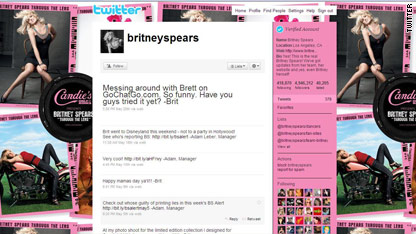 Mario takes on the Universe
Alas, poor Ashton.
You may have beaten us to 1 million followers on Twitter, but that's so last year. Now, Twitter is Britney's world.
Over the weekend, the official Britney Spears Twitter account passed actor Ashton Kutcher's feed as the most popular on the microblogging site.
Both are closing in on a whopping 5 million followers - Britney had about 4,946,000 as of late Monday morning, compared to Kutcher's 4,942,000.
Her new place in the top spot comes despite the fact that Britney's feed, in contrast to Kutcher's ultra-personal musings, is largely filled by posts from her manager, Adam Leber, and other staffers.
She does chime in from time to time, though, with posts like "Happy mamas day ya'll!! -Brit," on May 9. The most recent Britney post on Twitter - where many popular users are always updating their status - is from last Wednesday.
There was no acknowledgement of the milestone on the feed.
On Kutcher's Twitter feed , he addressed the seismic shift in the Twitterverse by dismissing it.
He's been doing promotional interviews for his upcoming movie "Killers" and said that - behind "Are you having a baby?" - the most popular question from reporters has been about being passed by Britney.
"Answer 'I don't care. Aren't u suppose 2B a movie reporter?' " he wrote Sunday night.
Aside from the mind-boggling realization that Britney has at least 5 million fans, the most interesting aspect of the news may be what the numbers say about Twitter's growth - or at least the growth of its most popular users.
Just over a year ago, Kutcher and CNN's breaking news account, @CNNbrk, were publicly racing to become the first Twitter account with 1 million followers (that CNN account now has just over 3 million).
Posted by: Doug Gross -- CNN.com producer
Filed under: Internet • universe
May 11, 2010
Posted: 01:31 PM ET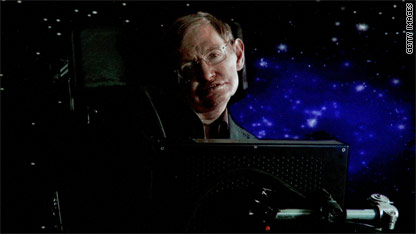 Editor's note: Geek Out! posts feature the latest and most interesting in nerd-culture news. From scifi and fantasy to gadgets and science, if you can geek out over it you can find it on Geek Out! Look for Geek Out! posts on CNN's SciTech blog.
Stephen Hawking's new Discovery Channel series, "Into the Universe," aired again last night and continues into next week. In it, the famed cosmologist discusses the mathematical probability of aliens, the Big Bang and time travel. Hawking's theories on time travel in particular seem fairly optimistic - although "Back to the Future"-style DeLoreans are conspicuously absent. That will be the topic next week. Taking a cue from the show, here are five semi-practical models of time travel:
Barrel through a wormhole
If time itself is a dimension like length and height and width, then Hawking says the fabric of time contains imperfections we could take advantage of. A smooth billiards ball has microscopic crevices, and so does spacetime. We'd need to find a true "wormhole" and prop it open, and then head on through.
The caveat, of course, is that we'd be facing heavy radiation feedback concerns (a bit like the screeches you hear at rock concerts) and even without that problem, that we would create paradoxes by messing around with historical events in the past. For this reason, Hawking believes travel to the past may well be impossible.
Go near a black hole
It's simple: All we have to do is find a supermassive black hole and get into its orbit without being sucked into it. Hawking says time would slow down for the people in orbit relative to people elsewhere. Now to find a black hole ...
Go really, really fast
Hawking says if we can get close to the speed of light, a "cosmic speed limit" will kick in to prevent going any faster. Approaching roughly 186,000 miles per second, time will slow down for the traveler vs. the observer. When the traveler emerges, they will have jumped into the future. We just have to develop an engine that can go that fast. Don't try this on the Autobahn, folks.
Live on a space station
Turns out Cosmonaut Sergei Avdeyev is said to hold the record for the most time traveled into the future: about 20 milliseconds. His cumulative experience aboard Russian space station Mir gave him an edge over the competition. Hawking discusses in his documentary how orbiting global positioning satellites must have their timekeeping adjusted every so often because of the relative time slowdown.
Become a Retronaut
This one might be a cop-out, but many scientists (including Hawking) argue that time travel to the past is paradoxical and potentially impossible. In lieu of a Wayback machine, we can turn to the work of Chris Wilds, who created a website about his experiments with being a being a Retronaut. That is, a person who travels into the past by exploring perceptions of time. Whether by looking at old pictures juxtaposed with new ones (which we experimented with at CNN iReport a few weeks ago) or hunting anachronisms, Wilds' site hints that time travel may be all in your head.
Posted by: Nicole Saidi -- CNN iReport Senior Associate Producer
Filed under: Astronomy • Space • television • universe
November 6, 2009
Posted: 05:31 PM ET
This is too weird: A bird reportedly has dropped a "bit of baguette" onto the world's largest atom smasher, causing the machine to short out for a period of time.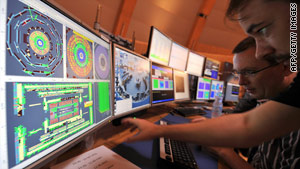 It's just the latest mishap for the Large Hadron Collider, or LHC, which scientists plan to use to get insight into the universe's origins. The LHC, which has a 17-mile track to circulate protons and is located underground on the French-Swiss border outside Geneva, Switzerland, is the largest particle accelerator in the world and cost about $10 billion.
The LHC booted up in September 2008, but technical problems forced it to shut down shortly after its launch. When the mystery bird reportedly dropped a piece of bread onto the particle accelerator's outdoor machinery earlier this week, the device was not turned on, according to reports, and therefore did not suffer major damage.
Had the machine been activated, the baguette incident could have caused the LHC to go into shutdown mode, the UK's The Register reports. The Register quotes Dr. Mike Lamont, a worker at the European Organization for Nuclear Research (or CERN), as saying that "a bit of baguette" had been dropped on the LHC, possibly by a bird.
A call to CERN's press office was not immediately returned.
ZDNet writes that the baguette in question did not have a chocolate filling:
The [CERN] spokesperson said the bread, which was "naked and unfilled", had caused a short circuit when dropped on an electrical installation that supplies energy to the massive experiment. While the bird was unconfirmed as the definite culprit, it had been spotted beforehand near the substation carrying bread, said the spokesperson.
The avian accident has prompted a number of online parodies and jokes (this photo is my favorite). CNET UK, a CNN content partner, writes jokingly that it's clear the bird was French since it was carrying a baguette:
We're not ones for crude for national stereotyping, but the detail that the bird dropped a bit of baguette suggests this must have occurred on the French side of the LHC. It's unclear whether the bird was actually riding a bike, or indeed wearing onions and a beret.
A Discover blog exclaims: "Zut alors!"
And CrunchGear says the strange incident shows the LHC is "so abhorrent to nature that the universe is contriving to snuff it out."
Posted by: John D. Sutter -- CNN.com writer/producer
Filed under: Large Hadron Collider • science • Space • universe