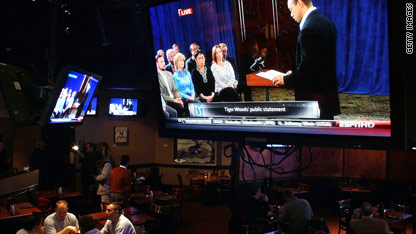 Ahead of today's apology from Tiger Woods, some people speculated that the event would break the Web's record for most people watching a live video stream at the same time.
Obama's inauguration in January 2009 set that record, with 7.7 million simultaneous video streams across the Internet as a whole, according to Akamai Technologies Inc.
Tiger's "I'm so sorry" speech didn't even come close to that - at least not on Ustream.
According to numbers sent to CNN by Ustream spokeswoman Shari Foldes, Woods' audience for his 15-minute talk fell short of viewership for Obama's inauguration, Michael Jackson's funeral and last fall's "Twilight: New Moon" red carpet premiere.
But it's difficult to compare these numbers, Foldes said, because the events varied so greatly in length. Plus, Woods' apology was carried live on a number of Web sites aside from Ustream - including CNN.com, YouTube and Hulu.
But here are Ustream's numbers, nonetheless.
What do you think they say about us as a society - or as the Internet audience? Feel free to chime in with comments.
Michael Jackson's memorial service: 4.6 million total streams
"Twilight: New Moon" red carpet premiere: 4.1 million total streams
Obama's inauguration: 3.8 million total streams
American Music Awards red carpet pre-show: 3.4 million total streams
Golden Globes red carpet pre-show: 1.7 million total streams
Posted by: John D. Sutter -- CNN.com writer/producer
Filed under: Tiger Woods • Ustream