August 18, 2009
Posted: 08:57 AM ET
The Big Crunch may sound like a slogan for crackers or potato chips, but it's actually an astronomical theory with a gloomy twist.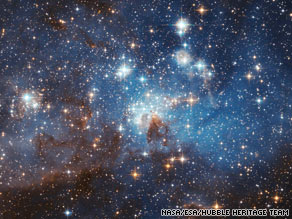 We've all heard of the Big Bang, a widely accepted theory that proposes the entire universe began from a single point about 13.7 billion years ago and has been expanding ever since.
But will it expand forever? Or could it stop and reverse that process?
One possible fate of the universe is the Big Crunch, the idea that the cosmos could one day begin contracting and eventually collapse back on itself or return to a single point.
If it ever happens, this anti-Big Bang would take place so far in the future that Earth might even not exist anymore, according to experts writing for Cornell University's Curious About Astronomy Web site.
But the experts also took a stab at what a contracting universe could look like to an observer billions of years into the future.
"As the present-day observable universe started to get really small, the observer would most likely see some of the things that happened in the early universe happen in reverse. Most notably, the temperature of the universe would eventually get so high that you could no longer have stable atoms, in which case the hypothetical observer wouldn't be able to hold himself together."
Yikes. But fear not. It turns the expansion of the universe has been accelerating rather than slowing.
Astronomers believe that's caused by a mysterious dark energy pulling galaxies apart, according to NASA.
"Dark energy is this idea that not only is the universe expanding, dark energy is actually making that expansion happen even faster," said Marla Geha, as assistant professor of astronomy at Yale University. "The dark energy will actually continue the expansion of the universe forever, so there probably will not be a Big Crunch if we have the numbers right."
But the continuous expansion would have other consequences. Over tens of billions of years, the galaxies that we see around us would get farther and farther away, making the universe more of a lonely place, Geha said.
Posted by: A. Pawlowski, CNN.com
Filed under: Astronomy • NASA • Space
July 20, 2009
Posted: 08:00 AM ET
Famous for its reddish color, Mars has long fascinated astronomers, ordinary sky gazers and science-fiction writers.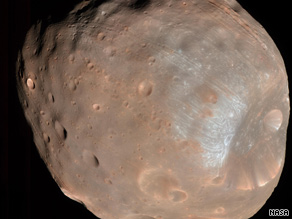 But its strange, tiny moons also deserve plenty of attention, especially since one of them has been suggested as a way for humans to get to the planet itself.
"To reach Mars, we should use comets, asteroids and Mars's moon Phobos as intermediate destinations. No giant leaps this time. More like a hop, skip and a jump," Buzz Aldrin, the second man on the moon, wrote recently in an article in Popular Mechanics. Read more about the moon vs. Mars debate
Phobos is one of two Martian moons, with Deimos keeping it company in space.
Just 13 miles across, Phobos orbits so close to Mars that it may be shattered by the Red Planet's gravitational tidal forces in about 100 million years, according to NASA.
You can see its battered, pockmarked surface in the photo above, taken by the Mars Reconnaissance Orbiter last year. The Stickney Crater, which takes up almost half its diameter, is on the lower right.
Some astronomy Web sites call Phobos potato-shaped and that's a good way to describe it!
Think Phobos is small? Deimos is even tinier, at about 7.5 miles in diameter. If you were to stand on the surface of Mars, it would look light a bright star, NASA says.
And here's a bit of mythology to add to your astronomy knowledge. You may know that Mars was named after the Roman god of war. So in keeping with the tone, Phobos ("Fear") and Deimos ("Terror") were named after the horses that pulled the chariot of Ares, the Greek god of war and the counterpart to Mars.
Posted by: A. Pawlowski, CNN.com
Filed under: Astronomy • Mars • NASA • Space
June 18, 2009
Posted: 08:51 AM ET
I recently spent a miserable 10 hours on a flight from Europe to the U.S. and it made me think of how wonderful it would have been to be able to take the Concorde and cut that time in half.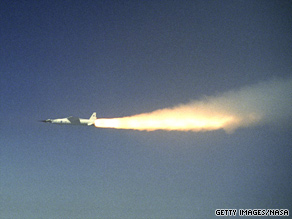 My misery, and a conversation with a colleague about it, inspired an article on the status of supersonic flight six years after the Concorde fleet was retired from service.
Those planes flew at twice the speed of sound, but what if you could travel even faster?
Research continues into hypersonic flight, defined as least five times faster than the speed of sound. The first human to travel at hypersonic speeds was Russian Major Yuri Gagarin 1961 during the world's first piloted orbital flight, according to the U.S. Centennial of Flight Commission.
Future generations might one day zip around the globe in planes that reach those speeds with the help of supersonic combustion ramjets. Also known as scramjets, these engines use external air for combustion, according to NASA.
But there are lots of obstacles to overcome.
"It really comes down to the faster you go, the higher the temperatures associated with the external shape of the airplane," said Peter Coen, principal investigator for NASA's supersonic fundamental aeronautics program.
To illustrate, the temperature on the surface of an object that is traveling at five times the speed of sound reaches 1,800° F, according to the U.S. Centennial of Flight Commission.
"That really requires an airframe that has the life that would be associated with commercial success. That material has not been envisioned yet, never mind invented," Coen said.
Posted by: A. Pawlowski, CNN.com
Filed under: Aviation • NASA
April 27, 2009
Posted: 07:50 AM ET
In researching a story about what it might look like if you were to fall into a black hole, I came across the concept of white holes.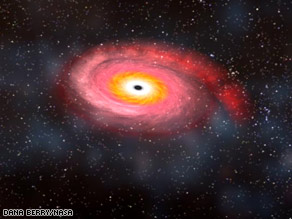 This is not a new idea, but it's fascinating, so for those of you who have never heard about it, here's a primer.
Think of a white hole as an "anti-black hole," according to Cornell University's Curious About Astronomy Web site. So if black holes are places where matter is sucked in, white holes could be where it spews out, like water through a fire hose.
"Some people say maybe all that material that's collapsing into this black hole… goes through a worm hole or some theoretical idea and blasts out in some other place in the universe," said Jeff McClintock, senior astrophysicist, at the Harvard-Smithsonian Center for Astrophysics.
Another way to look at it is through the waterfall analogy. If you think of a black hole as space falling down one side of a ravine, imagine it bouncing off the bottom and climbing back up the other side, said Andrew Hamilton, a professor of astrophysics at the University of Colorado, Boulder.
"But you never see that thing in nature and it doesn't happen in real black holes," Hamilton said.
The concept of white holes is totally theoretical and most people don't give it much credence, McClintock added.
"Thousands of astronomers are just grinding their brains away on black holes," he said. "You compare that to a white hole, I don't think you'll find one astronomer grinding his brain away."
Posted by: A. Pawlowski, CNN.com
Filed under: Astronomy • Space