Mozilla released its latest version of Firefox, the world's second-most-popular Web browser, on Tuesday. Available for Windows, Mac OS X and Linux in more than 70 languages, Firefox 3.5 is the browser's first major upgrade since the launch of Firefox 3 in June 2008.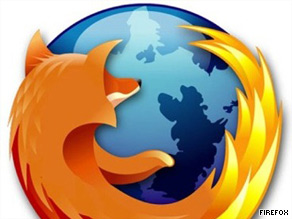 Firefox 3.5 claims to be more than twice as fast as Firefox 3 and has a host of new features,
including a private browsing mode, customized downloadable fonts, the ability to show video built into Web pages without plug-ins, and geolocation technology that lets Web sites know where you are.
Early reviews have been positive. Slate's Farhad Manjoo tested a pre-release version and found it "hard to beat." An excerpt:
Though I can't call it the world's fastest browser—Chrome and Safari are just as fast—the new Firefox is no longer a lumbering beast. It launches quickly, fires up complex sites like Gmail and Google Maps without any hiccups, and runs tons of open tabs without crashing (an ever-present possibility in earlier versions).
And ComputerWorld's Preston Gralla says:
The just-released version 3.5 of Firefox is a winner, offering significantly faster Web browsing, better tab handling, a host of interface tweaks and, like just about every other browser on the planet, a "porn mode." If you already use Firefox you'll want to upgrade right away. If you're not a Firefox user, this version represents a very good opportunity to give the browser a test run.
In his review, CNET's Seth Rosenblatt is a little more cautious in his praise:
It is by no means the leap ahead that its predecessor Firefox 3 was, and it's clear that the competition isn't going away anytime soon.
How about you new Firefox 3.5 users out there? Anyone want to weigh in?
Posted by: Brandon Griggs, CNN.com Tech section producer
Filed under: Web browsers