Just as we were all getting used to watching movies on Blu-Ray, Swinburne University of Technology in Melbourne, Australia has developed a DVD that holds 1.6 terabytes of data - or about 2,000 movies.  There is nothing like having your entire movie collection on one disc.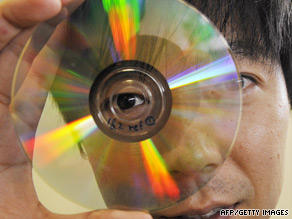 James Chon of the Swinburne University of Technology holds up the revolutionary new DVD.
All this is made possible by adding a fourth and fifth dimension to an optical disc.  By doing this, a range of different colored wavelengths can read the same physical location.  Current DVDs use a red laser, while Blu-Ray DVDs naturally use a blue laser.
Researchers at Swinburne University say that a commercial release is still five years away, even though an exclusive agreement has already been signed with Samsung.
But will the everyday consumer need such a huge optical storage medium? Just think about the potential price of just one disc, let alone the player.  The steeper price of Blu-Ray discs and players have hindered that technology from gaining a large share of the DVD market.
With hard drives exceeding 2TB and the future of movies heading towards digital downloads through services such as Netflix, the future of DVDs, especially Blu-Ray, may be in peril.  On the other hand, you always will have the people who want a physical disc with a case and artwork so they can proudly display them.
Does the thought of having a 1.6TB disc excite you with its possibilities? Or do you cringe when you think about yet another new format that might force you to go out and buy "The Terminator" again for the fourth time?
Posted by: CNN's Christopher Piatt
Filed under: consumer tech
For a decade, the computer program has searched the skies for extraterrestrial voices. Hundreds of thousands of volunteer home computers have analyzed the data, according to a news release.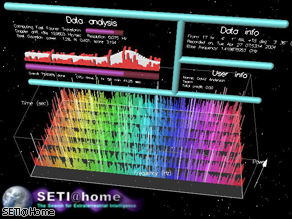 But no alien signals have been heard in the 10 years SETI@Home (Search for Extraterrestrial Intelligence) has been operating.
SETI uses the Arecibo telescope in Puerto Rico to record radio signals from the sky. Those signals are broken down and sent to home computers, which help analyze the data.
Here's more on how the project works, from the SETI@Home Web site:
One approach, known as radio SETI, uses radio telescopes to listen for narrow-bandwidth radio signals from space. Such signals are not known to occur naturally, so a detection would provide evidence of extraterrestrial technology.

Radio telescope signals consist primarily of noise (from celestial sources and the receiver's electronics) and man-made signals such as TV stations, radar, and satellites. Modern radio SETI projects analyze the data digitally. More computing power enables searches to cover greater frequency ranges with more sensitivity. Radio SETI, therefore, has an insatiable appetite for computing power.
In the 10 years that SETI has been active not a single extraterrestrial signal has been heard.
This could lead us to believe that maybe we are truly alone in this vast universe. No one knows for sure, of course. The debate has intensified since the Roswell incident of 1947.
Arguments can be made against spending money and time in search of other life in the universe. The money spent on funding the SETI project that could have been put towards fighting hunger or doing cancer research, for example.
On the flip side, our universe is extremely large and the time it takes radio signals to travel can take many years for them to make it to Earth if they are coming from another planet or spaceship. Ten years just isn't enough for us to examine what could be out there.
What are your thoughts on SETI?
Posted by: CNN's Christopher Piatt
Filed under: Space
It was a three-way brawl at last week's E3 conference as these top console makers revealed their newest developments. Who won the battle? We'll let you decide.


Nintendo's Wii has sold 29 million units to date to become the fastest-selling console in history.
Nintendo introduced its Wii MotionPlus accessory for the Wii Remote. This accessory, to be released in spring 2009, attaches to the end of the Wii Remote and it will track every movement a user makes with their arms and wrist. The Wii MotionPlus accessory will be included with the sequel to Wii Sports, entitled Wii Sports Resort. In this game you will be able to duel it out with swords, skiff across the water on a Jet Ski and play Frisbee with a dog.
Another hardware release, WiiSpeak, coincides with the release of "Animal Crossing: City Folk." WiiSpeak is a microphone/speaker system that will allow users to chat with each other while gaming. In "Animal Crossing: City Folk," users will run around with a plethora of animals, build and improve their community, take a bus into the city, and be able to bid on items in an auction house. These two items are scheduled for release on November 16.
With Wii Music the entire family can rock out to 60 different instruments using the Wii Remote and Nunchuk controllers. You never have to worry about being off the beat, unlike with some other games. Users can improvise and transform songs then share them with friends and family.
Get ready to grand-slam your way through Baseball Kingdom in "Mario Super Sluggers." You can take control of over 40 Nintendo characters, including your own Mii, to play nine-inning games, home-run contests, and several mini-games.
Microsoft is in the middle of the pack with 20 million Xbox 360 units sold worldwide. Every five seconds a new member joins Xbox Live to add to its already 12 million-plus membership.
Microsoft is teaming up with Netflix to offer streaming movies directly to your XBox. More than 10,000 movies and TV episodes will be offered next fall to Xbox Live Gold members and Netflix subscribers.
Other enhancements to Xbox Live include Xbox Live Primetime, which allows users to play such game shows as "1 vs. 100." Xbox Live Party will allow you to create your own avatar while you share movies and pictures with friends around the globe.
Also on tap in its gaming lineup is "Halo Wars," a real-time strategy game, based off the original Halo series. Making the jump from Nintendo to Xbox is the family friendly "Banjo-Kazooie: Nuts & Bolts." An exclusive "Grand Theft Auto IV" episode will be released in the fall as well.
For you music fans, "Rock Band 2" will be launched first on the 360 in September. If you are more into singing then playing the instruments then you will want to check out "Lips," which will allow you to use a wireless motion-sensing microphone to sing songs from your own music collection. And with "You're in the Movies," players can put themselves into several short films utilizing the Xbox Live Vision camera. This will hit stores right before the holiday season.
In hardware news, Microsoft unveiled its 60GB Xbox for $349.99 while dropping the 20GB version by $50, to $299.99.
Sony made several announcements concerning its PlayStation 3, which has sold 14 million units.
The PlayStation Network will allow users to download 300 movies and 1,200 TV shows in both standard and high definition. Movies such as "Alvin and the Chipmunks," "Pirates of the Caribbean: Dead Man's Chest" and "10,000 B.C." will be available to both rent and buy.
Rentals range from $2.99 to $5.99 and users have 14 days to start watching their movie. Once the movie is started the user has 24 hours to watch it before it expires. You can purchase movies from $9.99 to $14.99. Owners will be able to transfer content from their PS3 to their PSP for watching on the go.
"LittleBigPlanet" is a first-of-its-kind game where users can customize the world that they play in. Each character has certain powers that they can use to interact with their world while solving puzzles. Once you've completed your world you can invite friends via the Playstation Network to check it out.
Sony also announced first-person shooter games "Resistance 2" and "Killzone 2," "NBA 09 The Inside," and "Buzz! Quiz TV" that includes wireless buzzers.
For those of you who desire more space, Sony will release an 80GB model for $399.99 in September.
The battle at E3 has been fought, but the war is not over for supremacy in this generation of video-game consoles. Now it is your turn to tell us who you think presented the best hardware and software during E3. What are you looking forward to playing the most?
Posted by: CNN's Christopher Piatt
Filed under: Gaming