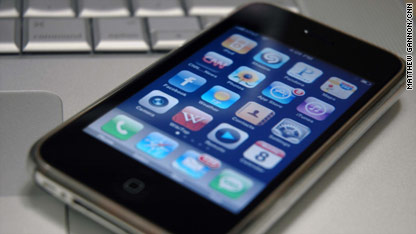 Editor's note: Geek Out! posts feature the latest and most interesting in nerd-culture news. From scifi and fantasy to gadgets and science, if you can geek out over it you can find it on Geek Out! Look for Geek Out! posts on CNN's Marquee and SciTech blogs.
The launch of the iPad is looming, but some of us are still more concerned about what's going to be new for its smaller-statured brother - the iPhone.
There will likely be an update to the phone's operating system in conjunction with the release of the iPad.  The question is – what will we get?
There have been plenty of rumors that this update will be BIG.  Of course, "big" is a relative term and could really mean anything.
The hottest rumor is that the phone may actually be able to finally run more than one application at a time.
For Apple geeks, that would be bigger than big  - that would be huge -  and would bring our beloved iPhone in line with Palm's Pre.
There are some other smaller features I would love to see come to my favorite technological addiction.  Some of these include:
_ Tethering/Hotspot creation:  The Palm Pre can do this – time for AT&T to allow the iPhone to do the same – i.e. create a wireless hotspot or allow the phone to be tethered to a laptop so you can surf anywhere.  I don't even care if I have to pay for this feature – just don't expect me to pay much. (An additional $15 -25 would be in line with what I'd expect).
_ Bluetooth remote profile:  The last update gave us Bluetooth streaming for wireless headphones and other audio devices.  But for some unknown reason Mr. Jobs neglected to include the profile that lets you change tracks.  Please enable this!
_ Custom sound sets: Friends with jailbroken phones (who will remain nameless) lord this over me all the time.  Why can't I make my e-mail, SMS or other alerts sound like whatever I want?  Also, why can't I choose just one email address (my work account for example) to beep/buzz when I get a new email?  Right now it's all or nothing. 
Those are just a few of the things that bug me on this phone.  And as always, it's not that the phone isn't great - it's that it could be so much better! 
What features do you want to see?  What isn't there that drives you crazy?  And let's leave new hardware features for another post!
Posted by: Cody McCloy -- CNN.com Sr. Associate Producer
Filed under: Geek Out! • iPad • iPhone • Palm Pre • smartphones • technology
Palm's newest entry into the smart phone battle, the Palm Pre, is scheduled to be released on June 6, just two days before the expected release of the iPhone's 3.0 software.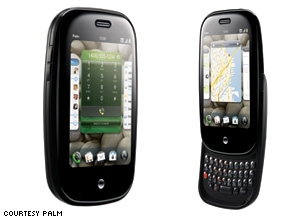 The Pre was first announced at the Consumer Electronics Show in January. It kind of stole the show - something I didn't expect at all. Before converting to the iPhone last July, I was a firmly entrenched Palm Treo user (and NOT the Windows version, either). Palm had been bought and sold too many times to count, the current operating system was long overdue for an overhaul. Quite frankly, I was over it.
Then came the Pre - and wow - could this really be an iPhone contender? It was to have all the things the iPhone was missing: a real keyboard - one that slides out from behind the phone - as well as cut and paste functions, multi-media messaging (MMS), global search, applications that run in the background and live notifications. Of course, Apple announced the 3.0 software, which is expected to bring the iPhone up to par on those features.
I haven't been able to get my grubby little hands on a Pre, but it does look cool. The so-called WebOS looks to be innovative - perhaps as innovative as the iPhones - and is designed to be used with only one hand.
And don't get me started on the optional inductive charger, which means you can put the phone right on top of the charger without connecting a cord (think Sonicare). Can the rest of the world please adopt and standardize this technology?
But will I buy one? Not unless someone else is footing the bill. I'm addicted to the iPhone for now and I just can't see giving it up.
What about you? iPhone vs. Palm Pre: which do you see coming out on top, or is there room for both on the stage? I can see the Pre garnering lots of support from the people who don't like the iPhone for one reason or another, or who prefer Sprint over AT&T. But can it compete with the momentum the iPhone has?
Posted by: Cody McCloy -- CNN.com Sr. Associate Producer
Filed under: iPhone • Palm Pre • smartphones