If Twitter has taught the world anything, it is that less is more. Echoing that trend of keeping it simple, here comes TwitterPeek, the first handheld device solely focused on Twitter.
[cnn-photo-caption image=http://i2.cdn.turner.com/cnn/2009/images/11/16/c1main.twitterpeek.jpg caption=""]
E-mail, music, phone service and text messaging are notably absent on the TwitterPeek. The device does allow for sending an unlimited amount of tweets and direct messages, and comes with a color screen to view Twitpics and access to friends, companies and celebrities' Twitter feeds.
"We have the same philosophy as Twitter," says Lauren Hahn, an executive at Peek, the company behind the new device. Peek first produced a product that only provided e-mail and text functionality. They like to keep it simple, fun and most importantly, available to the masses.
TwitterPeek has raised questions on how people use Twitter and other devices that fit into pockets. For one, Adam Ostrow, editor in chief of the social-media blog Mashable, is skeptical.
"I think it has limited appeal considering all of the choices for mobile Twitter apps," Ostrow said. "But for those that have no intention of buying a smartphone and still want to use Twitter on-the-go, it may be an option."
Further, 60 percent of users only access Twitter via a computer, according to a survey conducted by Crowd Science and eMarketer.com in August 2009. Three percent only use Twitter via mobile devices, while another 38 percent of tweeters use a combination of computer and mobile.
There currently seems to be an escalating competition to cram more social networks, songs, moves, cameras and applications onto a phone. But Peek points to the Flip Camera, PSP, and iPod as evidence people like devices that do one thing only.
The TwitterPeek costs $99.95, including six months of unlimited Twitter service. After that, using the device costs $7.95 per month. Hardcore tweeters may prefer the second option: Paying $199.95 for the device and a lifetime of unlimited Twitter service.
Hahn believes there is a misconception about how many Americans use, and can afford, smartphones. "Everyone seems to have a smartphone, but that not true," she told CNN. "The vast majority of Americans still hold feature phones (voice and text)."
Hahn believes her target audience is not someone in New York, Washington, D.C. or San Francisco, where smartphones seem as common as traffic jams and people are willing to spend more money on devices that do everything.
"It is the rest of America that cannot afford the massive convergence devices, but still want to follow Lance Armstrong or Oprah on Twitter," she said.
Posted by: Eric Kuhn -- CNN Audience Interaction Producer
Filed under: Twitter
Twitter may lack a business strategy, but it does have a wine strategy - and it does not come in 140 grapes.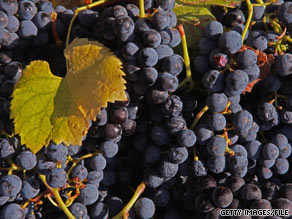 The microblogging service, valued at $1 billion and known for its 140-character "tweets," announced Thursday it's launching a wine label: Fledgling Wine. Twitter is partnering with Crushpad, a custom winemaking service in San Francisco, to produce the wine; a portion of the proceeds will go to Room to Read, a non-profit supporting reading programs and libraries in Asia and Africa.
Twitter co-founders Biz Stone and Evan Williams wrote on the Fledgling blog, "The Fledgling Initiative embodies two things that are at the core of Twitter's mission: providing access to information and highlighting the power of open communication to bring about positive change."
The first two wines, a Pinot Noir and a Chardonnay, will be released in August 2010 and can already be pre-ordered online. Each bottle will cost $20; Room to Read will receive $5 per bottle. The grapes, picked by the Twitter staff, are being fermented.
Crushpad executive Noah Dorrance is bullish about the new label and has ordered extra grapes. When asked if each bottle will have only 140 grapes, he laughed and said, "I wish! There are approximately 800 grapes per bottle."
Twitter on Thursday also launched a Japanese edition, its first foray into tweeting in a foreign language. No word yet on whether sake is next on the Twitter drink menu.
Posted by: Eric Kuhn -- CNN Audience Interaction Producer
Filed under: Twitter
Google News this week launched Arabic editions of its popular news aggregator for Egypt, Lebanon, Saudi Arabia, and the United Arab Emirates. Currently the service allows users to access news from 25,000 sources around the world and is available in more than two dozen languages and more than 50 countries.
Google Middle East and North Africa Product Manager William Kanaan wrote in a blog post, "With more than 40 million Arabic-speaking internet users across multiple countries, we understand the need to provide our users with the most relevant news for their region."
Technology companies are rushing to become more involved in Arab media. Last week Yahoo! acquired Maktoob.com, the largest online media company in the Arab world. On Wednesday, the Wall Street Journal reported that its parent company, News Corporation, is in talks to invest in Rotana Media, a Saudi TV broadcaster.
"There are 300 million Arabic people and virtually no Arabic content online," Edward Walker, former U.S. ambassador to Egypt and Israel, told CNN. "It is a relatively open field. There is no content. You can duplicate what has already been done and put it in the Arabic language."
Walker is discussing this online language gap with Arab governments and has received positive feedback from officials who are eager to build out the Internet in their nations and diversify their economy.
Google would not disclose specific numbers on how many people currently use Google in Arabic-speaking nations.
But CNN's senior editor of Middle East affairs Octavia Nasr notes, "The Internet has been playing a major role in bringing important issues to the surface throughout the Arab world. Having the Google and Yahoo services in Arabic will undoubtedly enhance the flow of information from and to the Arab world."
Posted by: Eric Kuhn -- CNN Audience Interaction Producer
Filed under: Uncategorized