March 17, 2010
Posted: 03:10 PM ET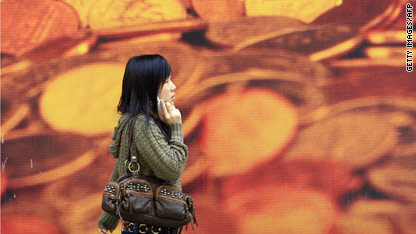 Everyone hates that confusing moment when the check arrives at a large dinner party. Some people want to pay with credit cards, some with cash - and some try to not pay at all. But a new iPhone application, launched on Tuesday, aims to make the whole bill-splitting process a little bit easier.
The app, "Send Money," was created by PayPal, which allows members who sign up to send money to others in a secure way online. The first version of the Send Money app simply transferred money to anyone on a phone contact list. But the company this week announced a partnership with Bump Technologies to allow an iPhone user to simply tap phones with another iPhone user as a way to transfer funds.
More people are now transferring money online. PayPal mobile transactions have dramatically increased even just last year from $25 million in 2008 to $141 million in 2009. And Bump, which is less then a year old, has broken out as the primary technology company that transfers information wirelessly, with just a bump of two phones.
In order to support PayPal's wide reach, Bump had to translate his service into 18 languages. "We could not be more excited," Bump co-founder Jake Mintz said. "We think bumping money is an incredibly powerful interaction."
So now when the check comes at dinner, the "Split Check" feature allows users to divide the check and quickly reimburse each other by bumping iPhones. Or if you owe someone else money it is now simpler than ever to now have them be reimbursed.
PayPal's vice president of platform and emerging technology, Osama Bedier, says this new application also means people won't have to carry as much stuff around with them. "Today, you leave the house with three critical things: your phone, your wallet and your keys," he said. "PayPal Send Money lets consumers access their wallets through their phones. Because with PayPal, the wallet lives in the cloud – the mobile phone is just one device customers can use to access it."
Posted by: Eric Kuhn for CNN.com
Filed under: Apps • Bump • PayPal • smartphones
March 15, 2010
Posted: 09:56 AM ET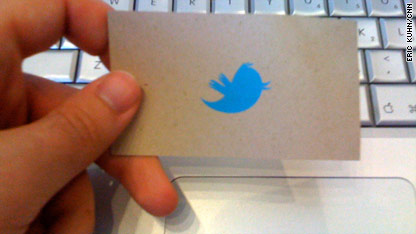 Ever since Twitter made a big splash at South By Southwest in 2007, the micro-blogging site has seen a lot of milestones. The site has won support from celebrates like Oprah and Ashton Kutcher, signed search deals with Google and Yahoo!, recently hired their 140th employee, and even had the 10 billionth tweet sent out early in March.
But the hip, San Francisco company was missing something that, in the general business world, seems rather basic: It never had business cards. Employees just gave out their Twitter names instead.
But that, too, has changed. At SXSW this year, Twitter employees are handing out paper business cards just like the rest of us. Instead of eggshell white, the company went with an earthy brown color for its cards.
That may seem like a silly bit of news, but first consider the context. At SXSW, everything is going digital. Instead of handing out cards, many tech professionals just download a smartphone app called i-Nigma and then scan a barcode on other attendee's name tags. That person's contact info automatically downloads onto the phone. Others use an iPhone app called Bump, which, when two phones are tapped together, exchanges a business-card's worth of data through the air.
A Twitter spokesman poked fun at the idea of business cards even as he listed the benefits of paper-based networking.
"This antiquated thing called 'business cards' is a helpful way for some of us to bridge our online and offline worlds with potential employees, partners and the thousands of developers who make Twitter applications," said company spokesman Sean Garrett.
So, is paper really the new mode of social networking? Next thing you know, maybe Twitter employees will be spotted in ties.
Posted by: Eric Kuhn for CNN.com
Filed under: Twitter
March 14, 2010
Posted: 02:03 PM ET
Three people with cult followings online have been asked to choose ideas they think will change the way the Web works. And each is competing for a $50,000 prize to get that idea up and running.
It is part of Pepsi's Refresh Project, where the company is giving away $20 million to people with great ideas during 2010.
Here are the ideas. Let us know what you think. You can chime in with comments below, and vote for your favorite idea on Twitter, as part of the Pepsi campaign.
Foursquare meets Craigslist
Adam Ostrow, editor of the technology blog Mashable.com, is supporting Brian Milner who wants to build something to help people in need connect with people who can help (Foursquare meets Craiglist).
Stories of the homeless
Digital guru Gary Vaynerchuk is the founder of Wine Library TV. He is supporting Mark Horvath who runs InvisiblePeople.TV, an organization that shares the stories of the homeless throughout the U.S.
Virtual food bank
Melissa Garcia, also known as Consumer Queen, is a prominent mommy blogger. She is supporting Sandy Jenney who plans to use the $50,000 to build a virtual food bank where people can donate food online.
The voting ends midnight on Monday. Each of these influential online personalities is encouraging their community to vote via a hash tag: #RefreshMashable, #RefreshGary, #RefreshCQ. The hashtags will be tallied and a winner will be announced on Tuesday.
Posted by: Eric Kuhn for CNN.com
Filed under: SXSW • SXSW Interactive • SXSWi • Twitter