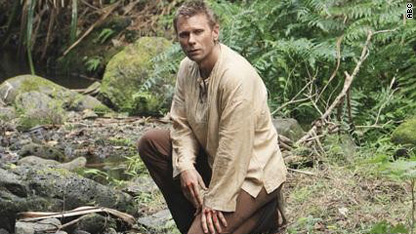 'Lost's' Mark Pellegrino
Editor's note: Geek Out! posts feature the latest and most interesting in nerd-culture news. From sci-fi and fantasy to gadgets and science, if you can geek out over it, you can find it on Geek Out! Look for Geek Out! posts on CNN's SciTech blog.
SPOILER ALERT: Do not read this interview if you haven't seen Tuesday night's episode of "Lost!"
After Tuesday night's episode of "Lost," fans are still debating what it all means. One character we definitely know a lot more about is the enigmatic Jacob, who was revealed to be the twin brother, and then the murderer, of his nemesis, the Man in Black.
CNN's "Geek Out!" caught up with Mark Pellegrino, the actor who has played Jacob since the end of last season, just prior to this week's episode.
CNN: Had you seen much of "Lost" before playing this role?
Mark Pellegrino: No, none at all. I didn't really own a TV. What TV I had was passed down to me from my mom, and I would sometimes catch up on movies. When I got married a couple of years ago, I got a TV and still didn't really have time with family and work to get into the TV thing. I've been trying to slowly catch up since then. My wife has had time to watch all five seasons, so she's ahead of me on that.
How did people respond when it was revealed that you would be playing this iconic character, Jacob?
Pellegrino: Their response was pretty enormous. People had a love affair with Jacob for three seasons. One of my friends is a huge, enormous "Lost" fan –– so when Jacob shows up on the beach it was, "Oh my God it's Mark Pellegrino! My friend Mark Pellegrino!" For everyone else, it's been a lot of fun.
At what point did you learn you were playing Jacob? What did producers tell you about him at first?
Pellegrino: At first I was auditioning for a guy named Jason, and reading with a character named Samuel. We were doing a scene with a guy like the Man in Black. When I got it, I thought it was a simple guest-star, recurring part. My wife had some thoughts that I might be this mysterious character named Jacob. Every so often Jack [Bender, executive producer] would say, "It's Jesus the carpenter, man amongst the people," and I thought I must be a religious figure. In spite of my calm outward appearance, other things would come along and make me think, am I a bad guy? They kept me on a need-to-know basis.
CNN: What was your take on him at first and has it evolved?
Pellegrino: In spite of not knowing things I found out, it didn't change the essentials at all, which I don't know if it was luck or by design. I think the simpler, the better was kind of the idea for me.
CNN: Did you have any idea after your character's death that you might come back?
Pellegrino: I had an inkling and I hoped... my wife said, "You've gotta come back!" I knew because I'd seen enough "Lost" to know that death didn't mean you were gone forever. As an actor, if it comes, it comes, if it doesn't, it doesn't.
CNN: Have you had any memorable encounters with fans?
Pellegrino: I do another show called 'Supernatural' [playing Lucifer] – those fans call me "Mark from 'Supernatural.'" When I get it for "Lost," it's "Jacob!" They're very nice and just want autographs and to get a picture.
CNN: Do you get along particularly well with certain cast members?
Pellegrino: Nestor and I talked a lot, we happen to go to the same theater company, we were taught by the same guy so we had a lot to talk about and share. I would talk with Jorge a lot about Indian food because he's a great fan of Indian food. He would introduce me to some island food that was amazing. I met the whole cast on my last day shooting and met everybody, and we listened to some great music. The Richard episode ["Ab Aeterno"] was one of my favorites to film, it's so, so good. I loved acting with Jorge, he always made me laugh. He would always do something very genuine and funny. I liked acting with him on pretty much everything.
CNN: From what you know of the final episodes, do you think it will be satisfying for most fans?
Pellegrino: From what I've heard of the finale, it sounds very interesting. Satisfaction depends on where you're coming from. If you're interested in puzzles and solving problems and lots of questions, you may be satisfied.
How do you want "Lost" to end? Post a video on iReport and let us know!
Posted by: Henry Hanks -- CNN iReport Associate Producer
Filed under: Geek Out!