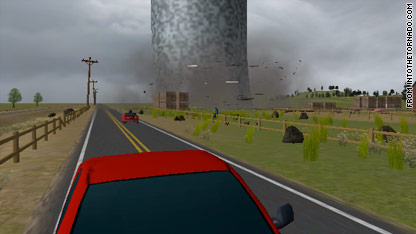 Tornado simulators are a staple of science classes and science museums.
Want to see cyclonic action at work? Fill a two-liter bottle with water, connect it to another at its mouth, give it a swirl and watch the water power into the lower bottle . Science museums often have more elaborate forms of this showcase, creating a "tornado" out of air or water vapor at the push of a button.
Now the Weather Channel is getting into the act – virtually.
On its Into the Tornado page – meant to promote next week's "Tornado Week," naturally – users have the opportunity to watch a tornado do its thing. You can click on a car, a train, a pickup truck or a pig – among several choices – set the power of the tornado and then the point of view.
One thing's for sure: It's bad enough watching what happens to a train or car in an F5 tornado, but you definitely don't want to be a pig. In an example, a porker gets hurled almost 400 feet in the air and ends up 167 feet from its starting point. As the accompanying text warns, "Tornadoes will rip through farms turning our porcine friends into dangerous pink missiles." (Keep your Beavis and Butt-head jokes to yourself.)
There are no cows available, but if you're looking for that, you can always rent "Twister" again.
Posted by: -- Todd Leopold CNN.com Entertainment producer
Filed under: Tornadoes • Weather