March 16, 2010
Posted: 08:07 PM ET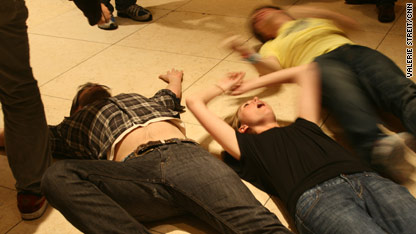 You see plenty of tech company founders and CEOs at South by Southwest Interactive in Austin, Texas – many of them building empires at the age of 20.
But you don't see very many "suits."
In fact, the prototypical SXSW executive probably looks more like a hipster than a businessman – sporting jeans, some trendy t-shirt and striped sneakers.
And, to make things all the more bizarre, you might even stumble upon one of them writhing around the floor of the Hilton lobby, as I did this year at the annual tech convention.
(This video will make it all make sense).
The executive, who was fully embracing the non-square nature of SXSW, was Foursquare co-founder Dennis Crowley. I spotted him in a spontaneous backstroke competition across the hotel lobby floor at 2:30 in the morning.  And, no, there wasn't a swimming pool involved.
Danny Newman of id345, an idea consulting firm, defeated Crowley in the match.  He told me I had witnessed an annual tradition, already in its fifth year.  Newman excitedly said that he remains undefeated in the contest.
He also said the backstroke-swimming execs have been kicked out of the lobby in previous years.
Not this year, though.  Perhaps Crowley and his buddies have earned enough street cred in Austin to 'check in' to any hotel here and do whatever they want.  Isn't that how rock stars act?
Posted by: Valerie Streit -- CNN.com Producer
Filed under: Foursquare • location • SXSW • SXSW Interactive • SXSWi
March 14, 2010
Posted: 02:15 PM ET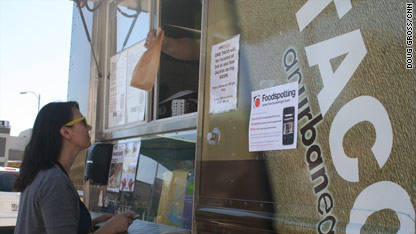 Location is obviously a big theme at South by Southwest Interactive this year - that emerging-technology conference that's going on this weekend in Austin, Texas. Whether you've elected to use Austin-based Gowalla or New York-based Foursquare, checking in and sharing useful tips with friends are the major tenets of these location-based applications.
But what if you took that concept one step further and consider a specific community?
I spoke with the co-founder of San Francisco-based Foodspotting.com about her Web site and mobile app that binds worldwide foodies together in a Foursquare-ish sort of way.
"The time was really right for something like this," said Alexa Andrzejewski, a user-experience designer from Adaptive Path.
Andrzejewski traveled to Japan and Korea, where she discovered and developed an appetite for street food.  She wanted to inspire Americans to learn about and appreciate other foods from Asia, "aside from sushi," she said. Plus, she wanted to help people to easily locate those dishes.
While in Asia, Andrzejewski noticed a phenomenon: passionate foodies were taking pictures of their fabulous dishes at restaurants and posting them to their social networks.  So she decided to create a location-smart food guide, à la Flickr, that would allow people to find, photograph and share specific dishes they crave.
Foodspotting launched in January, and it has since grown to 7,000 members.  The site features more than 20,000 kinds of foods worldwide.  As you would expect, the top cities are foodie havens - San Francisco, New York, and Honolulu.
"We're kind of like the Foursquare of food," says Andrzejewski, who launched the Foodspotting mobile app a week before SXSW.
Food spotters build their reputation whenever someone is enticed by the dishes you spot.  For example, you can earn ten points if someone 'wants' that pecorino crème brulee you managed to capture in some dessert habitat.  You'll get 25 points if someone nominates or 'noms' your dish.
Your guilty pleasures can even pay off in the form of badges - bronze, silver, gold, platinum - earned for spotting the same dishes and food types.  Addicted to tiramisu?  Spot it 50 times and you'll earn the platinum expert badge.
Andrzejewski says she plans to add more game-like features in the coming months.
Foodspotting also offers scavenger hunts for food enthusiasts.  I decided to attempt Foodspotting's 'SXSW Street Food Scavenger Hunt' in Austin with iReport Senior Producer Lila King.
Our first taste was a heavenly pancake taco at the One Taco truck.  I've never been a fan of breakfast burritos or even breakfast for that matter.  But let's just say if a pancake taco truck roamed the streets of Atlanta, I'd earn that platinum badge in no time at all.
Posted by: Valerie Streit -- CNN.com Producer
Filed under: Foursquare • location • social-networking sites • SXSW Interactive
May 1, 2009
Posted: 03:43 PM ET
Calling all iPhone owners anxious about the spread of swine flu: A potential app, the Swine Flu Tracker, may be on the way.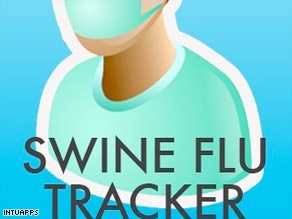 The Swine Flu Tracker, still pending approval from Apple, would be free. It was developed by IntuApps, whose founders, Barry Schwartz and Lilly Gold, say they want to keep people informed about the virus and where it is spreading.
"Just being able to have the information with you on the go is a powerful tool for people," Gold told CNN.
The Swine Flu Tracker's first tab shows the current threat level – Phase 5 – and brief description from the World Health Organization.
The next feature, likely the most useful, is a map that tracks where the virus is spreading in relation to the user via a "locate me" button. Each pin that pops up on the map offers details about confirmed and suspected flu cases. The data comes from a Google Maps RSS feed.
A third tab provides virus facts and flu symptoms from the Centers for Disease Control, Wikipedia and other sources.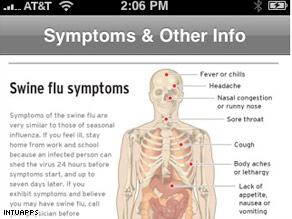 The last screen, Alerts, is a consolidated triad of Twitter updates from the World Health Organization, the CDC and HealthMap.
Schwartz submitted Swine Flu Tracker on Thursday and said Apple typically takes a week or two to approve new apps before they are released. Given the urgency of the swine flu outbreak, maybe they'll move more swiftly on this one.
"Hopefully the virus will end soon, but being informed is important for now and [for] trying to keep everyone healthy," Gold said.
Any iPhone user interested in downloading Swine Flu Tracker can leave a comment for Schwartz on his blog, CartoonBarry.com, and he will let you know when the app goes live.
Posted by: Valerie Streit -- CNN.com Producer
Filed under: Apple • iPhone
January 14, 2009
Posted: 10:42 AM ET
[cnn-photo-caption image= http://i2.cdn.turner.com/cnn/2009/images/01/13/art.yamli.homepage.jpg
caption="Yamli.com allows users to search for any Arabic phrase they want."]
French president Nicolas Sarkozy recently called Arabic, "the language of the future, of science and of modernity," according to the Brussels Journal.  His comments coincide with the French government's urging of Arabic language and civilization courses in French schools.
 
If you do speak Arabic or if you're trying to learn like I am, then you know that it is an incredibly challenging language.  Those challenges extend to the Web where the possibility of finding news and information in standard Arabic script is overwhelming and often incomplete.
 
Enter Yamli.com.  It is an Arabic transliteration search engine that allows visitors to use their Latin keyboards to search for any Arabic phrase they want.  Professors at major universities, including UC Berkeley and Stanford, use Yamli in their Arabic language classes.
 
"We created the site to solve the everyday problem of typing Arabic," says Yamli co-founder, Habib Haddad.  "A lot of the content on the Web today exists in two forms: standard Arabic script or messy Latin variations."
 
Haddad says most Arab newspapers and professional blogs write in Arabic script.  But he adds that a majority of user-generated content and comments on social networking sites are written in ad-hoc Latin script, which he dubs "Arabizi" or "Arabish" (a portmanteau word).
 
For example, here is the name of the famous Egyptian singer Umm Kulthoum written in Arabic:
أم كلثوم
 
Here are a few possible variations in Latin text:
Umm, Om, Oum, Im, Um, Em
Kulthoum, Koltoum, Kalthoum, Kolthom, Kalthoom, Kalthom, Kolthoum
Since there is no proper or exact phonetic match from Arabic to English (Latin text), it creates a widespread problem on the Web because multiple variations exist for a single word.
 
"It creates a vicious cycle in the Arabic search space," explains Haddad.  "It starts with the difficulty of typing Arabic, which leads to less people searching for it, and less money for Arabic publishers."
 
Yamli offers a solution in that it allows users to spell the Arabic word the way they think it would be spelled in English.  It automatically provides matches from that spelling and other relevant matches from alternate spellings.
 
Along with text, Yamli offers image search powered through Microsoft's Live Search API and video search from YouTube.  The search results are instantly presented in two columns: one side in English, the other in Arabic.
 
"We think we've solved some of the fundamental problems in Arabic search that have not been addressed by the big guys such as Google or Microsoft," says Haddad.  "We are really excited to already see its positive impact on users and believe it will set a new standard for Arabic search."
Posted by: Valerie Streit -- CNN.com Producer
Filed under: computers • Internet • technology
January 9, 2009
Posted: 11:15 AM ET
[cnn-photo-caption image= http://i2.cdn.turner.com/cnn/2009/images/01/08/art.facebook.irpt.jpg
caption="iReporter Phil Hansen protested Facebook with this image of himself made up of his own nipples."]
By now, you've probably heard about the latest controversy on Facebook.  It's not the war on terror or the war on scantily-clad profile pics of barely legal "18-year-olds."  It's the war on nipples.
The social networking site is under fire for its policy of removing photographs on the site that show mothers nursing their babies.  The company claims breastfeeding photos violate its decency code.
The controversy perked interest on December 27th, when 11,000 people worldwide held a virtual protest on Facebook by posting breastfeeding profile pictures and updating their status lines to "Hey Facebook, breastfeeding is not obscene!"  A nurse-in was also held at the company's headquarters in Palo Alto, California.   Now a Facebook group called "Hey, Facebook, breastfeeding is not obscene!(Official petition to Facebook)" has ballooned to more than 154,000 members and counting.
iReporter Phil Hansen is among the lactivists against Facebook.  "I was surprised at the whole idea of removing breastfeeding photos, as a baby breastfeeding would totally cover the nipple and most the breast," says Hansen.

Hansen is a Saint Paul, Minnesota-based multimedia artist known for his viral Web videos.  You may remember "Bruce," in which he dips his hands in black paint and karate chops the canvas, forming an image of martial arts film legend Bruce Lee.
Now Hansen is busting Facebook's chops with the first video in his new series called Art Happening.  In "Facebook's War on Nipples," Hansen documents his creation of a self portrait made entirely from pictures of his own nipples.  He posts the final product to his profile on Facebook and waits to see if it would be taken down.
We find out what happens in Hansen's cheeky follow-up video in which he declares defeat in the nipple war.  It turns out that Hansen's profile picture is removed after only two days, and he is notified that he had violated the company's terms of use.
"I was expecting it to get removed," says Hansen.  "Because if it stayed up, that would mean my face made with nipples was more appropriate than a mother breastfeeding her child, which would just be weird."
I don't want to give away the nipple, er plot twist at the end of the video, but I'll just say that Facebook suffers a slip of its own.
CNN did ask Facebook for an official comment about the controversy. A representative e-mailed the following statement:
We agree that breastfeeding is natural and beautiful and we're very glad to know that it is so important to some mothers to share this experience with others on Facebook. We take no action on the vast majority of breastfeeding photos because they follow the site's Terms of Use. Photos containing a fully exposed breast (as defined by showing the nipple or areola) do violate those Terms and may be removed. These policies are designed to ensure Facebook remains a safe, secure and trusted environment for all users, including the many children (over the age of 13) who use the site. The photos we act upon are almost exclusively brought to our attention by other users who complain.
Read more about the controversy on iReport.com.
Posted by: Valerie Streit -- CNN.com Producer
Filed under: computers • Internet • technology