March 17, 2010
Posted: 03:20 PM ET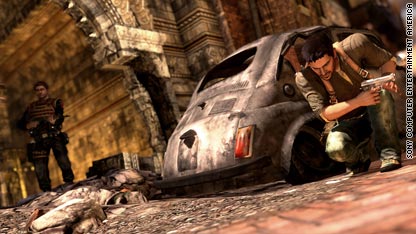 Uncharted 2 wins 2009 Game of the Year
So you want to design a video game?
One way to break into the field is to customize existing games like Sim City, where users can create your own clothes and change various gaming mechanics. 
That was the advice from Shanna Tellerman of WildPockets.com when I asked her about entry-point recommendations for someone who is interested in creating video games but lacks a computer-programming background. 
Tellerman participated in a South by Southwest Interactive panel designed to share unique approaches for game creation accessible to anyone. The panel was one of many gaming-related events at the festival, which ended Tuesday.
Between console games, online games and social-networking games such as FarmVille, there are more computer games and genres today than ever before.  But why would an ordinary person without a gaming or computer background want to design their own independent game? 
Michael Agustin from GameSalad.com says games are important for teaching and sharing meaning. "Creating games for parents allows them to take an active role in the context of the games their kids play, and to be more involved," he said.
Video games have also been used to raise awareness for social issues or to aid victims during natural disasters.  They are educational tools, but let's not forget that games are also meant to be fun.
Designing the next World of Warcraft or best-selling app for the iPhone might be a bit of a reach for most newbie game designers.  Game developer Adam Saltsman, or 'Atomic Adam' as he's known in the gaming world, tells beginners to become familiar with Gamemaker from YoYo Games. 
"It offers great resources with community support and is visually easy to get into," said Saltsman, who believes game creators shouldn't aim for mobile platforms in the beginning but instead focus on designing for the Web. 
Saltsman, whose Canabalt game was an Internet sensation last year, says Web-based game design is generally much easier to maneuver than mobile platforms because many mobile devices are not Flash enabled.  Eventually designers can move to mobile, he said.
Tellerman suggests that budding game programmers look for 24 hour 'game jams', weekend events where groups of designers collaborate on dynamic game-development projects.  "It's mostly simple games being built, but the process and experience is a great value," Tellerman said.
All of the South by Southwest Interactive panelists agreed that would-be game creators should spend a lot of time experimenting on their own time. After all, Tellerman said, some of the most successful independent game developers lacking formal computer-programming educations.
Posted by: Victor Hernandez for CNN.com
Filed under: Gaming • SXSW • SXSWi • video games
March 16, 2010
Posted: 07:36 PM ET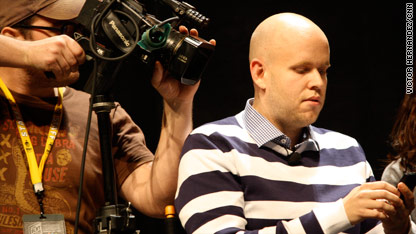 The much-talked-about European music service called Spotify is not available in the United States just yet.
But the founder of Spotify - which lets people stream music from a vast online database for free or at a minimal price - indicated on Tuesday in a keynote address at the South By Southwest Interactive festival in Austin, Texas, that the service will hit the U.S. in early 2010, as planned.
"The most important thing for us when it comes to the U.S. launch is the fact that we want to build the best product that we can," said Daniel Ek, the 26-year-old CEO of the company. "Here you have to strike deals with almost 5,000 different publishers and then the collecting societies and then the labels, but the big thing for us now is just working on the next generation of Spotify and getting it out there."
Some SXSW attendees had hoped Ek would debut the service at the annual technology conference here.
In an interview with the Los Angeles Times following his keynote, Ek admitted falling behind a schedule to debut Spotify in in the U.S. "We've always said we wanted to launch in early 2010. We still hope that will be the case," Ek told the Times. "That said, I don't think it matters for us if it's two or three months later. The U.S. is the world's biggest market. And to use an American phrase, we really want to hit it out of the park."
During Tuesday's keynote, Ek demonstrated a version of Spotify on an Android-based Sony Ericsson phone that's expected to hit the U.S. market this year.  He pulled up a South by Southwest-themed playlist, and a mini-player appeared on the phone's screen that let him play, fast-forward and rewind songs.  The audience seemed to be impressed with the look of the interface and quality of the audio.
He also described future implementation strategies around the increase of social features and collaborative playlists.
"Music is the most social object," Ek said. "We want to make music like water."
Spotify has more than 7 million users.  Of those, about 320,000 pay a monthly fee to subscribe to its premium service, up from 250,000 last year, Ek said.
Spotify is a downloadable client for Windows and Mac users that lets you search, browse and stream a deep collection of music.  The service has become popular in recent years in Europe for its speed and the fact that some of its services are free and the rest are relatively inexpensive.  Due to music licensing restrictions, it is currently only available in United Kingdom, Finland, France, Norway, Spain and Sweden.  It is available both as a premium monthly subscription service and as a free version supported by advertising. (For more details on the service, check out this FAQ).
The arrival of Spotify in U.S. would add to an increasingly crowded online music space.
Posted by: Victor Hernandez for CNN.com
Filed under: mobile phones • Music
March 14, 2010
Posted: 01:23 PM ET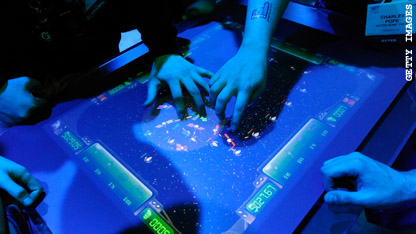 The South by Southwest (SXSW) Interactive festival, which is known for being one of the preeminent events for introducing tech innovations, began this weekend in Austin, Texas. More than 100 cutting-edge interactive businesses set up shop along an exhibit hall floor here, in an attempt to attract attention from tech insiders. I braved the large crowds and product pitches to check out what some of the coolest emerging technologies.
Here are four products that most caught my eye:
Microsoft Surface:
What is it? Multi-touch technology that enables users to interact with their digital content on a tabletop surface without a keyboard or mouse.
Microsoft Surface responds to natural hand gestures and real-world objects, helping people interact with digital content in a simple and intuitive way. Think 'Minority Report' meets the CNN Magic Wall on a beautiful table setting.
During a demonstration of prototype software, a tablet reader was rested on the tabletop while magazine content was dragged over from the Surface tabletop to the users' account with a flick of the finger. Microsoft Surface is currently geared for commercial and developer use, but could be marketed for consumers in the near future. It features an open API which allows developers to build apps to work with the product.
Flavors.me:
What is it? A personal identity management Web site that allows users to combine social network profiles onto the same page for a "unified online presence."
Flavors.me provides a clean interface for curating and showcasing your Facebook, Twitter, Flickr, Tumblr and other feeds into a 'one-stop digital storefront.'  If you've longed for a home worth showcasing your many online wares (personal homepages, lifestreaming, splash and microsites, celebrity fan pages, commercial promotion, brand marketing and everything in between), this could be the tool for you. Flavors.me offers free basic service and a premium package ($20 annual) which includes your own web domain name.
FunMail:
What is it? For users interested in adding a little visual spice to their messages, FunMail from FunMobility is a next-generation visual messaging platform that attaches multimedia to your text, tweet or status update.
FunMail uses a learning technology that gets smarter about making insightful connections between imagery and language every time a FunMail is sent. When I typed in "Hated losing an hour of sleep this morning," for Daylight Savings, for example, the search engine found images of people lying in bed, dogs asleep on couches and one very close up shot of a toothbrush.  I chose the toothbrush.
FunMail is currently available for iPhone and Android devices as well as online.  The company hopes to offer a Blackberry version soon.  Just in time for South by Southwest Interactive the company has released FunTweet, a Web service that turns any Twitter stream into visual messages. There's also a Facebook app.
HuddleHub:
What is it? An online management tool for people who 'own' multiple fantasy sports teams.
If you're a fantasy sports geek like me, then you'll want to check out HuddleHub. The service, which just launched, promises to aggregate your player updates, provide live sports and fantasy updates via web and mobile, and - here's where it gets fun - a recommendation engine for advice on player personnel moves via algorithms.  Just imagine taking some of the guess work out of that pending blockbuster fantasy trade.
I asked the company founder if there were any assurances this tool would provide me the competitive edge to earn championship trophies in my future fantasy sports league endeavors. He said it should help, but made no guarantees.
The Web version of HuddleHub is free and available now.  HuddleHub expects to release an iPhone version in June.
What do you think of these products? Let us know in the comments.
Posted by: Victor Hernandez for CNN.com
Filed under: Microsoft Corp. • social-networking sites • SXSW • SXSW Interactive • SXSWi • technology • Twitter
March 12, 2010
Posted: 03:04 PM ET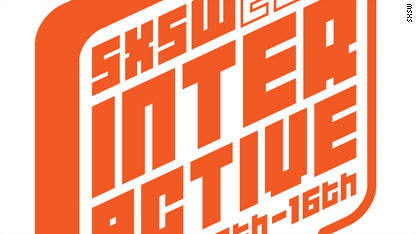 Location, location, location! They say it's the three most important factors to consider when buying a home. Now perhaps it's also the case when it comes to taking your social-networking prowess to the next level.
Chances are you're already seeing some of your social media pals fill up your streams with "check-ins" from Austin-Bergstrom Airport in Austin, Texas. Some 45,000 people are expected to visit Austin this weekend for the annual South by Southwest (SXSW) festival, which includes a five-day tech conference.
@Beckland: Landed in Austin with a plane full of tech geeks (@ Austin-Bergstrom International Airport (AUS) w/ 79 others)
The massive pilgrimage to the Mecca of big ideas and innovations (Twitter in 2007, Foursquare in 2009) has already begun. Make way for the invasion of the laptop-toting, smartphone-packing, wireless network-armed hordes!
One of the pervasive themes for this year's festival is location-based social networks (or 'LBS' for those in the know). "Checking in" hasn't been this cool since… since… well it's never really been cool to check in (especially when you were a teen driver and your Mother made you check in at every destination).
Services such as Foursquare, Gowalla and BrightKite allow users to "check in" at local establishments so that network friends know their whereabouts. You can use services on your mobile device to find places that have been recommended by your friends, or by strangers.
Take it from me, a self-admitted LBS-addict, it may sound creepy at first, but there are interesting benefits to these services:
I've used geolocation social networks to connect with friends in nearby locales. Recently a friend was eating in the same restaurant and came by to my table to say hello upon my "check in". (Of course this could work against you if you don't wish to be found)
Variety is the spice of life! I look to user tips and recommendations to help guide me to new menu items and restaurants all the time.
We're still in a recession. More and more businesses are using customer-loyalty programs to offer discounts or freebies to LBS-savvy patrons.
Mayorships, badges, leaderboards and bragging rights are just plain fun.
Location-based networks like Foursquare and Gowalla are red-hot. BrightKite has been around even longer than those rising stars. Google Buzz allows for location-sharing. Twitter is currently unleashing its geolocating tools. Facebook is reportedly planning to roll out location features next month.
As the "geolocation wars" heat up and the mobile Web grows, the need to reveal to others our current whereabouts at all times seems to reverberate deeper across the social Internet with each GPS-enabled check-in.
The SXSW "land grab" is set. The battle for "Mayorships" of hundreds of Austin venues will be up for grabs this weekend – wish me luck with one or two!
Posted by: Victor Hernandez for CNN.com
Filed under: Foursquare • SXSW Interactive